Swarna Jayanti Haryana Premier 
league
 T20 Championship  under aegis of Haryana Govt from Feb 4
newznew (Chandigarh) : Madan Lal said This Haryana league is a great initiative to discover hidden talent , Cricket is usually middle class game but such initiative by govt prove a boon for poor cricket aspirants too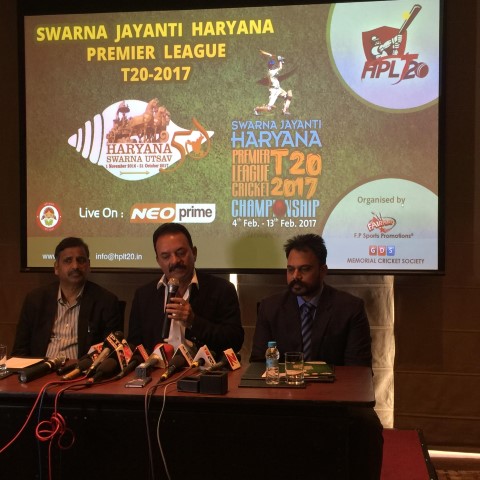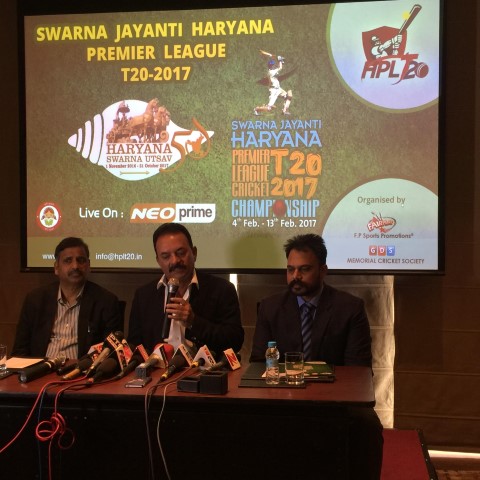 Swarna Jayanti Haryana Premier league T20 Championship  under aegis of Haryana Govt will be held from  Feb 4 to Feburary 13 .Haryana premier league will consist of six franchise teams (Panchkula Kings, Sirsa Warriors, Kurukshetra Tigers, Hisar Bulls, Rohtak Blasters, Gurugram Gladiators). Total ninty players will be selected on trial basis and will be distributed among all the teams. All the matches will be live telecast on neo prime sports channel. All matches will be played at sector 16 cricket stadium. Tournament will be played UNDER THE AEGIS OF HARYANA GOVERNMENT.
Haryana had celebrated its 50 years of statehood on 1stNovember 2016&.our Honourable Prime Minister Modi ji said "Haryana  is the land of Jai Jawan Jai Kisan, the land of valour and laborious folklore"
This Mega event has been organised by Fair Play Sports Promotions and GD Sharma Memorial Cricket Society UNDER THE AEGIES OF HARYANA GOVERNMENT said Joginder Sharma organising secretary ,he further elaborated that All Day -Night matches will be played at Chandigarh's sector 16 stadium and there will be live telecast of all matches on Neo Prime sports channel.
Addressing Mediapersons Convener of Haryana swarn Jayanti Commitee Rajeev Sharma IAS (Rtd) said that we want to let budding cricketers of Haryana shine and experience world level cricket at similar championships .

"It ill be a great opportunity for the budding players of Haryana. The tournament is being organised to find the young talent and provide them a platform to showcase their. Talent. This championship will also help us to find rural talent during this championship"
COMPLETE FIXTURE OF THE LEAGUE
| Match No. | Date | Time | Match Particulars |
| --- | --- | --- | --- |
| 01 | 4th Feb,2017 | 5:00PM | Panchkula Kings V/S Sirsa Warriors |
| 02 | 5th Feb,2017 | 1:30PM | Kurukshetra Tigers V/S Hisar Bulls |
| 03 | | 5:00PM | Rohtak Blasters V/S Gurugram Gladiators |
| 04 | 6th Feb,2017 | 1:30PM | Panchkula Kings V/S Hisar Bulls |
| 05 | | 5:00PM | Sirsa Warriors V/S Gurugram Gladiators |
| 06 | 7th Feb,2017 | 1:30PM | Panchkula Kings V/S Gurugram Gladiators |
| 07 | | 5:00PM | Rohtak Blasters V/S Kurukshetra Tigers |
| 08 | 8th Feb,2017 | 1:30PM | Sirsa Warriors V/S Hisar Bulls |
| 09 | | 5:00PM | Panchkula Kings V/S Kurukshetra Tigers |
| 10 | 9th Feb,2017 | 1:30PM | Rohtak Blasters V/S Sirsa Warriors |
| 11 | | 5:00PM | Hisar Bulls V/S Gurugram Gladiators |
| 12 | 10th Feb,2017 | 5:00PM | Panchkula Kings V/S Rohtak Blasters |
| 13 | | 5:00PM | Gurugram Gladiators V/S Kuruksherta Tigers |
| 14 | 11th Feb,2017 | 5:00PM | Rohtak Blasters V/S Hisar Bulls |
| 15 | | 1:30PM | Sirsa Warriors V/S Kuruksherta Tigers |
| 16 | 12th Feb,2017 | 1:30PM | First Semi Final |
| 17 | | 5:00PM | Second Semi Final |
| 18 | 13th Feb,2017 | 6:00PM | FINAL |