Haryana to introduce policy for commercial construction in residential areas: In a bid to tackle the growing issue of unauthorised commercial construction within residential areas of cities, Haryana is all set to formulate a policy for commercial construction in residential areas.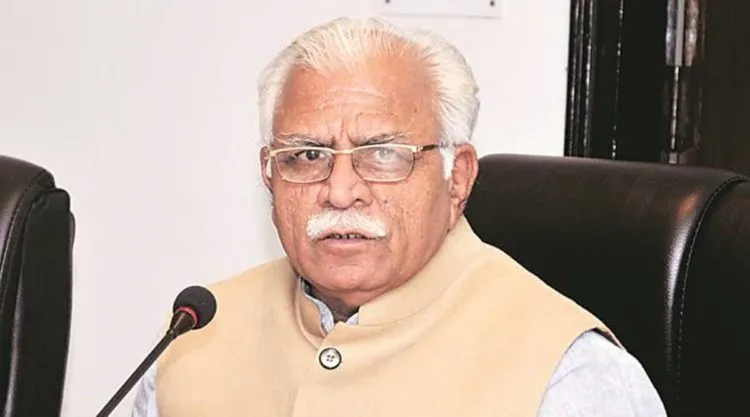 This was shared by Chief Minister, Sh. Manohar Lal while addressing a Jan Samvad held at SA Jain College in Ambala city late evening on September 17.
Speaking on the occasion, Sh. Manohar Lal said that acknowledging the rampant proliferation of commercial establishments and showrooms encroaching upon designated residential zones, the government is gearing up to unveil a comprehensive policy aimed at rectifying this situation.
"Under this policy, areas that have already been transformed into commercial spaces within residential zones will be officially designated as commercial areas," said Sh. Manohar Lal.
Issue notices to residential areas still undergoing commercialization, CM
Meanwhile, during the Samvad the Chief Minister also directed Municipal Corporation officers to issue notices to residential areas still undergoing commercialization. Stricter actions will be taken against non-compliance, he said.
During a Samvad, the Municipal Corporation's Superintendent Engineer, Vivek Gill, was questioned about an ongoing commercial construction project. However, he failed to give a satisfactory answer. Consequently, the Chief Minister promptly issued orders for Vivek Gill's transfer from his current position.
Sh. Manohar Lal said that 450 colonies had recently received approval in the state, with an additional 400 colonies currently under review. Notably, 1800 colonies in the state remain unapproved.
Integrated Command and Control Center to come up in Ambala
To enhance security and traffic management, the Chief Minister announced plans to establish an Integrated Command and Control Center in Ambala city. The government will fully fund this initiative, modelled after similar centres in Gurugram and Karnal, he said. Besides this, he also directed the Deputy Commissioner to conduct a city-wide survey and ensure the installation of CCTV cameras in areas lacking surveillance. These cameras will be integrated into the Police Integrated Command and Control Centre, said the Chief Minister.
Grant allocation is done based on the Population
The Chief Minister shared that grants for development projects would now be allocated based on city populations. A grant of Rs 2500 per person, determined by the population as of December 31 of the previous year, will be disbursed to cities.
We stopped leakages by replacing the old system with IT reforms
Highlighting his government's achievements, the Chief Minister said that with the radical IT reforms, the present state government has accomplished more development work at a reduced cost compared to previous governments. The present state government has successfully curtailed systemic inefficiencies, making services more accessible to citizens, he added.
5 beneficiaries get instant pension certificates
During the Samvad, the Chief Minister gave on-the-spot pension certificates to five beneficiaries, namely Ashwini Kumar, Vijay Kumar, Ravindra Kumar, Nizamuddin, and Roshni Devi.
Responding to public demands, the Chief Minister directed the officers concerned to assess the feasibility of constructing community centres in Ward-12 and 15. Additionally, he directed the Deputy Commissioner to ensure timely redressal of the grievances raised by the public during the Samvad.
Deputy Commissioner, Dr. Shaleen, Superintendent of Police, Sh.  Jashandeep Singh Randhawa and other dignitaries were present on this occasion.