Haryana's Ayushman Bharat has a bagfull of achievements in its 2 years feat: rom being the first in the country to launch the Ayushman Bharat Scheme to being the fastest claim processing state, the Ayushman Bharat Haryana Health Protection Authority (AB-HHPA) has achieved numerous milestones in its two years journey.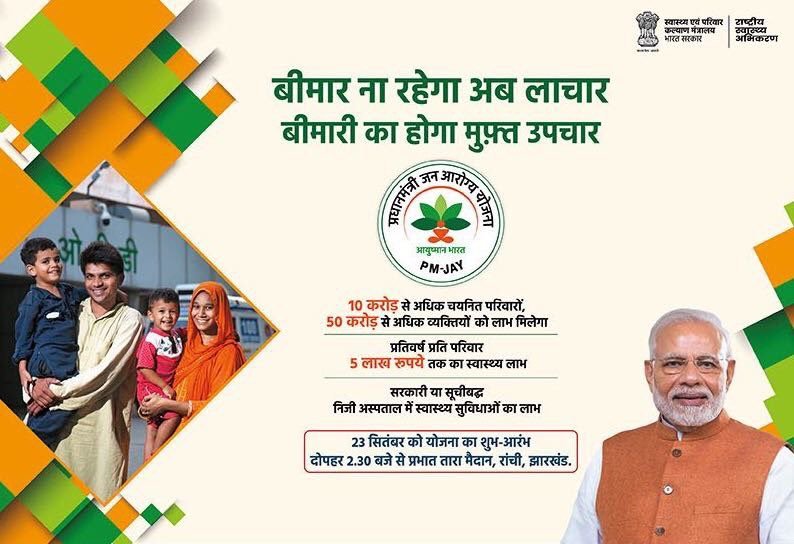 These facts came to light during a digital press conference of the Ayushman Bharat Haryana Health Protection Authority (AB-HHPA) under the chairmanship of its Chief Executive Officer (CEO), Mr. Ashok Kumar Meena along with Deputy Chief Executive Officer of Ayushman Bharat Haryana, Dr. Ravi Vimal. The digital press conference was held as a part of Aarogya Manthan 2.0, an event organised to mark the completion of two years of implementation of AB-HHPA, from September 22, 2020 to September 25, 2020 by National Health Authority (NHA), Government of India. Also Read: Punjab CM orders strict enforcement of Covid-19 protocols
Mr. Ashok Kumar Meena said that the Scheme has been operational in the state for the last two years under the able guidance of Haryana Health Minister, Mr. Anil Vij and Additional Chief Secretary, Health Mr. Rajeev Arora whose unconditional support has helped in ensuring better and pocket-friendly health services for the people of the state. Also Read: Flipkart introduces OTC medicines in healthcare portfolio
While enumerating the long list of achievements of the Ayushman Bharat Haryana Health Protection Authority (AB-HHPA), Mr. Meena said that Haryana was among the first states to launch the Scheme on August 15, 2018. Besides, the state has 0.77 per cent claim overdue with the hospitals, hence, the Haryana Ayushman Bharat has paid a claim amount of Rs 1,690,677,990 (Rs 169.06 crore approximately) in two years which reflects that Haryana is the fastest claim processing state. "The Ayushman Bharat is a flagship scheme of Government of India and was carefully designed to change the approach of health service delivery from segmented to a comprehensive need-based approach," he added. Also Read: Makes no sense to me: Gambhir slams Dhoni's decision to bat at No. 7
Sharing the main objectives of the Ayushman Bharat he said that the Haryana Ayushman Bharat worked consistently to improve the delivery of health care services across the state other than formulating a strategy by empanelling public and private hospitals to align quality measures and quality improvement activities along with strategising to provide better health, better care, at a nominal cost. He said that Haryana being a Greenfield State (Aayushman Bharat – Haryana Health Protection Mission – AB-HHPM) started as a brand new scheme) faced a lot of challenges during its implementation and the State Health Authority (SHA) played a prominent role in strengthening and implementation of Ayushman Bharat Pradhan Mantri Jan Arogya Yojana (AB-PMJAY) in the state within a short span of time. Also Read: Torrential rains paralyse Mumbai
The Haryana Ayushman Bharat has verified 22,48,476 (22.46 lakh approximately) beneficiaries in two years, other than empanelling 545 hospitals, including both State and NHA DHCPs. He further asserted that there were around 1,74,341 admissions in the hospitals under the Ayushman Bharat Scheme.
Elaborating on it further he said that to ensure complete transparency 100 per cent Aadhaar seeding of Golden Cards along with 100 per cent Biometric Authentication at the time of hospitalization (Except in neonates and emergencies) was done.
Sharing more details on steps taken to ensure enhanced health services, Deputy Chief Executive Officer of Ayushman Bharat Haryana, Dr. Ravi Vimal asserted that there are 163 Quality Council of India (QCI) accredited hospitals in the country of which Haryana has grabbed the highest number 75 hospitals. He stated that of the 75 QCI accredited hospitals 33 hospitals have received Gold certificate, 39 have received silver certificate and 3 have received bronze certificate.
Furthermore, the state had laid emphasis on working in close proximity with NHA on Pilot Projects like Additional Data Collection Drive (ADCD), Beneficiary Awareness and Verification Drive, Standard Treatment Guideline (STG) for Management of Respiratory failure due to any cause (Pneumonia, asthma, COPD, ARDS, foreign body, poisoning, head injury etc.) and Capacity Development Need Assessment for State Health Agencies: Pilot – Haryana, he added.