Health Minister Balbir Singh Sidhu launches three-day polio vaccination drive: The Health and Family Welfare Minister Mr. Balbir Singh Sidhu on Sunday launched the three-day Sub-national immunization day (SNID) drive by administering drops of oral polio vaccine (OPV) to children below five years at nearby Jujhar Nagar village.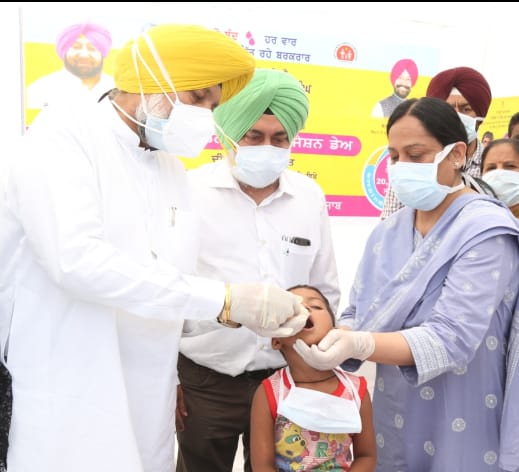 The state level program was organized by the Health and family welfare Department, Punjab.                      
Speaking at the event, Mr. Sidhu said that under this drive , polio drops are being given to children across the state from September 20 to September 22. He added that due to the spread of coronavirus pandemic, the drive would cover only high risk areas, migratory population, brick kilns, construction sites and urban slum areas. Also Read: Capt Amarinder's 10 questions to Badal to Nail their lies of Farm Bills
He said that health workers have been directed to ensure compliance of  all the necessary guidelines, such as covering their faces and washing their hands frequently during the drive.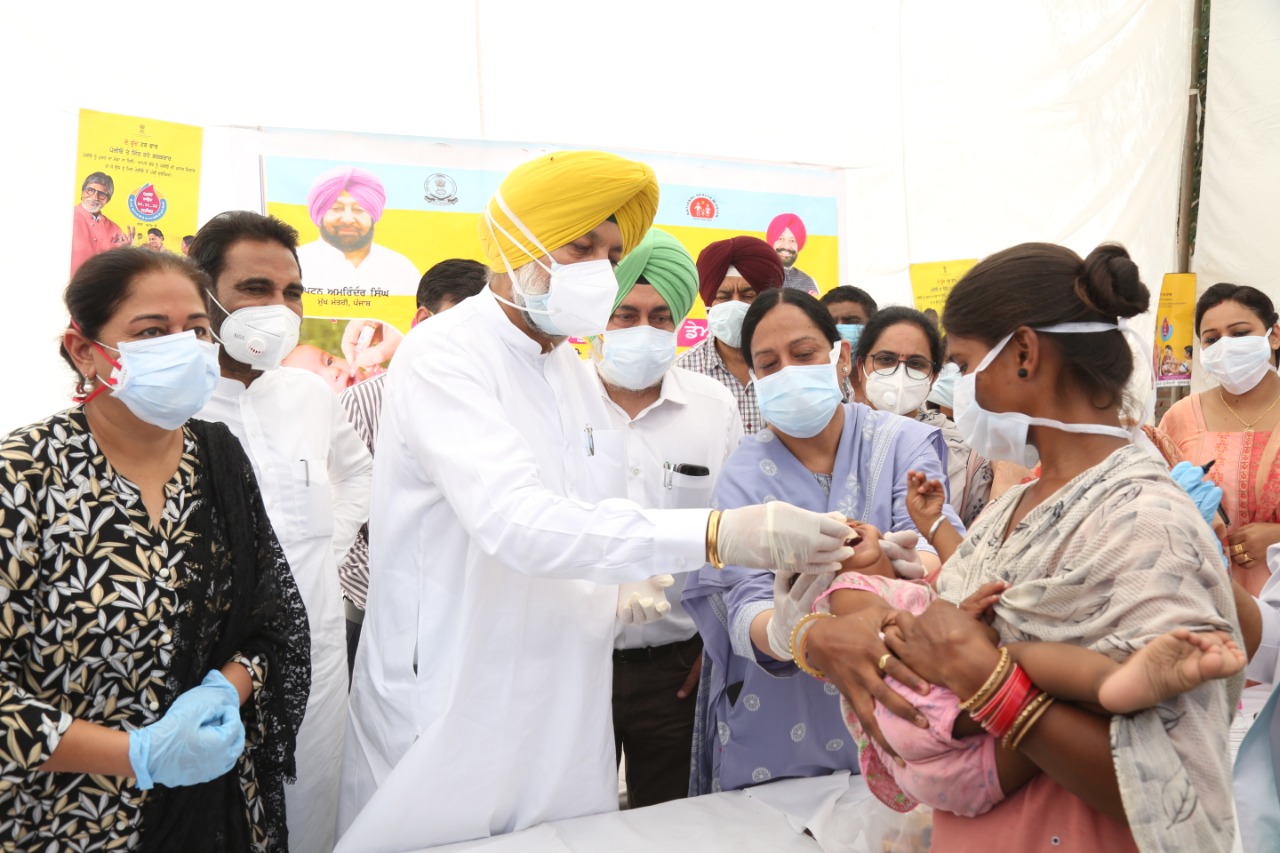 Sharing the details about various teams engaged in the drive, the Health Minister said, "In this phase, the target is to give polio shots to around 6,80,800 children across the state for which a total of 8436 places have been identified. A total of 5,530 door-to-door  teams have been pressed into service while the number of mobile teams is 656. Also Read: SAD appeals to all parties to join hands against farm Bills
The total number of vaccinators, ANMs and ASHA workers is 14749, 3097, 11965 respectively whereas a total of 1031 supervisors will carry out sudden checks to monitor the immunization program and to ensure that all children are immunized." The health minister appealed to the people to get their children vaccinated to save them from various diseases. He said the country is already polio-free, however, the vaccination is must to sustain polio eradication from the country. 
He applauded the efforts of thousands of volunteers, frontline workers and health officials for conducting the drive in these unprecedented times. Director Health Services (Family Welfare) Dr. Prabhdeep Kaur Johal asked the Panchayat members present on the occasion, to extend full support to the health department in this very important campaign. Also Read: Farmers stage protests in Punjab, Haryana
Amongst present on the occasion were political secretary to the Health Minister Mr. Harkesh Chand Sharma, Director Health Services (Family Welfare) Dr. Prabhdeep Kaur Johal, Civil Surgeon, Mohali Dr. Manjit Singh, State Immunization Officer Dr. Balwinder Kaur, District Immunization Officer Dr Veena Jarewal, SMO Dr. Dilbagh Singh, Sarpanch of Jujhar Nagar Gurdeep Singh Dhindsa, Mass Media Officer Gurmeet Singh Rana, Gurdeep Kaur, Health Inspector Bhupinder Singh, Harcharan Singh Brar and other Panchayat members and health officials.