The renowned Punjabi folk singer Mr. Paramjit Singh Sidhu 'Pammi Bai' is set to cause sensation once again with the release of his single track 'Heer Saleti' worldwide on 10th October at 10 AM. The track was released here today at the Chandigarh Press Club. The teaser was released by Pammi Bai himself along with Mr. Surjit Singh Abudhabi (connected with World Punjabi Organisation), State Information Commissioner, Punjab, Mr. Nidhrak Singh Brar, Makhan Singh USA, Prof. Rajpal Singh and film actor Mr. Jashanjeet Gosha.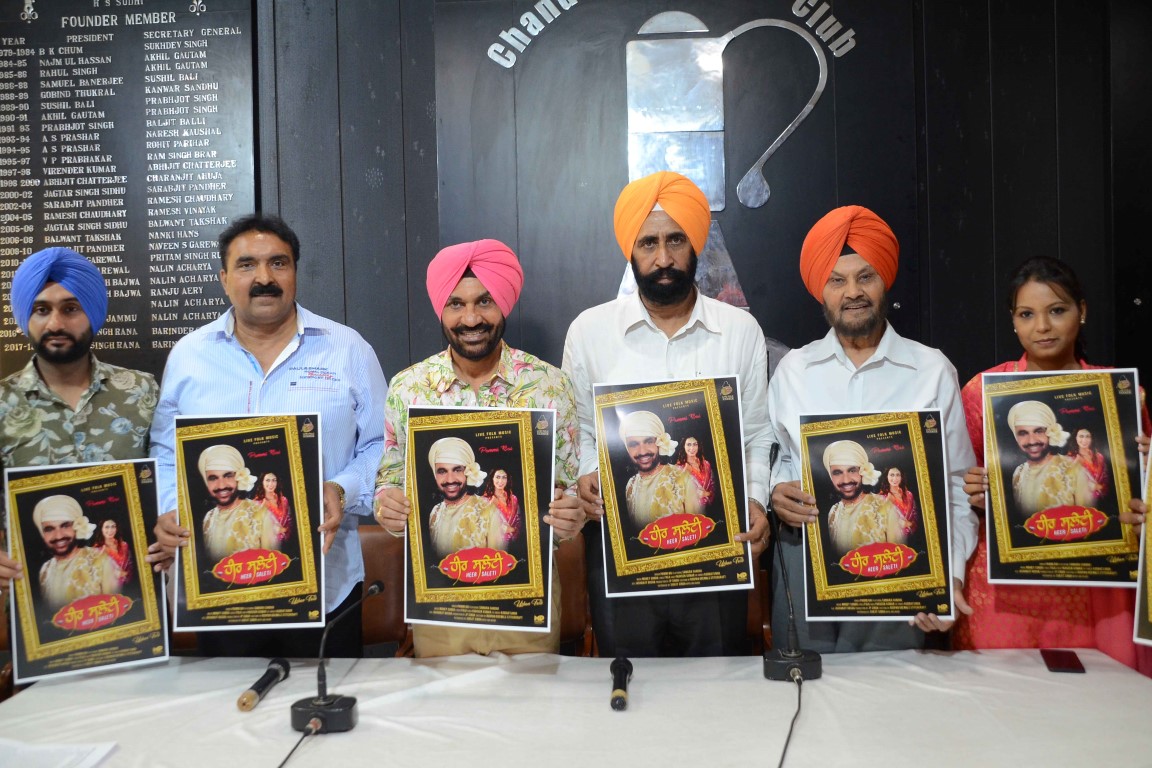 Interacting with the media-persons on the occasion, Pammi Bai said that this is the 4th track being released this year by the music house 'Live Folk Studio'. He also contributed 2 songs out of the earlier released 3 songs. These were 'Boliyan' and 'Kisani'. The new song 'Heer Saleti' has been brought out with the purpose to promote traditionally rich Punjabi folk music, folk stories and poetry. In this regard, the founder President of World Punjabi Organisation Mr. Vikramjeet Singh Sahni, Mr. Raju Chadha and Mr. Surjit Singh Abudhabi have rendered valuable assistance. The track has been set to music by Mani Saundh and co-singer is Kudrat Singh. The video has been directed by Parveen Kumar with Sumaira Sandhu showcasing her acting skills. It is worth mentioning that Sumaira Sandhu has proved her mettle in 2 movies in South India also.
Pammi Bai said that he has devoted 30 years of his singing career to the service of Punjabi culture, language and folk music. He further said that the present track 'Heer Saleti' has given him immense satisfaction as it has provided him a chance to present folk stories and poetry, which are an inseperable part of the Punjabi literature. He also said that folk music alone is the best way to wean youth away from vulgarity. He also thanked World Punjabi Organisation.
On the occasion, Mr. Surjit Singh Abudhabi said that his organization has chalked out a project to record traditional and folk stories in modern music. Lauding Pammi Bai, he said that the singer has always presented a picture of rich cultural heritage of Punjab in his songs. He also termed the new song as a beautiful fusion of folk stories and modern music.
Throwing light on the life history of Pammi Bai on the occasion, Prof. Rajpal Singh said that Pammi Bai was born in the house of freedom fighter Mr. Partap Singh Baaghi in village Jakhepal, District Sangrur and started his career from bhangra. Crediting Pammi Bai with the popularizing of bhangra worldwide, Prof. Rajpal said that the singer's contribution in the field of folk dances is also immense. He also appreciated the fact that Pammi Bai has never compromise with his ideals for the sake of money and fame and has always worked tirelessly for propagating Punjabi culture, language and folk music.