Husband-Wife duo's startup brings international luxury footwear for women: A young Chandigarh husband-wife duo Sudeep Bamra and Heena Singh has come up with a unique start-up concept – they have unveiled a trendy luxury footwear label for women -'Dech Barrouci', first brick & mortar store in the Sec 37 D market.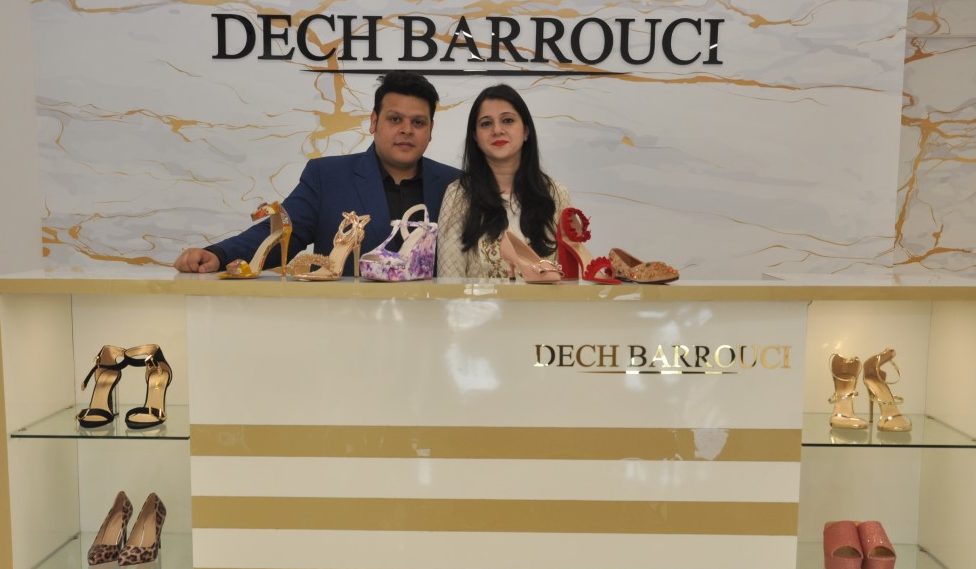 'Dech Barrouci' in Czech, means breathtaking.
Both Sudeep & Heena wanted to establish a label in the glamour industry, both saw a lot of promise in affordable luxury footwear for women. The duo did a lot of market research for two years and finally "Dech Barrouci' was born in 2017 as an online platform. The brand gained immense popularity on the internet and received support from many celebrities due to the beautiful designs and craftsmanship of the footwear. The brand also takes up international shipping of shoes on the basis of orders.
Sudeep says, "We are filling the gap in the affordable luxury women footwear segment.  What makes our collection popular is that exclusive designs are available in an affordable price segment of Rs 1800-5000. So a lady can buy luxury footwear at pocket-friendly prices. Our range is very comfortable, tailor-made for party wear, up-market and is high on fashion."
Heena Singh took on the charge of celeb tie-ups and marketing, while Sudeep took over the important designing aspect of the footwear and operations.
Heena says, "It is a matter of pride that a Chandigarh based women footwear label has made a mark among celebrities. Our shoes have been worn by actresses like  Alaya Furniturewala who acted opposite Saif Ali Khan in the recent film – Jawaani Jaaneman & TV and film actress Hina Khan who was reality show Bigg Boss 11's( 2017) first runner up. Hina wore Dech Barroucis' at the International Cannes Film Festival 2019. Not only Hina, the famous singer Neeti Mohan too has donned our shoes. Renowned TV actress Shweta Tiwari has also been wearing the brand."
Adds Heena, "Back home, Punjabi actress Sara Gurpal also loves to wear 'Dech Barrouci' shoes. What's more, our shoes have been able to penetrate the celeb space at a regional level other than Punjab too.  Megha Dhade, who is a Big Boss Marathi winner has worn Dech Barroucis' when she visited the Big Boss (National) house during Season 12."
The duo held a special preview for media of their swank store which has a wall dedicated to photographs of celebrities wearing stylish 'Dech Barrouci' shoes.  Footwear genres like high & low heels, sandals, pumps, bellies, flats are available. Another unique footwear genre available is a bevy of beautiful flats for pregnant ladies. There is exclusivity in the collection available at the store. A design range of about 130 shoes has been showcased. Even 20 unique brand new designs of Punjabi Jutties are available. The shoes are trendy, smart, stylish and color schemes really attractive.
Sudeep said, "Our USP is innovation. Other points of difference that 'Dech Barrouci' shoes have vis a vis others are that these are high on quality and the entire material used to make the footwear is from foreign shores."
Sudeep who is a dynamic entrepreneur with sharp business acumen has taken a conscious decision to adopt the modern retail route. He explains the reasons behind the addition of offline business, Sudeep says, "The trend is shifting to modern retail from online. Online shopping has always been a stumbling block in footwear due to shoe size etc as in our industry touch and feel is needed during buying. This pivoted us into starting an offline business."
On being asked about the future of modern retail Sudeep says, " I strongly feel that modern retail is coming back in vogue and this can be gauged from how big online brands like Lenskart, Healthkart & Nykaa among others have gone offline recently."
Sudeep says, "In footwear, nothing goes out of trend. In the upcoming spring-summer season the focus will be on pastel colors in our designer shoes. Our label is known to provide designer women shoes for formal wear -mainly parties and weddings. We are known for high heels in pumps & party shoes. High heels are available for all age groups."
There are plans afoot to bring company-owned outlets of 'Dech Barrouci' in Delhi & Mumbai & in some Punjab cities too.
Sums up Sudeep, "Our shoes are for the modern woman, are metro style and for all age groups