Paragon School honours women achievers: NSS Unit of Paragon Senior Secondary School, Sec 71, here organised an event to honour women achievers from Tricity.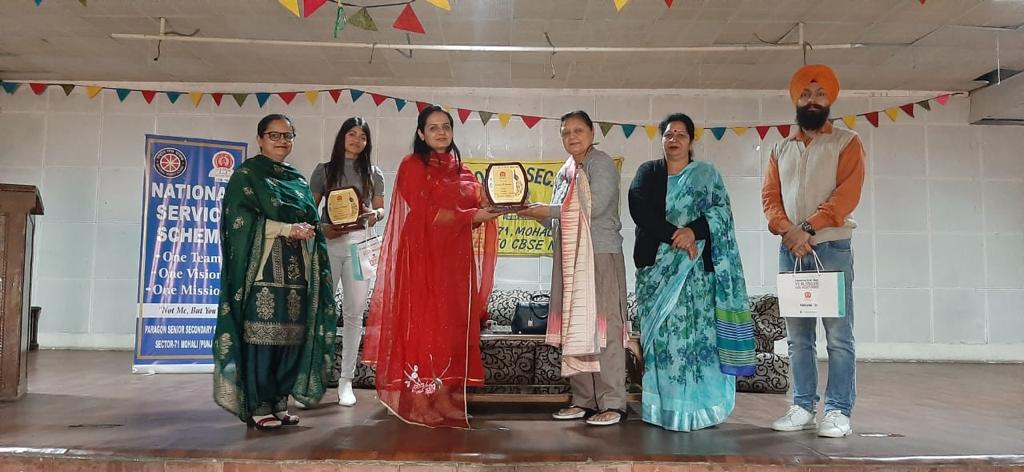 The success of women in different spheres of life was celebrated. The event saw the felicitation of two women achievers who gained prominence in their chosen fields against odds. The two eminent personalities- Dr. Navdeep Sandhu and Mrs. Vaishnavi Boora were honoured by the President of the School, Mrs. Kulwant Kaur and Principal Mrs. Nirmla Sharma.
It is noteworthy that Dr. Navdeep Sandhu is the founder of Micah Pharmaceutical Company. Vaishnavi Boora who as a mother has carved out a niche for herself as a fitness athlete, coach and is training many people through her online training program. The two women shared their success stories with students and faculty which inspired the audience.
The significance and importance of health & fitness in lives of women were underlined by the speakers. NSS Program Officer Maninder Pal Singh said that the interactive session gave the teachers a wonderful opportunity to clear their apprehensions regarding health and fitness.
The session focused on discussing ways of helping women gain full and equal participation in society's and personal development.
The vote of thanks was proposed by Vice Principal, Mrs.Jasmeet Kaur. The special event helped acknowledge the role of women and their contribution to make India & the world a better place to live in.