NewZNew (Chandigarh) : A book containing poems written by Mahesh Bhasin was released here. The book titled 'Ik Chand Zameen Par' is of Urdu poems printed & published in Hindi by Azad Hind Printers & Publishers, Chandigarh. The book was formally launched by Sukhwinder Singh Sukhu, President, Himachal Pradesh Congress Committee (HPCC) at CII, Northern Region, Sec 31, Chandigarh.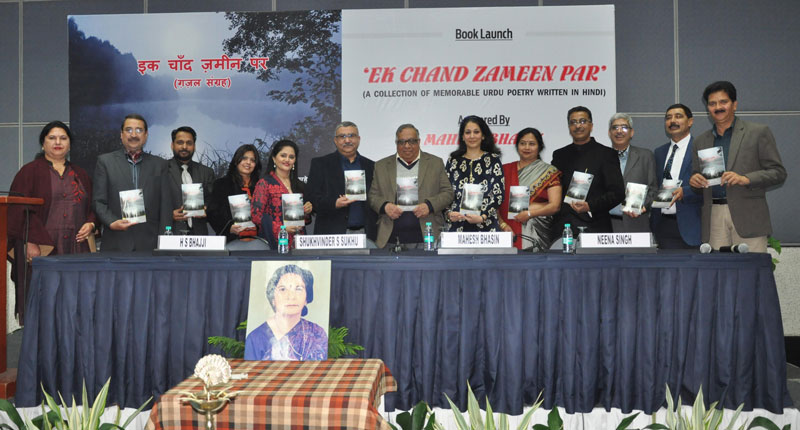 Mahesh Bhasin has dedicated the poems to his late wife Chander Kanta Bhasin who served at the post of Principal in Senior Secondary Schools in Himachal & was also a State Awardee in Education. The unique aspect about the book is that it is not a priced publication being Mahesh's labour of love & an emotional gift to his loving wife who too was highly interested in music– Urdu Ghazals in particular. The event also saw the Poet reciting a few verses from his book which engaged the audience well.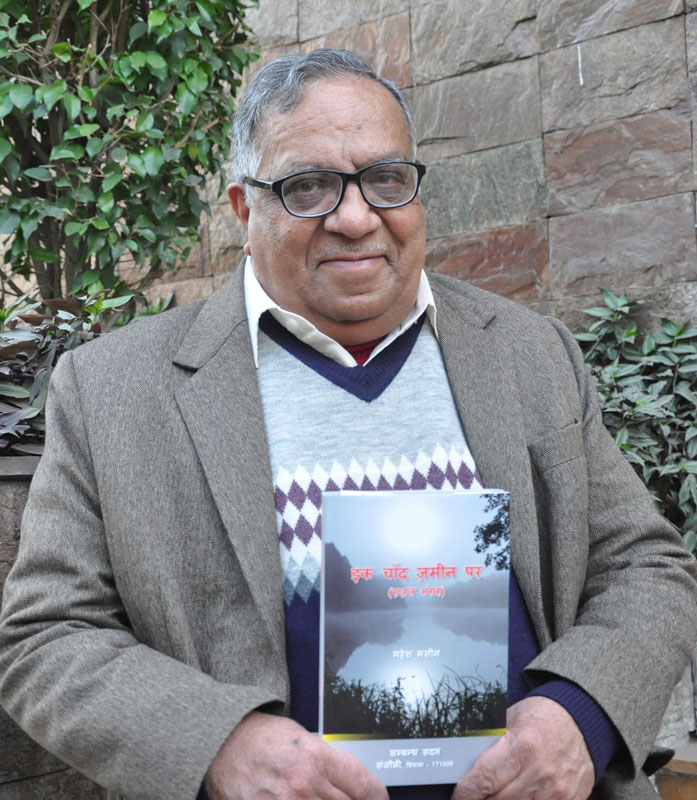 "I am a Graduate with English Honours and a Post Graduate in Maths but had always been drawn to the art of writing poetry. During these formative years of my education, i remained engaged in reading and writing poems in English language. However there was somewhere inside me a dormant love for Urdu Poetry which was kindled when i got a chance to meet some of the well-known Urdu poets of our times like  Rajinder Nath 'Rehbar', Suresh Chander 'Shauq'. Armaan 'Sahibi', Shabab Lalit and others. In fact the foreword of my maiden Book has been written by Rajinder Nath 'Rehbar'. I started writing Urdu Poetry in Hindi in 2011 this book is an attempt by me at verse covering varied themes like Life, Nature, Love & Affection, Politics, Festivals et al."
The tone of the Book is mostly passive bordering around memories of pain and separation leading one to understand and believe the value of existence and manage life in a purposeful manner. The poems are written in simple day to day language & can easily be understood by one and all without searching for meanings of difficult Urdu words. The verses in the book are written in a combination of both the classical and the blank verse forms of writing poetry.
Mahesh Bhasin's interest in Urdu verse was also promoted by his craving for Ghazals sung by Begam Akhtar, Mallika Pukhraj, Gulam Ali, Mehandi Hassan, Jagjit Singh and others. The book is a treat for those who always wanted to read Urdu Poetry but were unable to do so because of the language barrier, now they can get to read euphonic sentences of one of the World's sweetest of languages –Urdu, in Hindi.
"This endeavour could not have been possible without my wife's help; I sustained interest in Urdu Shayeri because of her liking for the same. This book is a recognition of her services to the family and the society at large." Sums up Bhasin.