Mixed-use project by Mona Townships redefines workplace concept in Tricity, offers flexible office spaces to meet business needs
A venture of Mona Townships Private Limited (MTPL), Jade Business Park is part of J90, a sprawling 14-acre, mixed-use township situated in the heart of Mohali
13 lakh sq ft of commercial and residential space balanced in the ratio of 70:30, including dedicated area earmarked for IT and IT-enabled services, available in lush-green, open surroundings to breathe life into your business
Replete with all modern facilities, the workspaces have large window openings for natural lighting and cross ventilation, well-lit and ventilated corridors, power back-up, three-tier security, recreational green parks and cafeterias on terraces, balconies to all offices
Its proximity to the Mohali international airport, North Country Mall, GMADA golf course, leading educational institutions and hospitals make it an ideal location
Close proximity to the 200 ft wide Airport Road enhances the appeal of Jade Business Park for investors
Matching global workplace trends, Jade Business Park is anchored by an expansive 1.5-acre Courtyard, where you can not only chill out during off-work hours but also hold informal business meetings over a cup of coffee
12% assured monthly returns for investors
NewZNew (Chandigarh) : Mona Townships Private Limited (MTPL), a leading real estate developer of the northern region with a track record of several outstanding projects, has brought a refreshing business concept to the tricity with the launch of Jade Business Park, the commercial component of J90, a sprawling 14-acre, mixed-use township situated in Sector 90, the heart of Mohali.
Located on the Mohali-Patiala state highway in proximity to the Banur-Landran-Kharar road, Jade Business Park offers 13 lakh sq ft of commercial and residential space, in lush-green, open surroundings to breathe life into your business. As per the GMADA master plan, J90 will be in close proximity to the 200 ft wide Airport Road, thus enhancing the appeal of Jade Business Park for investors manifold. Its proximity to the Mohali international airport, North Country Mall, GMADA golf course and leading educational institutions and hospitals make it a much sought after location.
Replete with all modern facilities, the congenial workspaces have large window openings for natural lighting and cross ventilation, well-lit and ventilated corridors, power back-up, three-tier security, a lavish entrance lounge with reception, recreational green parks and cafeterias on terraces, functional pantries on each floor and balconies to all offices. The developer has used state-of-the-art engineering techniques that not only add to the strength and stability of the structures but also reduce maintenance charges.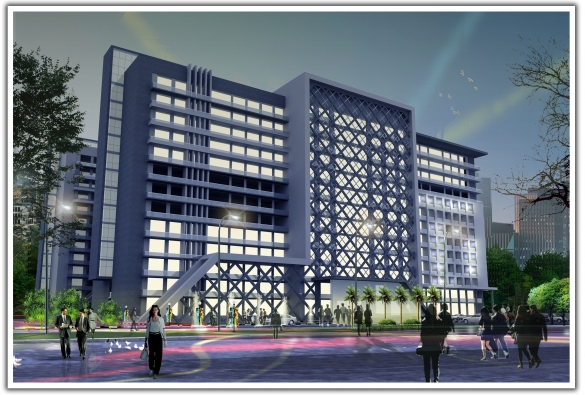 Starting from 412 sq ft, the office spaces spread over six towers offer functional and flexible workspaces to meet specific business needs.  The commercial space covers 70% of the total area with a major portion of the commercial area earmarked for IT and IT-enabled services while the residential space will cover the remaining 30% area. In what serves as an attractive proposition, investors opting for this project will get 12% assured monthly returns.
Matching global workplace trends, Jade Business Park is anchored by an expansive 1.5-acre Courtyard, where office-goers can not only chill out during off-work hours but also hold informal business meetings over a cup of coffee. Furthermore, it will be home to the ultra-modern Jade Arena which will bring together restaurants, food courts and a world-class hotel, designed to offer an ideal setting for lunch and dinner business meetings with an additional convenience of being close to office and residential spaces.
While 70% of the area in the complex is open, there is ample parking space in the basement and on the ground floor to accommodate about 2,600 cars with dedicated drop-off zones at the entrance. While IPDM is incorporating landscaping elements like water bodies, parks, gardens and pathways in a way that they add to the aesthetic appeal of the commercial complex, the project has been designed by RSP, a leading architect.
"Jade Business Park has been conceptualised to extend the horizons of day-to-day business operations beyond the traditional confines. Designed with more than aesthetics in mind, our signature office suites represent an ideal business environment with focus on the well-being of our patrons through optimisation of space design that enhances the flow of people and energy. True to our motto of 'Live, Work, Grow', our mixed-use project allows people to live in a residential apartment and own an office space in the same complex," said Mr Tejinder Pal Setia, Chairman, Mona Townships Private Limited.
A blend of world-class living spaces and workplaces rolled in one, J90, located right opposite the upcoming district courts complex, will also have 64 super-luxury flats and 225 three-BHK flats spread over 14 residential towers  with 14 penthouses and the Jade Arena which will come up in the next phase.
Being situated on state highway 12A, the strategic location of J90 allows it easy connectivity with important cities of Punjab, particularly the industrial hub of Ludhiana, thus offering more opportunities for commercial growth. This highway constantly witnesses heavy density of traffic to and from Ludhiana and other cities of Punjab.