Joint Admission Board (JAB) recently announced that JEE Advanced will be conducted in only online mode from 2018. This decision is certainly a surprising one, as most of the candidates have been taking the test in offline mode in past years.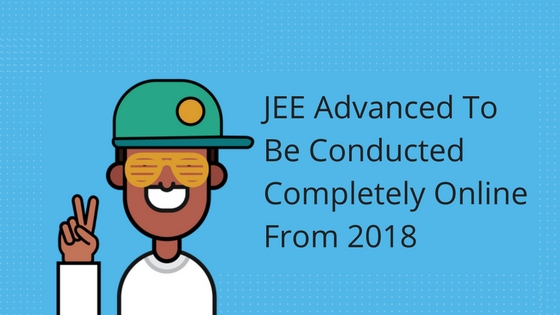 JEE Advanced is the level two of the premier engineering entrance examination IIT JEE. After qualifying JEE Main aspirants attempt for JEE Advanced or the final phase of the exam. Until this year, students had the option of choosing between the offline or online mode for JEE Advanced, but from now on they will have to take it in Online Mode only.
As per the research done: The past year trends of JEE Mains showcases that if 13 lakh aspirants took the JEE Mains test, less than 10% had opted for online mode of exam. Of these, if two lakhs qualified for the JEE Advanced test. From 2018, these students will attempt for the exam in online mode only.
As the debate is on that whether this decision will favor students or not as in the past students had projected less inclination towards opting for online mode. A senior official of the human resource development (HRD) ministry quoted, "The move will ensure greater transparency and avoid instances of paper leak too".
But on the contrary many experts haven't marked the decision as a good one, they say around 50 to 60 percent of JEE aspirants come from rural and semi-urban areas, who are still not computer literate.
Still, we think for an examination which caters to a huge number of students, this decision will help in bringing transparency in all levels of the examination. To highlight this, we tell you the 7 benefits that an online exam offers over offline examination, as follows:
1 – Saves time
The one irritating thing that you have to do in an offline test is filling the bubbles to mark your answers. This has to be done with care because in the OMR sheet if you cut/scribble or do not encircle the mark properly, a computer can invalidate your answer. However, we do not notice, but doing this actually, wastes a considerable amount of your time.
Let's say that there are 100 questions and you take 5 seconds to mark an answer, which means 500 seconds or more than 8 minutes are gone in just marking the answers. But these problems will not be there in the online examination as here you can mark your answer with a single click, which takes less than a second.
So online exam does save your precious time, which is a huge benefit. Especially in the competition test where even few minutes saved can help a lot.
2 – No chance of printing errors
In offline mode, there is always a chance of printing errors, which can prove problematic in an exam. So, it can happen that the person sitting next to you is able to see a question properly, but you are having trouble due to a misprint.
With online examination, this problem is completely eliminated, as question paper once created gets loaded on all the computers in the same way, and thus no errors prevail.
3 – Answers can be changed without hassle
One big advantage of an online mode is that you can change your answer anytime you want, and any number of times. The answer marked with pen in offline mode can never be changed, even if you want to do. But online mode provides this great facility to change answers.
So, in last minutes when you are reviewing your answers, you can correct any mistake that you made in online mode. But this cannot be done in offline mode.
4 – Results can be delivered faster
To scan offline sheets in such a huge number required a lot of effort and time, which results in the late declaration of results. But in an online exam, checking the answers and calculating the score of candidate becomes an automatic process, which means that declaration of results will become very faster than earlier.
The difficult period of waiting for the results of the exam will get reduced to a lesser number of days, which is surely a benefit.
5 – No need to count number of attempts
In an offline exam, if you want to know that how many questions you have attempted and how many you have left behind to attempt later, you will either have to turn the pages back and forth, or you will have to check your OMR sheet and count the attempts (if you are marking answers simultaneously). This again takes some time which should not get wasted.
But in an online exam, all the information is available on your screen, that how many questions you have attempted, how many you have marked for review, how much time is left and all.
There is no need to go back and forth within the examination, just move the cursor and get to know where you stand.
6 – Concentration on one question at a time
A general tendency with most of the candidates is that when they are given the question paper, they tend to have a quick look at the question paper, to get a rough idea. Now, this activity is actually a double-edged sword, if the paper is easy, you can over-excited or over-confident.
But if the paper is tough, you can get stressed unnecessarily. Both these situations can decrease your productivity and concentration, thus affecting your results. But in an online examination, you get to see only one question at a time, and you put your entire mind into that one question. This increases your concentration and thus can result in better scores.
7 – Indirectly, you will get familiar with computer
Although forcibly, you will have to use computers and will have to understand how to operate them. We all know that it is the age of technology and if not now, after some time you will have to attain the knowledge of computers.
When you will use computers for studying, it is quite imperative that you will get to know many useful things of the computer, which will, in the end, benefit you only.
This is an indirect benefit of an online exam is that you will get familiar with computers.
Both the modes have their pros and cons. But the benefits of an online JEE Test certainly outweigh its cons. Therefore, it is better for candidates to adapt to this new change and take it as a decision for your good. Collegedunia.com wishes all candidates all the best for their JEE Main and Advance exam. Good Luck!