Jet Airways, India's premier full service international airline celebrates the momentous milestone of 25 glorious years of service on the 5th of May 2018.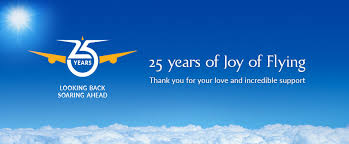 Credited with transforming the face of Indian aviation, Jet Airways first flight 9W321 took off on the 5th of May 1993 from Mumbai to Ahmedabad, marking its humble journey of 'Connecting India to the World.'
From a modest beginning of a fleet of 4 aircraft serving 6 destinations in early 1993 – to its present day fleet of a 119, serving over 450 destinations globally along with its partner airlines; Jet Airways has been privileged to play a modest role in contributing to the growth of the Indian economy by enabling and facilitating passenger and freight businesses pan-India as well as internationally, and as significantly, fostering the growth of trade and tourism across India and the world.
The airline's brand and service philosophy defined personally by its Chairman, Mr Naresh Goyal characterized by warmth, care and personal attention also brought to life the spirit of Indian hospitality. Investing significantly to fulfil its product and service experience, Jet Airways' immaculately trained its frontline employees, helping redefine service professionalism in the country, creating a culture of talented professionals who have earned the trust of its guests, both on ground as well as in the air. The airline's unique service philosophy also helped it emerge as an iconic Indian brand to create a name for itself on the global arena, providing guests the finest hospitality in the skies.
On the occasion of the 25th Anniversary, Mr. Naresh Goyal, Chairman, Jet Airways' Group said, "This day represents an unforgettable milestone and is a mix of emotion and elation for us all. We are both humbled and honoured by the overwhelming trust, support and appreciation received from our Guests over the years, as we fondly recall the first steps we took on what has been a truly exciting journey in bringing the Joy of Flying to millions of our Guests. It gives me great pleasure to reaffirm our commitment to them and to our vision of connecting India to the world."
"Our partners also deserve a special mention for their consistent support that has surpassed our expectations. I also acknowledge the unwavering support of the Government towards opening up and promoting Indian aviation, facilitating greater access for travelers everywhere. Finally, I express my deep gratitude to each and every member of the Jet Airways family, without whose untiring efforts, this milestone and our success would not have been possible."
In its Silver Jubilee year, Jet Airways will be celebrating across its global network, on ground and in the air in its endeavour to thank the airlines' family of over 16,000 employees and to convey gracious appreciation to its valued guests for their continued patronage, support and trust.