~Inaugurates 42 km road between Jaigarh Port & Nivali,
~Lays foundation stone for Jaigarh Digni Railway Line
~Inaugurates Mechanized Coastal Berth and receives nation's largest dry bulk parcel
~Port draft depth increased to accommodate larger vessels.
newznew (Chandigarh) : JSW Infrastructure Limited (JSWIL), one of the nation's leading private-sector infrastructure companies, has taken multiple steps to enhance western coastal connectivity by strengthening last mile access through road and railways, mechanizing coastal berth to enhance handling capacity and by increasing draft depth to accept larger vessels at its Jaigarh port.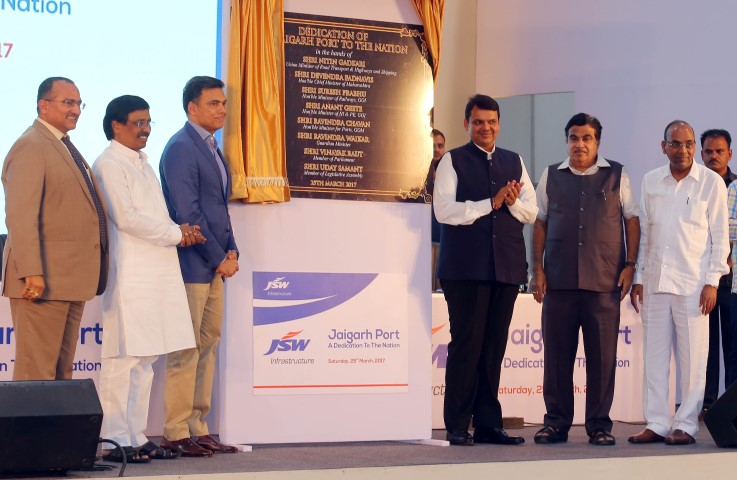 The event witnessed the august presence of Shri. Devendra Fadnavis, Honorable Chief Minister – Maharashtra, Shri. Nitin Gadkari, Minister of Road Transport, Highways & Shipping – GoI, Shri. Suresh Prabhu, Minister for Railways – GoI, and Shri. Dharmendra Pradhan, Minister of State for Petroleum and Natural Gas – GoI.
Jaigarh Port has commissioned the new Mechanized Berths to serve coastal cargo for Capesize vessels and transform it to a transhipment hub. Furthermore, JSW Infrastructure is developing Jaigarh Port to handle LNG, LPG, Liquid cargo and Container Berths for diversified and specialized cargo handling operations.
A 42 km road construction plan was inaugurated by the hands of honorable Shri. Devendra Fadnavis, an initiative by JSW Group, to create linkage between Jaigarh Port and Nivali on national highway NH 66 (earlier NH 17). This two-lane road was widened to a 4-lane highway in 2014, and now further upgraded into six-lane highway.
In conjunction with Indian railways, JSW Group also laid the foundation stone for Jaigarh Digni Railway Line on the Konkan Railway network providing additional connectivity options. On completion, this railway line will assist in improving the current connectivity situation wherein the nearest railway link is at Ratnagiri – a distance of 55 km on the Konkan Railway network.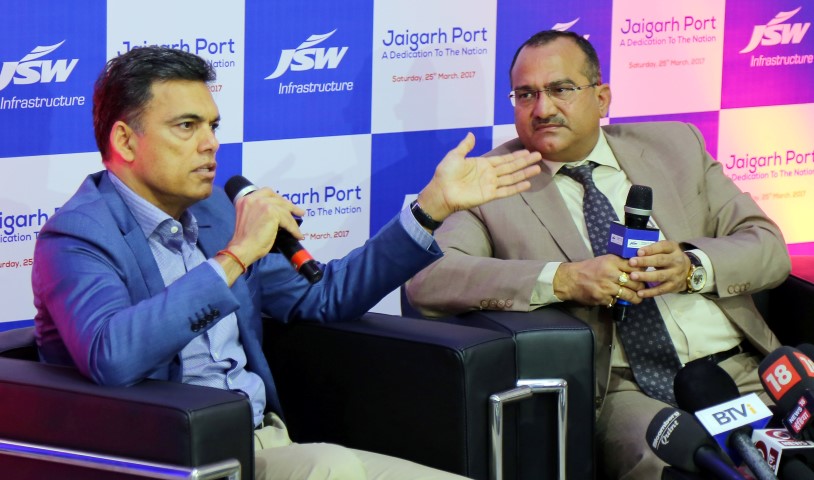 On this momentous occasion, Jaigarh port also earn the distinction of having received the nation's largest dry bulk parcel ever at an Indian port. The bulk cargo vessel 'MV China Enterprise' is carrying over 2,00,000 MT Coking Coal from Australia to India. It is the largest dry bulk parcel ever serviced by an Indian Port, making this achievement a significant milestone in India's maritime history.
This unique distinction could be achieved by increasing the Jaigarh Port's draft depth to accommodate Capesize vessels of higher deadweight (DWT).
This green-field multi-cargo deep water port in Jaigarh currently has a capacity of 15 MTPA which it is now expanding to 80 MTPA by building additional capability. In the near future, Jaigarh Port is getting ready for a giant leap to handle 65 MTPA of cargo and aiming for direct berthing of next generation vessels i.e. largest dry bulk carrier (vale max),
LNG Carrier (Q-Max), largest container vessels (EEE Series) and very large crude carriers.
Sajjan Jindal, Chairman, JSW Group, said: "I am delighted to state that JSW Infrastructure is showing appropriate concern in the development of the nation and that the Jaigarh Port showcases our commitment to the nation. We definitely need to create more infrastructures to meet the growing demands from our stakeholders. We have a responsibility to develop them for the coming industrial growth."
Capt BVJK Sharma, JMD & CEO at JSW Infrastructure Ltd, said: "We have unwavering faith in the 'Make in India' ideology and remain committed towards developing world-class port and port connectivity infrastructure, in order to serve the rising business requirements of the nation. India's manufacturing prowess cannot be unleashed unless the nation has modern port infrastructure to adequately support its logistics operations. While receiving of India's largest dry bulk parcel is indeed momentous, there is a need to continuously strive towards achieving even greater heights."
Jaigarh Port is strategically located between the two major port cities of Mumbai and Goa in the western part of India. The port's location means it has the advantage of servicing cargo from Maharashtra as well as Karnataka.
Currently, the JSW Group operates from Jaigarh Port and Dharamtar Port in Maharashtra and South West Port in Goa, thereby significantly contributing in Sagarmala and other 'Make in India' initiatives of the Government of India.