Kamdhenu Limited, India's leading home building materials company, has joined hands with Graphenstone, Spain, a leading global paint manufacturer, to introduce first of its kind, safe, eco-friendly and green paints in India. Under this tie-up, these products will be exclusively imported & marketed by Kamdhenu Limited in India. This range of products consists of various paint products in standard pack sizes.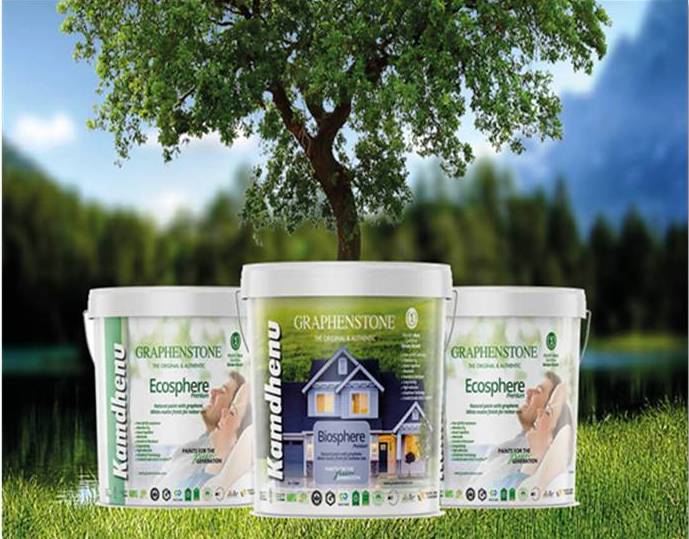 With a strong network spanning across the regions in India, Kamdhenu is all set to tap the growing demand for high-quality, easy-to-use, safe and eco-friendly paints in the country. With growing consciousness on the need for environmental protection, the demand for eco-friendly paints in India is expected to witness robust growth. The Indian paint market is projected to witness double digit growth to touch Rs.70,875 crores by 2019-2020.
These paints are free of VOC (Volatile Organic Compound) emission. These products are also Cradle to Cradle Certified under Gold Level which is the highest Certification from any agency in the world.
Announcing the launch, Mr. Saurabh Agarwal, Director, Kamdhenu Limited,said "At Kamdhenu Limited, we remain committed to our cause of being a green, environmentally friendly paint company. We have woven it into the day-to-day business activities of the company to run sustainable business operations and this association reiterates the commitment. We are optimistic that this new range of eco-friendly paints will have considerable demand of decorative paints market in India."
Mr. Gian Carlo, Marketing and Communication Director, said, "We are glad to be associated with Kamdhenu Limited for the launch of such unconventional paint products in India. These unconventional paints are free from various harmful chemicals and substances such as formaldehyde, benzene, etc. Therefore, these paints will not irritate or burn the eyes, nose, throat, skin and cause reactions such as headaches, dizziness or nausea. These products will also not have any lasting impacts on kidney, liver and respiratory system thereby making it safe for its usage.
He further added, "Kamdhenu-Graphenstone range of paint products are non-toxic, free of VOC emissions, have no odor and can be tinted to any color with non-toxic tints. They are produced from fewer than 250 chemical components and more than 98% of these chemicals are derived from plant sources and minerals. The raw materials are also low in toxic substances, renewable and feature a low environmental footprint."