NewZNew (Zirakpur) : Kay2 Steel Limited the youngest and fastest growing TMT player organized its annual channel partner programme and meet in Jirakpur. The programme titles as Nayee Soch Naya Josh was especially designed to create a director connect between kay2 steel management and the channel partners. Over 200 dealers and distributors from Punjab participated in the programme.
The youngest TMT player in this industry is riding swiftly on two tier expansion mode. Besides, setting up TMT bar manufacturing facilities under joint franchise model, Kay2 is significantly increasing its network to reach out at every nook and corner of Punjab
On the sidelines of Kay2 Steel's Channel partners meet, Mr. Sunil Agarwal, Director Kay2 Steel Ltd disclosed, "Due to its location advantage and mass real estate and infrastructure development, Punjab has become the most preferred choice for steel and allied industries. We at Kay2 Steels have already a significant presence in this belt of the country.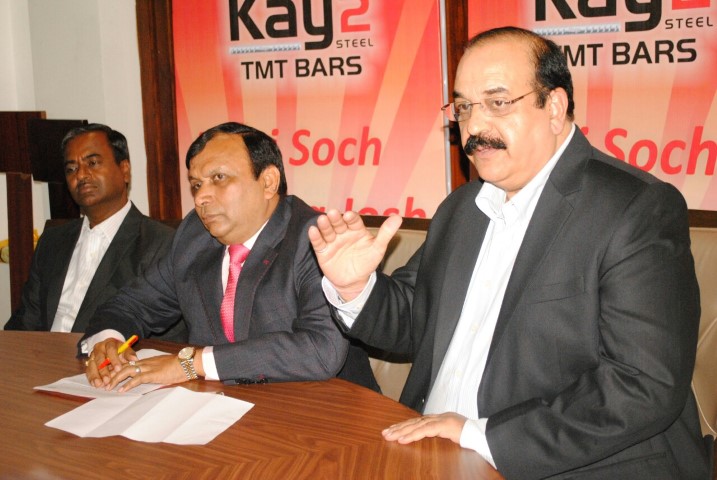 Mr. Agarwal further told media persons that alone Punjab market, contributes approx 10-12% of our total sales and they intend to increase double in next 2 years. "To achieve this target we are going ahead with a plan to further strengthen the existing channel partner's network with best possible sales support and side by side we are opening up new territories to offer our products to unrepresented areas." Mr. Agarwal added.
Kay2 Steel is having a state of the art manufacturing facilities in Punjab; however, due to the increase in demand for TMT in Punjab and neighboring markets, company is mulling the option to go for capacity expansion very soon. The burgeoning demand for Kay2 TMT bars has paved way for the company to go for multifold capacity expansion. As a part of its pan India expansion strategies Kay2 has recently commissioned TMT Bar manufacturing facilities on franchise model in Raibareli of and Uttar Pradesh besides, its existing facilities in Rajasthan, Punjab, Madhya Pradesh and Maharashtra.
Disclosing the product line of Kay2Steel Ltd, Mr. Agarwal told that Kay2 has introduced some of the most advanced innovations in steel segment. The product line Kay2 Fe-415 and Fe-500 TMT bars are being made as per the international standards and most preferred choice at every construction site. In case of earthquake these two technologies is very useful which is why Fe-415 & Fe-500 are earthquake resistant as well".