This Kullfi was well served with music last evening! The little wonder was seen spreading joy with her melody in her hometown Punjab in the presence of a live audience. In a never-seen-before musical evening, the singing prodigy of Star Plus' brand new show, Kullfi Kumarr Bajewala performed LIVE with ace musicians and singers of the state including folk legend Gurdas Maan, Sufi duo Nooran Sisters and young music maestros of Rajasthan Langa Kids.
Cheers grew louder as Gurdas Maan took the center stage belting out his chartbusters for the audience.  The event took a musical high when Rajasthani folk singers Langa Kids enthralled the crowd with some soulful folk music. Uplifting the mood for the evening, the Sufi singing duo – Nooran Sisters – Jyoti Nooran and Sultana Nooran performed their popular tracks. The event was concluded at the cultural hub – Kalagram in Chandigarh.
It was a music concert, and at such a sangeet-ful event how would the naturally-talented Kullfi be left behind? Though untrained, the born singer had no inhibitions in joining these masters of music to double the magic of their respective performances. Showcasing her talent and love for music, Kullfi joined singer Gurdas Maan on the stage for a unique and delightful jugalbandi experience where the 65-year old singer and this 7 year old girl hymned to few songs together, as Kullfi learned a trick or two. She further joined the Langa Kids in unleashing her Rajasthani folk flavor.  And there was no stopping her, the powerful duo, Nooran Sisters who spread some Sufism at the musical do had a heartfelt tete-a-tete with their very own fan Kullfi Kumarr on this historic evening in Chandigarh.
Some of the moments that could not be missed during the night was when Punjab Di Shaan, Gurdas Maan seeked blessings from the little musical prodigy. After a jugalbandi session with Gurdas Maan on his dafli and Kullfi with her matkas, the two got together to play fugdi on stage that left a big smile on everyone's face. Kullfi then introduced her new friends, Langa Kids, where they indulged in a Lassi drinking competition and the kids presented Kullfi with their traditional pagdi. To add to this celebration, the Nooran sisters, who were mightily impressed with Kullfi, gifted her with a duppata along with a bracelet.
Seeing Kullfi's talent, a totally surprised Gurdas Maan shared, "Now this is truly called 'chhota packet, bada dhamaka'. The soothing visuals of Pathankot and soulful voice of Kullfi took me back to my childhood. I see my childhood in her. As a kid even I had the same energy, curiosity for music, hunger for versatility and no stage fear as we just saw in Kullfi. I hope she mesmerizes the audience with her voice, like she did at the concert last evening, and her story on the show and keeps them affianced throughout the season. She has my blessings, and I am sure she has the entire desh ki janta ka ashirwad. I wish all the best to Kullfi and her show Kullfi Kumarr Bajewala."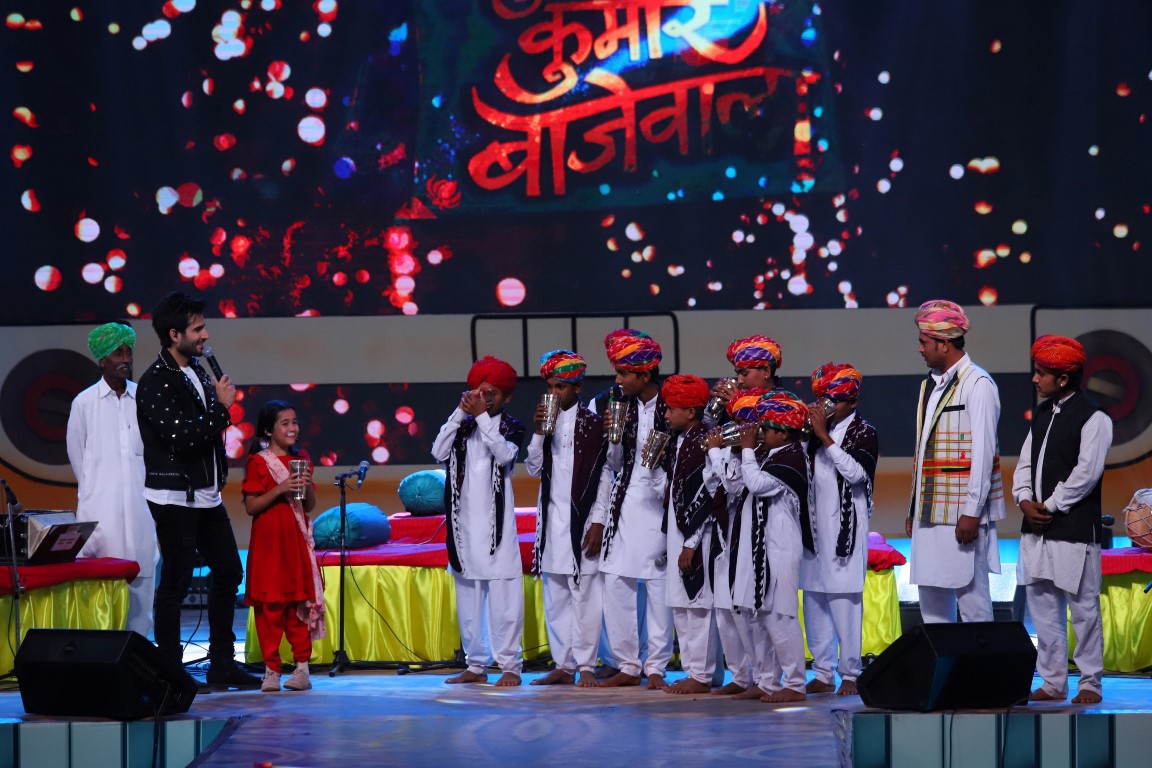 Set to air from March 19, Kullfi Kumarr Bajewala is television's first musical fiction show starring the 7 year old Aakriti Sharma. The small wonder, who hails from Chirouli village near Pathankot, is a God gifted singer with the unique ability to create songs out of any situation and thus bring in happiness and positivity. It's a heart wrenching story of a small girl's emotions and sentiments told through music.
Produced by Gul Khan and Nilanjana Purkayasstha (4 Lion Films), the show also stars Mohit Malik, Anjali Anand, Pallavi Rao, Mehul Buch and Shruti Sharma in interesting roles.
Watch the story of this lively, fun loving and energetic, innocent little girl as she steps into an unknown world spreading joy on the course of her journey.
Watch Kullfi Kumarr Bajewala's journey starting 19th March, every Monday to Friday at 8:30 pm on Star Plus