newznew (Bathinda) :  "Jal Jeevan Hai" campaign launched with great flair on Sunday, the 14th of May 2017 with the keynote address by the "Water Man of India" Shri Ranjinder Singh at the Central University of Punjab, Bathinda. The campaign is a joint effort by Kheti Virasat Mission and NABARD on conservation and efficient use water in agriculture in three districts of Punjab namely Bathinda, Faridkot and Mansa.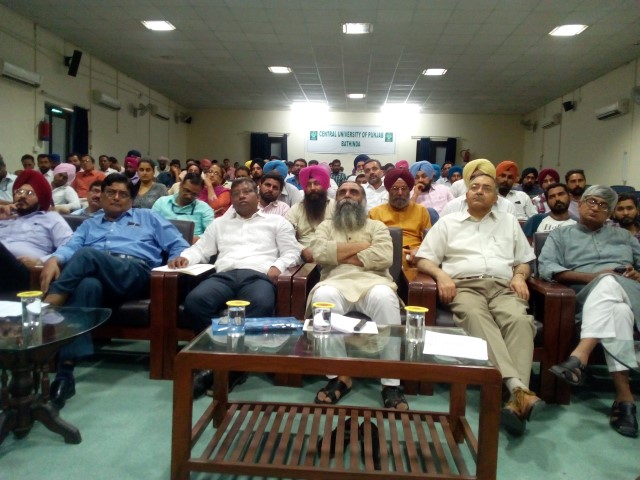 Other prominent people present at the campaign launch were Shri Deepak Kumar, CGM NABARD, Punjab , Shri Diprava Lakra, Deputy Commissioner (IAS), Bathinda, Shri Sharad Gaur, Program Director, Centre for Environment Education (CEE) and Shri R.K. Kohli, VC, Central University of Punjab.
The awareness campaign sees light in a context where there is excessive inefficiency in water use in agriculture in Punjab, the water table is plumetting at an ever increasing rate, groundwater recharge is neglegible due to runnoffs. Given the context and the huge scale of the problem, it becomes imperative that the masses take initiative in solving the water crisis in their neighborhood by harvesting rainwater for drinking and groundwater recharge, using efficient water usage mechanisms etc.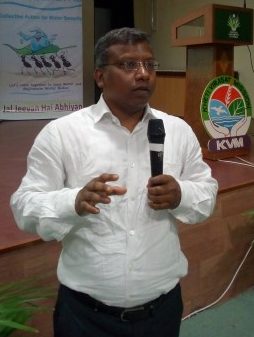 The keynote speaker Shri Rajinder Singh is a Magasaysay Awardee and also known as the Water Man of India. Shri Rajinder gave a mesmerising talk about rainwater water harvesting backed by his 25 years of experience in harvesting rainwater based on traditional wisdom. He along with the villagers in Rajasthan have made more than 11,000 water harvesting structures and revived several rivers which are now perrineal. Sharad Gaur from CEE (the organisation which conceptualised the  made a presentation introducing the campaign to a diverse audience which included Krishi Jaldoots, farmers, students, volunteers and other environment concious people.
Shri Rajinder Singh and other dignitaries present were felicitated at the event and they kickstarted the second phase of the event by giving the Jaldoot kits to the Krishi Jaldoots. The Jaldoot kits have informational posters and charts for participatory exercises during the campaign. "Krishi Jaldoots" are the volunteers will campaign and build a dialogue on the issue of water conservation and efficient use in select villages. After that the Krishi Jaldoots were trained by master trainers from Kheti Virasat Mission.
Shri Sharad Gaur, CEE trained the Jaldoots on "Water Resource Mapping" and the Jaldoots actively and enthusiatically took part in the tech-oriented training. Jaldoots were also trained on the Krishi Jaldoot Mobile App for reporting of data.
In the training phase, Mr Arun Naryyal, Chairman Varun-Mitra Society explained the process and designs of rainwater harvesting and how to implement them. They offered easy solutions for rainwater harvesting which they have demonstrated at many places before and plan to execute in some villages which express interest in rainwater harvesting for villages. Various techniques of rainwater harvesting such as farm ponds, bunds etc., community practices of water conservation such as check dams, gully plugs etc., efficient irrigation systems in agriculture were also talked about in the training.