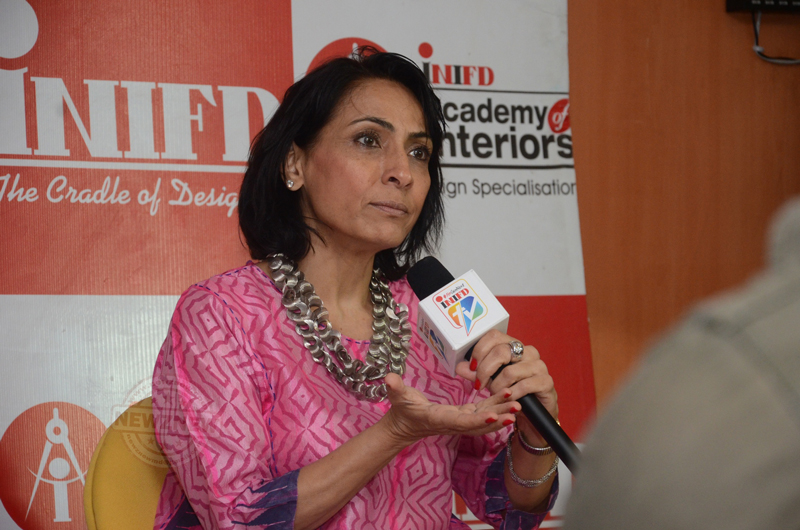 NewZNew (Chandigarh) : Veteran Lifestyle Designer Krishna Mehta, a Design Mentor to INIFD students was at Chandigarh to conduct an Exclusive Designer Workshop and share her expertise with the budding Designers of Inter National Institute of Fashion Design. She will be conducting a series of workshops at INIFD Centres all across the country.
Veteran Designer Krishna Mehta, the creative Director of the Brand 'Krishna Mehta' established since more than 2 decades now is an eminent Advisory Board Member of Lakme Fashion Week and Fashion Design Council of India. Celebrities of all times like Deepika Padukone, Sonakshi Sinha, Vidya Balan, Prachi Desai, Mini Mathur, Urmila Matondkar, Zeenat Aman have admired and adorned her Designer garments.
Krishna Mehta has been a recipient of many awards in recognition of usage of Natural & Khadi Fabrics, to name a few. She has set up a NGO 'PALAK' – block printing unit in Gujarat with a view of providing employment for the deaf & dumb and physically handicapped men & women, training and providing them work thus making them self reliant.
Krishna Mehta was at INIFD to brush up the talent of the INIFD Design students and to teach them the important aspects to be kept in mind while designing the collection. She gave inputs on design industry's changing scenario with the new-age technology that has made the consumer savvier & smarter than ever and the development of global e-commerce.
During this workshop, Designer Krishna Mehta had an hour long Question & Answer session with students to satisfy their curiosities from the role of designers to participating in Lakme Fashion Week. Krishna Mehta also briefed INIFD students about design industry, how to start their own venture, the ins and outs of Fashion Marketing & Retail. She redefined the 4 P's of Marketing for INIFD students as they need to understand the consumer and all this requires analytics, shopper marketing tools, behavioral insights & predictive modeling.
In this specialized workshop students were taken through the different stages of the design process. She shared how Fashion trends invariably impact each decision made during a product's lifecycle and related financial implications. She also discussed with students about the methodology of evolving self creativity to come out with exclusivity year after year.
This exclusive designer workshop with Krishna Mehta was organized by INIFD to hone the student's designer abilities. The workshop enabled the INIFD students to seek her seasoned guidance and benefit from her personal experience.
Krishna was amongst the few Indian designers chosen by the Italian Council in India, to showcase her collections during the Milan Fashion Week. She uses her heritage as the starting and the ending point for all her design inspirations, re-living the classic design fundamentals of the country. The timeless craftsmanship matched by innovation has been the principle at the house of Krishna Mehta's print and craft legacy.
Krishna Mehta's unique style of designing she speaks in muted tones, through pure fabrics and product innovations, which are evident in her garments – refined, elegant, and classic. 'Krishna Mehta', the designer brand for men and women started by designer Krishna Mehta, the brand is synonym to classic designs of understated elegance.
Designer Krishna Mehta has been associated with ace design houses like Marc o Polo, Flash, Indiska and others since 25 years. She has worked with Gitanjali Lifestyle as a COO – heading the fashion vertical. She has been a consultant many firms like Morarjee weaving and spinning mills, Mc Kinsey and KSA Technopak -representing the Piramal Industries, Kanakia enterprises for the upcoming retail merchandising and marketing institute in Mumbai.
The Designer Workshop of Krishna Mehta was a great learning experience for the INIFD students, which provided them with direct hands on experience of being a veteran designer. The design workshop also created awareness about the stylish and versatile upcoming fashion trends.