NewZNew (Chandigarh) : Inviting the industry from Chandigarh and Punjab region, Lord Mayor, Councillor Hazel Noonan, Coventry City Council, UK mentioned that "Coventry City is proud about its industries and educational institutions and being strategically located, it takes maximum 4 hours to reach end to end of the country. Being logistically efficient and one of top 10 business friendly cities, we are laying special focus on car factories, hi-tech businesses, ICT/digital technologies etc".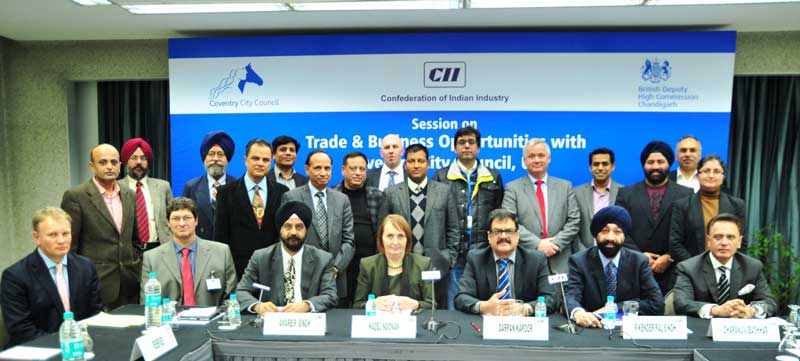 He was addressing industry representatives at a Session on Trade & Business Opportunities with Coventry City Council, UK organised jointly by Confederation of Indian Industry (CII) and British Dy High Commission, here today.
While inviting the SMEs from the tricity to invest and forge partnerships in Coventry City Council, UK, he added that "I am overwhelmed to be in India as a lot of population in Coventry City belongs to Indian community and particularly from Northern Region, A lot of support is also being provided to SMEs to set up their businesses, the minimum employees required for an SME are 25"
Lord Noonan also emphasised that "Coventry City would be pleased to support and provide expertise to help Chandigarh to become a Smart City"
Mr Darpan Kapoor, Chairman CII Chandigarh Council & Vice Chairman, Kapsons Group mentioned "India's relationship with UK is mutually beneficial and wide ranging; covering- development, regional stability, trade and investment, climate change, counter terrorism and reform of the global international systems. The UK and India have an enhanced partnership that has at its heart the development of trade and investment between our two countries. The UK – India development partnership is about sharing knowledge and expertise, exchange of best practices, supporting innovation and building capacity and skills. The Indian Government has introduced a plethora of enabling policies to encourage investments, creating employment and accelerating growth. A series of measures have been taken up to improve the Ease of Doing Business in the country, which would help the UK companies looking at investing in India."
Mr David Cockroft, Senior Development Executive mentioned that "Coventry City is very helpful in setting up business by helping locate partners with specific requirements, also the office  rental at premium location in the city are 1/5 the price that of London which is only an hour away by train"
Aimed at expanding the business ties and building an investment bridge between Coventry City, UK, Chandigarh and Punjab region, the interaction encouraged cross country investments and collaborations as also provided detailed information on priority sectors of engagement like Automotive, Advanced Engineering/Manufacturing, ICT/Digital Technologies and Professional Services linked to significant City Centre investment.
Councillor Hazel Noonan was accompanied by a delegation including Consort, Christopher Noonan, Cabinet Member Business Enterprise and Employment; Councillor Kevin Maton, Assistant Director; David Cockroft, Senior Development Executive; Richard Moon, Business Development Adviser; Parmy Singh and other business representatives.