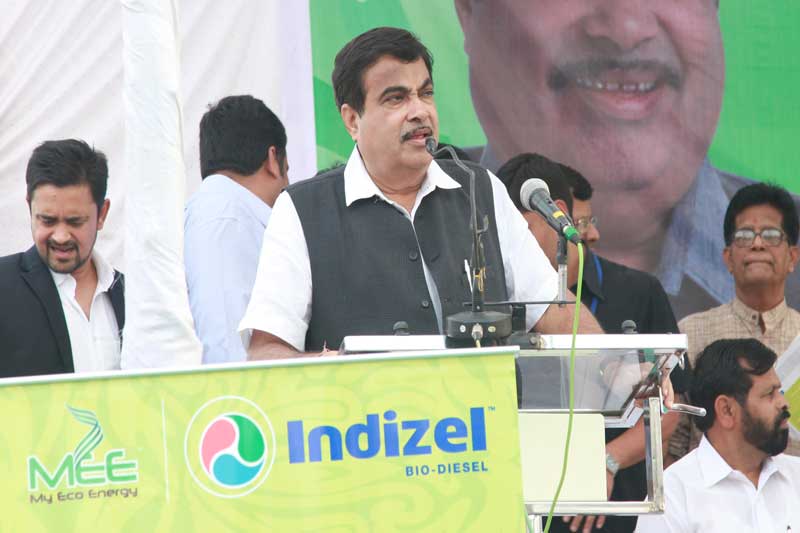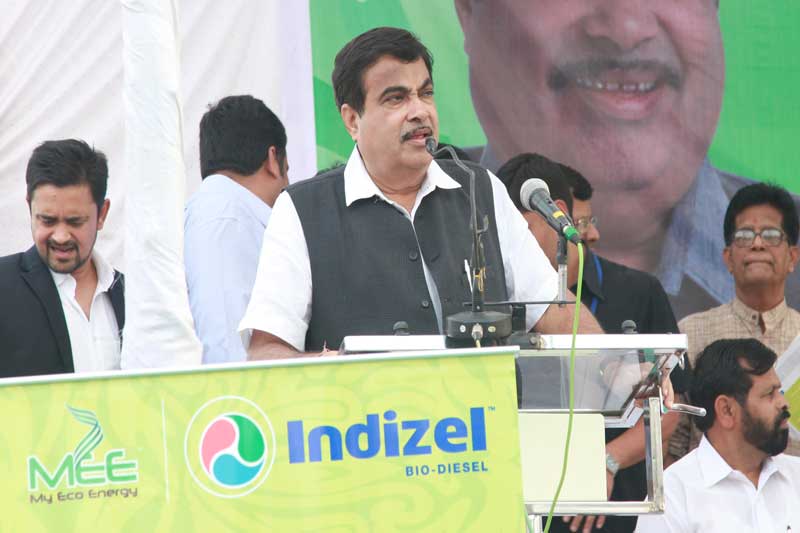 NewZNew (Pune) : Union Cabinet has given a historical approval that allows private bio-diesel manufacturers to market biofuel on their own, which is poised to bring a new energy revolution in the country. One biofuel company becoming part of this revolution is My Eco Energy (MEE), which has developed renewable diesel Indizel.
It will be available through its own fuel station in Khalapur in Pune, which was inaugurated by the hands of Union Minister for Road Transport, Highways and Shipping, Honourable Shri Nitin Gadkari today.
The Union Minister for Road, Transport & Highways, Shri Nitin Gadkari today said the Union government will encourage greater domestic production of bio-fuel, as it would not only help reducing crude oil import but also provide newer alternate income sources to the farmers and the youth.
The minister was speaking at the inauguration of My Eco Energy Bio Fuel Station 60 km from Pune. "We import a huge amount of diesel, which impacts our foreign exchange. We should be make diesel within the country, which will help us reduce import burden by 10-15%. We will try to ensure that trucks and buses would use bio diesel," Gadkari said.
Reacting to the bio-diesel station started by My Eco Energy, Gadkari said that this was a good initiative and would cost Rs 2-3 less then normal fuel.
"Apart from reducing fuel import cost, bio-diesel is also eco-friendly and helps reduce pollution. We can make use of the domestic and industry sewage for growing plantations that can be used for producing biofuel," Gadkari said.
The Minister hoped that bio-diesel production could help the country from being an oil importing country to exporting nation.
 Among the guests attending the event was Mr. Shrirang Barne (MP), Mr. Suresh Lad (MLA), and Mr. Ram Seth Thakur (Ex. MP), Mr. Prashant Thakur (MLA).
Mr. Santosh Verma, Mr. Sachin Labde, Mr Hrishikesh Kulkarni & Mr Rakesh Rachwani the directors of the My Eco Energy were also present at the programme.
On the occasion, the company announced a biofuel corridor in the state of Maharashtra. A biofuel corridor is a chain of biodiesel equipped fuel stations located on every 50 km on both sides of the highway. The targeted highways are NH-4 Pune- Satara- Kolhapur, NH-9 Pune- Sholapur and on the other end-Mumbai- Palghar-Gujarat, NH-17 Mumbai-Ratnagiri and NH-3- Mumbai- Nashik- Dhule.
"The Company's plans are to expand the network of bio-diesel retailers and distributors across Maharashtra in the near future. We plan to open 500 fuel station across Maharashtra and about 2000-3000 smaller outlets so that fuel is available to all," Mr. Santosh Verma, Director, My Eco Energy said.
According to him, this bio-diesel from MEE mostly uses locally produced used edible oil and it is biodegradable and non-toxic. MEE's existing capacity of sourcing of up to 25 lakh litres a day enables immediate implementation. Additional capacity can be built locally.
The idea is to promote zero emission vehicles; this will play a significant role in reducing Maharashtra's greenhouse gas emissions. "It takes a long time to change the vehicle fleet to clean technology. Indizel can replace conventional fuel overnight if it is compatible with existing and future engines and infrastructure," the MEE Director added.