Mohyal Sabha Mohali today successfully organised its First Mohyal Milan Mela  :  Mohyal Sabha Mohali (Regd.)  successfully organised its first Mohyal Milan (Mela) at Shri Radha Krishan Mandir at Phase 2, Mohali.  Over 400 Mohyals across TriCity, Punjab, Haryana, HP, J&K and Delhi participated during the function.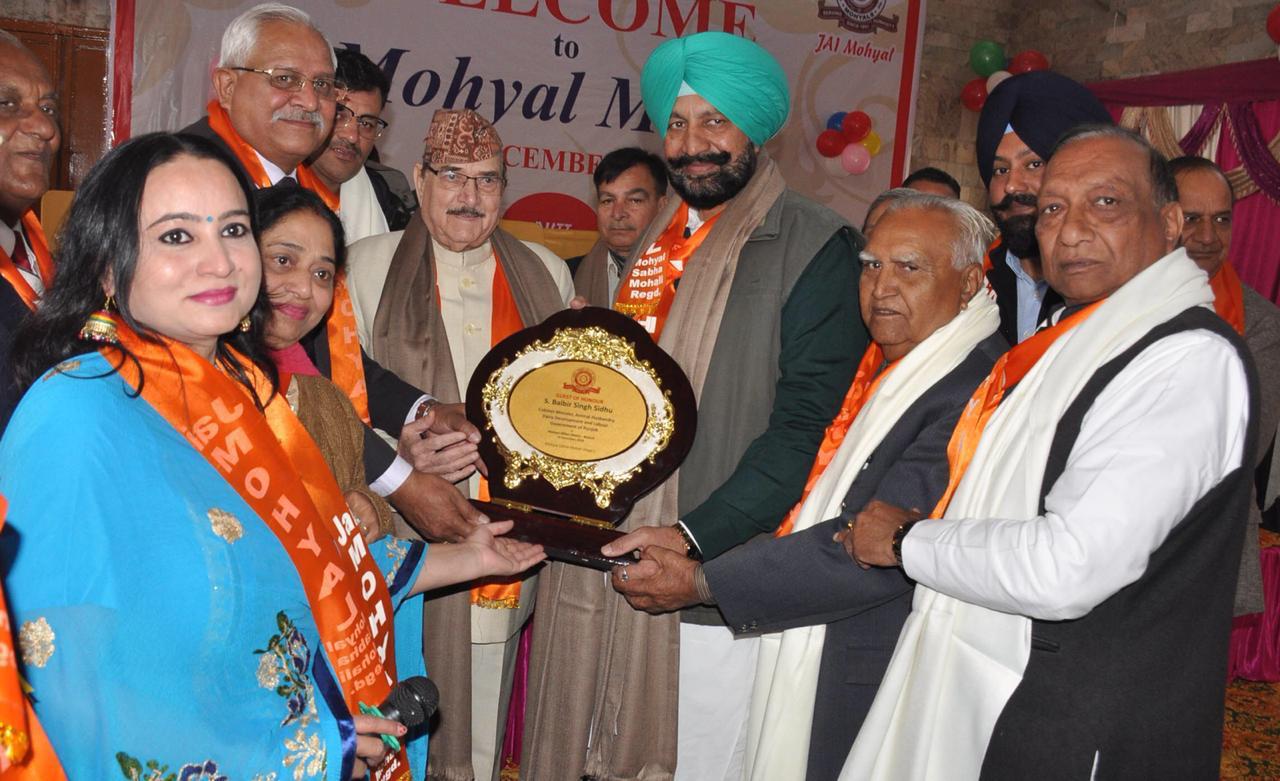 Mohyal Milan (Mela) was attended by Member of Parliament, Prof. Prem Singh Chandumajra,  & Cabinet Minister, Animal Husbandry Dairy Development and Labour, Government of Punjab, S. Balbir Singh Sidhu.
The event began with Mohyal Prayer followed by unfurling of Mohyal flag by Former Governor of Punjab & Administrator UT ( Chandigarh), Lt. Gen. BKN Chhibber (Retd.), PVSM, AVSM, VSM who was the President of the Event. During the event, 22 Senior Mohyals aged 75 years and above were honoured with shawls and certificates thanking them for Enriching Mohyal Community & the Society.
Mr. V K Vaid, President, Mohyal Sabha Mohali said, "Today, we had the honour and privilege to have esteemed & distinguished dignitaries gracing the Mohyal Milan (Mela) that witnessed over 4 generations with over 400 Mohyals meeting at a common platform who come across North of India. This representation from different states, truly reflects the bond Mohyals have for each other. We are delighted to have successfully concluded this first ever Mohyal Milan for our Mohyal Sabha at Mohali."
Over 35 children  including students of Gem Public School, Mohali showcased their various talents like elocution, dancing, playing musical instruments at the cultural program conducted during the event.
Mr. PK Bali, Managing Director, Systopic Laboratories Pvt. Ltd. & Vice President, General Mohyal Sabha (GMS), New Delhi was Chief Guest of the event.  In the Guests of Honour, the event had, Mr. V K Bali, Chief Justice- Kerala High Court (Retd.) & Chairman C.A.T (Retd.); Air Marshal, S D Mohan, AVSM, PVSM (Retd.); Lt. Col. L R Vaid (Retd.) Secretary General, GMS,  Delhi; Mr. Chaudhary Vinod Dutt, Managing Director, Chanakya Dairy Ltd. , Khanna, Punjab & VP-GMS, Delhi; Dr. Harinder K Bali, MD (Med), DM ( Cardiology), Director- Cardiology, Fortis, Mohali; Engr. L P Bali, Founder & Former President, Bali Group International and Mr. Yogesh Vaid, Chairman Youth, GMS, Delhi.
The Sabha reflected its continuing efforts towards contributing towards society on various aspects and expressed its support in education of the needy.