The star cast of the film attended the music release event in the city
Music released on Gakhal Brothers Entertainment Music, marks their debut in the industry
NewZNew (Chandigarh) : Prisoners usually plan to escape out of jail but this duo is planning to get back in! The comic tragedy of these innocent criminals of getting back into the Jail is "Super Entertaining". Here comes 'Vaisakhi List', a movie with an unusual title and of course an unusual story too. The music of the film was released today in the city in the presence of the cast. With this music release Gakhal Brothers Entertainment Music label was also launched.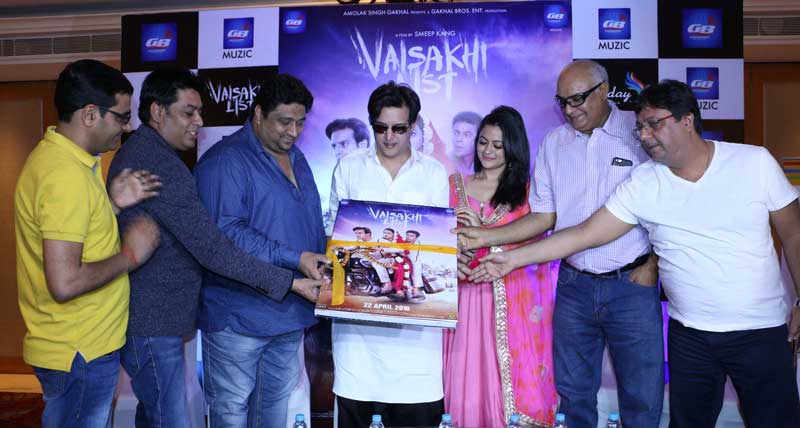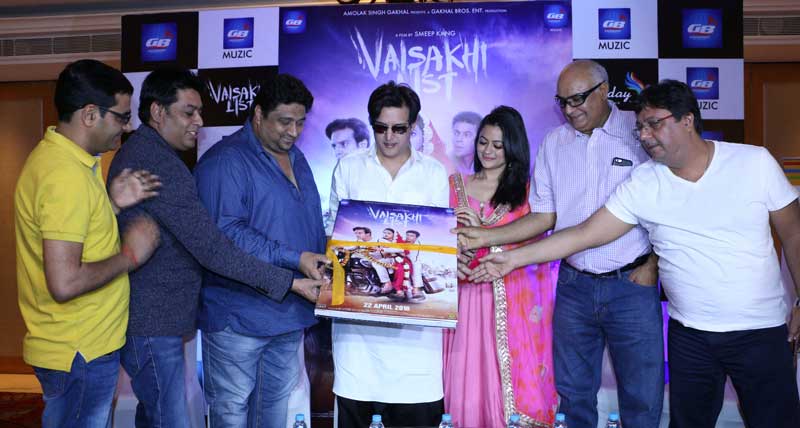 This presentation of Amolak Singh Gakhal has been produced by Palwinder Singh Gakhal, Gurvinder Singh Gakhal and Iqbal Singh Gakhal. With Jimmy Sheirgill in lead role, the film stars Sunil Grover, Shruti Sodhi, Jaswinder Bhalla, Binnu Dhillon, Rana Ranbir, Nisha Bano and Karamjit Anmol.
On this occasion Jimmy, Sunil, Shruti, director Smeep Kang and music director Jaidev Kumar were present and talked about the music of the film. The album has a total of five songs.
Ranjit Bawa, Rahat Fateh Ali Khan, Feroz Khan, Jyotica, Simran, Tripat Kaur and Alfaaz have lend their melodious voices to the songs. The lyrics have been penned down by the legendary Baba Dhani Ram Chatrik Ji, Kumar and Alfaaz.
Jimmy said, "I and Jaidev ji have always made great tunes for our audience, most of my Punjabi film songs have been composed by Jaidev ji. I am very proud of the music of Vaisakhi List as it has the most amazing writing by none another than Baba Dhani Ram Chatrik ji in the form of Jatt Mele Aa Gya sung by Ranjit Bawa. I also like the song by Ustaad Rahat Fateh Ali Khan Sahib and to me the surprise of the album will be the "Prison song" which has been written and sung by Alfaaz."
Nodding to the same Sunil said, "This is my debut Punjabi film but I have been part of Punjab all my life and I have been listening to Punjabi music always. This is an honor for me to be a part of such musical journey by Jaidev ji. I am also extremely happy to have worked with Smeep Kang who has brought the best out of me."
Smeep Kang also praised about the songs of the film and said, "I am extremely confident that the audience will have a great cinematic music in addition to a film which will be full on entertainment."
Jaidev said, "The story is very entertaining so composing the music was an easy task really. Only then I could come out with the music. I also feel happy that I was able to work with extremely talented singers like Ranjit Bawa, Rahat Sahib and Alfaaz. This is my first film with Smeep Kang. I have always liked his work and have known him for over 10 years but I never knew that he has a great ear for music and he gives a lot of liberty to the music director."
The producers Gakhal brothers said, "For us the most important part was to make an entertaining film with Smeep Kang as he is one of the best human beings you will ever meet. We wanted to have all shades of music and we are very hopeful that the audience will accept the hard work put in by all the singers and writers to make this amazing album."
The audience can catch the trailer on YouTube.com. Film releases on 22nd April, 2016 all over.