newznew (Chandigarh) : The New  Multi-Lingual Website (Beta Version)   of Press Information Bureau (PIB), Government  of India is ready and open for the media persons and the general public.
Web-address of the new website is http://www.pibregional.nic.in.  It is under the testing phase and can be accessed by the media persons and the general public through the Mobile App in the Android and IOS Version, for Government  of India Press Releases, Photos, Speeches,Videos, Cabinet Decisions etc. issued by PIB HQ  New Delhi and all the Regional Offices of PIB spread all over the country.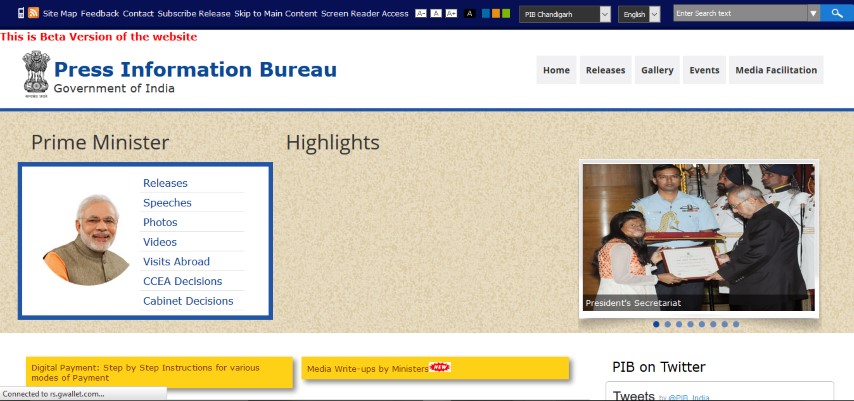 These PIB Regional Offices are one each at Mumbai, Hyderabad, Chennai, Chandigarh, Imphal, Kolkata, Bengaluru, Bhubaneshwar, Ahmedabad, Guwahati and Thiruvananthpuram. The Android  App. titled " Press Information Bureau" can be download from the Google Play store while IOS version which is under development, shall be available for download from the Apple Store shortly. Once the new PIB website stabilizes and the media persons are able to access information through the Mobile App. the current PIB website may be taken off.
New PIB website is in 14 languages including Punjabi. Other languages are: English, Hindi, Urdu. Assamese, Bengali, Gujarati, Kannada, Malayalam, Manipuri, Marathi, Odia, Tamil and Telugu.
For opening Punjabi language site, the user has to click PIB Chandigarh on the Menu bar in the Home Page and then click Punjabi language. Similarly links can be opened in any of the above mentioned regional/national language.