newznew (Chandigarh) : In an exclusive interview with Virender Sehwag who just got back to India from the ongoing Champions Trophy, UC News blogger Padampati Sharma touched interesting aspects of his professional and personal life, and also got his take on the recent controversies.
Clearing the air around the position of Coach of the Indian Cricket Team for the first time, Virender Sehwag told Padampati Sharma that he sent a 2 pager resume in compliance with BCCI rules. Being the witty person he is, he also took a dig at the ongoing rumours saying, "I would be happy to get that 2 line CV from the media source. If I had to send a 2 line resume, my name was enough."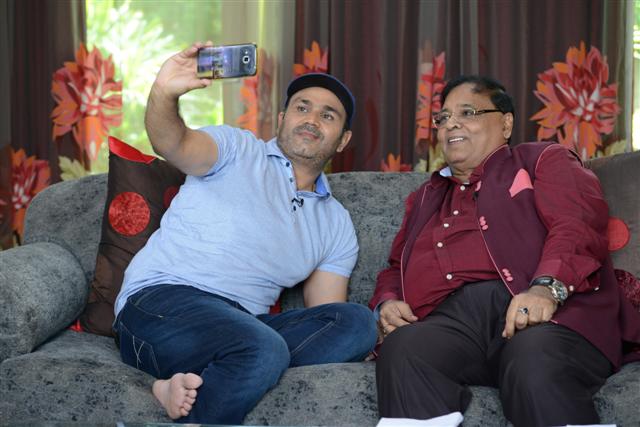 UCWeb will be releasing the exclusive interview for millions of Sehwag's fans on 17th June, 2017 that will enable them to get a closer look into his cricket and personal space. Shot at Sehwag's Delhi residence, the interview captures Sehwag as a passionate cricketer, clairvoyant making cricket predictions, a doting father and a loving husband.
Here are the key highlights of the interview:
Sehwag, the Batsman
Pakistan was that one team against which I always loved hitting boundaries, especially against Shoaib Akhtar who used to bowl at 150 km/h.
Prediction on Champions Trophy finals
India for sure will be in finals and given the form we are in, I see the trophy coming home.
Sourav Ganguly vs Sachin Tendulkar
Sourav taught me how to keep patience and is my all-time favourite Captain. On the other hand, Sachin gave me confidence, broke my superstitions and playing with him was like playing with the wall, you could play without any tension and hit boundaries freely.
Rashid Latif's abusive video on Sehwag's Beta-Pota remark
This eventually portrays Rashid Latif's character. I haven't seen that video and neither do I want to. Whatever I had said was in good spirit and it should have been taken with a pinch of salt.