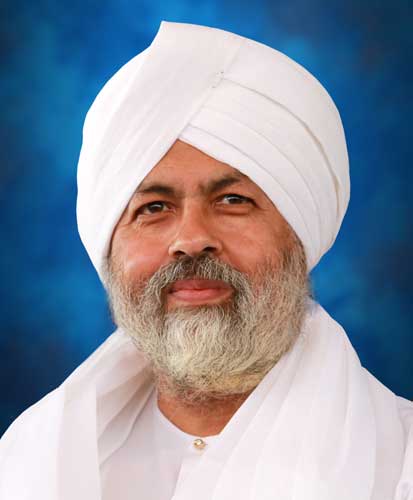 NewZNew (New Delhi) : With profound pain and sorrow, this is to inform all that His Holiness Nirankari Baba Hardev Singh Ji Maharaj has merged into this Almighty God.  He was travelling in a car in Canada which met with a serious accident at about 5.00 a.m. (IST) today.
Further details will be conveyed as soon as finalized.  In the meantime, the Sant Nirankari Mandal has urged all the devotees not to rush to Delhi or to the Headquarters of the Mission/Kothi.
Baba Hardev Singh's demise is tragic & a great loss to the spiritual world. My thoughts are with his countless followers in this sad time.

— Narendra Modi (@narendramodi) May 13, 2016
About Nirankari Baba Hardev Singh Ji Maharaj :
Baba Hardev Singh Ji was born on February 23, 1954 in Delhi in the family of Baba Gurbachan Singh Ji and Rajmata Kulwant Kaur Ji. As a child, Hardev was very fortunate to have worldly as well as spiritual blessings of His parents and the then Satguru Baba Avtar Singh Ji and Jagat Mata Budhwanti Ji as their grand parents.
With the growth of child Hardev, grew his thoughtfulness and sobriety. He saw every object and observed every event with due curiosity but used to keep silent. Respect, regards for elders and trait of humility could be noticed in him from the very childhood.
Interest in congregations and listening to discourses also became conspicuous in him. The kind and pure hearted child Hardev was never found spend thrift and emotional. Gradually he started taking keen interest in photography.
Baba Hardev Singh Ji received his elementary education at home. With his sharp intellect, he learnt alphabets of Hindi, English and counting very quickly. Thereafter, he was sent to Rosary Public School, Sant Nirankari Colony, Delhi, where by sweet nature and intelligence he cast spell on teachers and fellow students.
They say that boy Hardev was often found in the class sitting thoughtfully and sometimes with eyes half-shut. But he was always discovered to be fully attentive and responsive to what the teacher taught.
His school education was equally supplemented and cemented with spiritual touch received through the letters of his affectionate mother, Rajmata Kulwant Kaur Ji. During his stay in the school, Baba Hardev Singh Ji also developed keen interest in mountaineering. With his class-fellows and even alone, he would cover difficult terrains to reach certain places.
This hobby added the trait of patience and perseverance in his life. He was never found tired or worried. He was also very skill-full in vehicle driving and horse riding. On completion of his school education at Patiala, Baba Hardev Singh Ji returned to Delhi and started further education under Delhi University and also took keen interest in the socio-spiritual activities of the Mission.
He became very regular in Congregations and Sewa. His humility earned him the name 'Bhola Ji'. In 1971, Baba Hardev Singh Ji joined the Nirankari Sewa Dal as its primary member and enjoyed himself serving in cotton Khaki (brown) uniform.
He organized "Youth Forum" in 1975, which focused on promoting truthful and simple living, service with devotion and love, refraining from incurring undue expenses and practicing prohibition.
During the Annual Nirankari Sant Samagam in Delhi in 1975, Baba Hardev Singh Ji was married in a simple ceremony to Savinder Ji, daughter of devoted saints Shri Gurumukh Singh Ji and Smt. Madan Ji of Farrukhabad, Uttar Pradesh. Born on January 12, 1958, Savinder Kaur now addressed out of love and devotion by devotees of the Mission as Pujya Mata Ji, is well educated and duty conscious.