NewZNew (Amritsar) : In a significant development, a youth has operated upon successfully with a rare cartilage re-implantation surgery for his severe knee pain at IVY Hospital, Amristar. The surgery, which is first of its kind in region, was performed by Dr Sumit Mahajan, Senior Consultant Orthopaedics at IVY, Amritsar.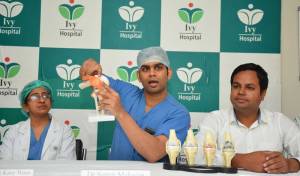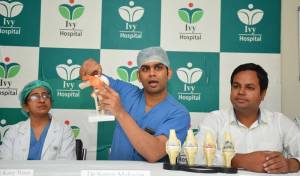 Addressing a press conference at IVY Hospital, Amritsar today, Dr Mahajan informed that Gaurav (22) from Hoshiarpur was suffering from severe knee pain and was unable to walk from his left knee from the last 6-month. He had consulted various orthopaedic surgeons but with no results. Ultimately, he approached us, following which he was operated upon successfully."
Dr Mahajan said further , this surgery is a rare and not a commonly performed procedure in India. Cartilage re-implantation surgery or mosaicplasty is a new hope for the patients with large cartilage defect. It is a rare procedure, where the cartilage from the non-weight bearing areas of the knee is taken and re-implanted into recipient area. It is a definitive procedure with almost hundred percent results and helps patient to live a new pain free life."
The health and function of a joint depend on the viability of the articular cartilage, without which arthritis develops. Articular cartilage once destroyed, cannot be repaired. Patients with such injuries usually complain of pain, swelling, and inability to bear weight. Elderly patients can be treated with joint replacement surgery but those who are younger and are not the candidate for joint replacement surgery, treatment modality is not only difficult but also cumbersome, remarked Dr Mahajan.
Meanwhile under Dr Majahan, Orthopaedics department at IVY  has started a fully fledged sport injury and joint replacement centre, where patients with other knee and hip problems can be treated successfully with recent advances in medical science.