Videocon Connect today announced the winners 'Connect Super Jodi Season 5', the popular couple dance contest in Punjab. Mr. Davesh Moudgil, Mayor Chandigarh graced the evening by lighting the ceremonial lamp at the Tagore Theatre.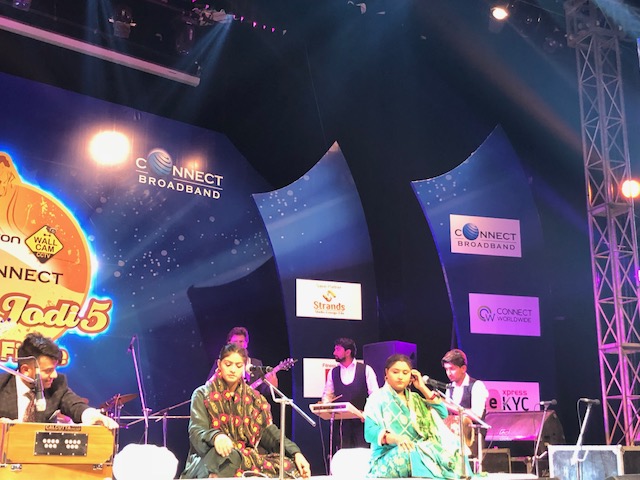 This year, the Grand Finale witnessed the presence of eminent personalities from the region. The finale couple jodis left audiences spellbound with their performances. Famous Sufi sensation Nooran sisters, Jyoti Nooran and Sultana Nooran, from Sham Chaurasia Gharana were the star attraction at the event. Trained by their father Ustad Gulshan Mir, the singing duo sensation is known for their powerful voices and music which appeals to a wide audience and has won many awards and acclaims.
The crowd went berserk when The Nooran Sisters – Jyoti and Sultana gave their performance. Soulful renditions and a beautiful display of melodious voice and heart stirring compositions captivated the audience. Their voice enthused, captivated and enthralled people across age groups, genres and geographies.  The evening was packed with one breathtaking performance after another as each couple gave their most powerful final performance. Live performances were streamed online on Connect Broadband Facebook page https://www.facebook.com/ConnectPunjab/.
Mrs. & Mr. from location won the 'Videocon Connect Super Jodi Season 5' title and an all expense paid exotic vacation to Singapore. The titles of 1st and 2nd runners-up were won by Mrs. & Mr. , Mrs. & Mr. respectively were awarded prizes like Gold jewelry from Sunder Jewelers.
The show was adjudged by celebrated names Jas K Shan and Deepak Takkar, the renowned Choreographer from Chandigarh.
Speaking on the occasion, Mr. Arvind Bali, Director and CEO, Connect Broadband & Videocon Telecommunications Limited, said, "Super Jodi this year has surpassed the benchmarks set by previous four seasons. Creating dancing stars out of couples is a big task and we have succeeded in doing that. We will continue to groom participants and provide them with a platform to showcase their talent."
The Season 5 of Videocon Connect Super Jodi witnessed participation by professionals from all walks of life, Doctors, IT professionals, banking professionals, entrepreneurs, Interior designers etc. The hunt for the Super Jodi 5 spanned over 4 months and saw over 42 audition rounds held across various malls in Chandigarh, Mohali, Ludhiana, Jalandhar, Amritsar, Bathinda and Patiala.
The 4 month long program engaged over 100,000 people as audience from all age groups and more than 5000 couples registered for the Mega contest. After rigorous rounds of auditions more than 100 couples competed at the City Finales across Punjab out of which 6 couples were shortlisted for the Grand Finale. The event was a huge hit on social media with more than 1 million reach.