Nykaa brings luxury beauty to Amritsar with the opening of the first Nykaa Luxe store: Nykaa, India's leading Omni channel lifestyle retailer opens its first Nykaa Luxe store in the vibrant city of Amritsar at VR Ambarsar Mall.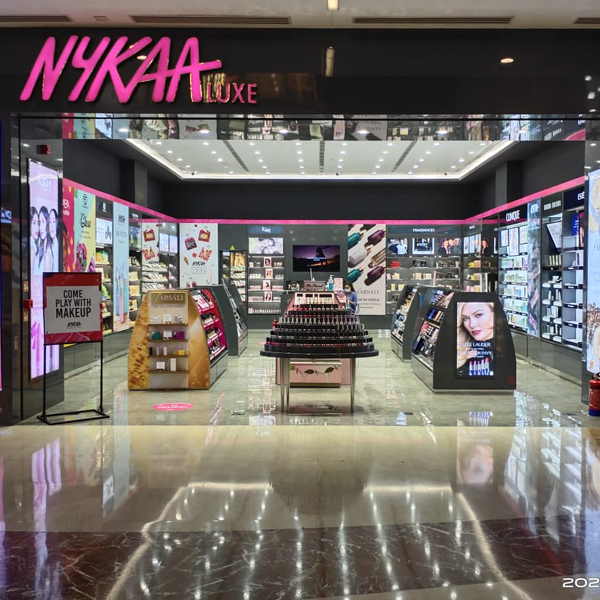 This will be the first time customers in Amritsar will have access to luxury brands including Estee Lauder, Smashbox, Bobbi Brown, Clinique, Nykaa Cosmetics, and cult favourites Huda Beauty, Too Faced, Kay Beauty, as well as fragrances from Versace, Giorgio Armani and more. 
The sprawling 1700+ square feet store will offer categories across makeup, skincare and fragrances from leading Indian & international beauty brands. Nykaa now boasts of a strong retail presence in the Punjab region with a total of 7 stores, in addition to the already existing two Nykaa On Trend stores in Jalandhar & Amritsar, one Nykaa Luxe store in Ludhiana, a Nykaa Beauty kiosk in Mohali and two Nykaa stores in the iconic city of Chandigarh.
With the promise of 'Your Safety, Our Passion', Nykaa has implemented a series of safety measures to make every customer's shopping experience as contactless and safe as possible. This includes regular fumigation and deep cleaning, frequent hand sanitization and temperature checks for all persons before entering the store. Additionally, social distancing is being practiced within stores with a limited number of employees and customers permitted at any given time. 
On the occasion of the launch, Anchit Nayar, CEO-Retail, Nykaa, said, "We are excited to expand our presence in Punjab with the opening of the Nykaa Luxe store at VR Ambarsar Mall. This will be our 5th store in the state and our 7th store in the region which reflects the importance of this market for us with a passionate beauty audience well-versed with the latest trends.  Of course safety is our highest priority at this time and we have implemented numerous hygiene protocols to safeguard the health of our customers and employees."
Nykaa currently has 72 stores across 34 cities in India.  
The Nykaa Luxe store is located at Ground Floor, VR Ambarsar, Circular Rd, Amritsar, Punjab. 
Know More About Nykaa
Nykaa was founded in 2012 by Indian entrepreneur Falguni Nayar with a vision of providing a carefully curated range of products for every beauty solution. Derived from the Sanskrit word 'Nayaka' meaning one in the spotlight, it rests on three ideals – curation, content and convenience.
Nykaa has now expanded to an omnichannel lifestyle retailer with over 6 million monthly active users,72 stores across India, fulfilling over 1.5 million orders a month, with 1500+ brands and 130,000+ products available through its website, app and stores. The Nykaa Guarantee ensures that the products available at Nykaa are 100% authentic sourced directly from the brand or authorized retailers.
Since it's launch Nykaa has expanded its offer to include fashion with the multi-brand ecommerce platform Nykaa Fashion and grooming products for men with Nykaa Man. Through engaging and educational content, digital marketing, social media influence, and robust CRM strategiesand the Nykaa
Network community platform, Nykaa has built a community of millions of beauty and fashion enthusiasts across India. Additionally, the Nykaa Pro platform caters to all professional beauty needs with special access and offers. The in-house collection of beauty products from the House of Nykaa – Nykaa Beauty, includes Cosmetics across lips, eyes, face and nails, skin and body care with Skin Secrets Sheet Masks and Wanderlust Bath & Body collection, Nykaa Naturals and MoiBy Nykaa fine fragrances.