NewZNew (Ludhiana) : Poly Medicure Limited, the leading manufacturers of medical devices & disposables under the brand name Polymed is foraying into Respiratory, Renal and Blood Banking sector. The Rs. 394 crore company, Polymed plans to tap the domestic & international market in a big way with their state-of-the-art technology & quality products.
Hemant Bhalla, VP-Sales & Marketing, Polymed, while addressing the media in Ludhiana said, "The Renal, Respiratory and Blood Banking markets are rapidly growing in India. The market has grown robustly in past few years to become the potential investment field for players. Various factors such as prevalence of diseases, alarming rise in levels of pollution, sedentary lifestyle, poor food habits & increasing penetration of health insurance have contributed substantially to spur demand for these services in the country.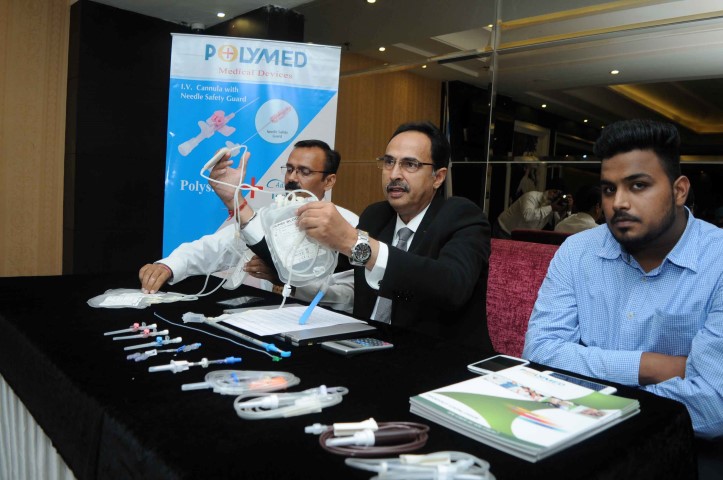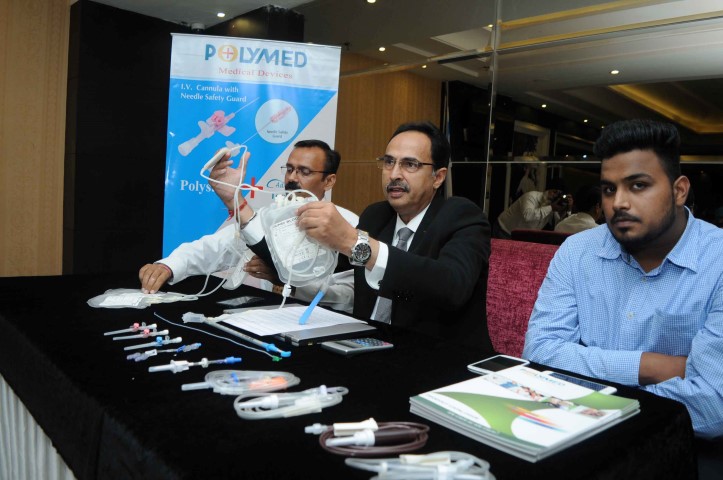 For Polymed it will be a new venture & we are high on hopes of making it a success in Punjab market soon. POLYMED plans to strengthen its sales team by adding another 100 team members, and to increase the dealer network by another 50% so as to increase the hospital coverage", Mr. Bhalla added.
Starting with Ludhiana, Polymed plans to introduce advanced range of Respiratory care products, Renal care products including machines, Blood Banking including equipments machine and DEHP & PVC free products to the portfolio to provide better patient care in all major cities of Punjab region including Chandigarh, Jalandhar and Amritsar.
Poly Medicure Ltd is one of the leading medical devices manufacturer and exporter in India with dominant position in medical devices market with focus on innovation, safety and quality and have a vision to provide highest quality of healthcare available to all. POLYMED have 6 manufacturing facilities – 4 in India (2 facilities in Faridabad and 1 in Jaipur and 1 in Haridwar), 2 facilities overseas (One facility in China – wholly owned subsidiary and 1 Joint Venture in Egypt).
The company has over 400,000 square feet manufacturing area with 100,000 + square feet clean room area and state of the art facilities with capacity to expand rapidly. The company is proposing to invest Rs. 60 crore  – through Internal accrualand borrowing– in a new green field project at IMT Faridabad in Haryana is geared up to launch a slew of products in 3rd quarter of 2017 with all statutory approvals.
The Company Started manufacturing operations in 1997. Polymed produces more than 100 different types of medical devices. Company intends to add further DEHP free& PVC Free products to its range, as such products leads to release of phthalates which are carcinogenic, and are not environmental friendly. POLYMED has also introduced several other products for Patient & Healthcare worker safety. The complete range includes product under the category of "Infusion Therapy, Central Venous Catheter, Blood Management System, Surgery & Wound Drainage, Anesthesia, Urology, and Gastroenterology & Dialysis.
The company has successfully implemented a QMS (Quality Management System) which has been accredited by DNV, Norway with ISO 9001:2008, ISO-13485: 2003 and CE – 0434 from DNV, Norway thus making the entire product range compliant with International Quality Standards.
The Company has received Top exporter award (1st Prize) for highest export of Plastic Medical Disposables for last 4 years – FY 2011-12, 2012-13, 2013-14 & 2014-15 from The Plastics Export Promotion Council.
The company has also received Silver Patent Award given by Pharmaceuticals Export Promotion council for Year 2009 – 2010 & 2010-2011 and 2011-2012 and Gold Patent Award given by Pharmaceuticals Export Promotion council for Year 2010 – 2011.