Beta Renewables, Novozymes and  CVC Infrastructure , Global technology leaders Plan to set up five Bio-refineries worth 1 Billion USD in Punjab           
NewZNew (New Delhi/Chandigarh) : Punjab today took a major stride to become Bio-Ethanol producing /refining hub of South East Asia. Mr. Bikram Singh Majithia, New and Renewable Energy Minister, Punjab today was presented a conceptual plan to set up Asia's first ever Rs. 950 crore 2nd Generation Bio-ethanol producing refinery leading to setting up of 5 more such refineries with 1Billion USD investment.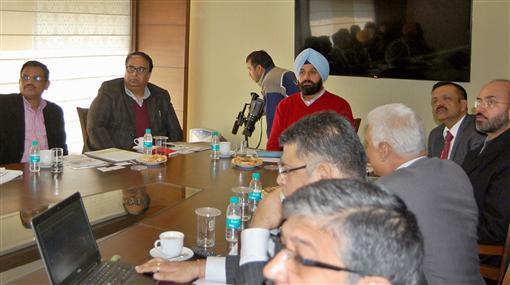 Taking the development agenda and the use of Clean & Green energy to fast forward mode, Punjab would ink a MoU for setting up of Bio-Ethanol refinery with Beta Renewables , Novozymes and  CVC India Infrastructure Private Limited. This will go a long way in tackling the major problem of paddy straw burning, which is resulting in irreparable loss to the fertility of land on one side and to the environmental on the other.
Making a detailed presentation to Mr. Majithia here at Punjab Bhawan, Mr. K. Krishan Chairman CVC India proposed that initially one Bio-refinery project with design capacity of 60,000 tons of Cellulosic ethanol per year (75 million litres per year) would be set up in the state with 3 lac tones of paddy straw as feedstock. He said that the proposed plant would also generate co-products of Biogas, Pellets and compost through processing bio-refinery effluents and pellets through processing surplus lignin, residue of bio-refinery and lignin further could be used for a captive co-generation plant. This would be followed by 5 more projects with an investment of 1 Billion USD.
He further said that the state produces 15 million tones of paddy straw and its maximum usage for such bio-ethanol refineries could result in avoiding major environmental problem of burning of paddy straw. Dr Naveen Sharma, Project Director Bio fuels of World Agro Forestry Centre added that the proposed plant can also use Napier grass as feedstock and other crops grown in high saline and water logged areas. This would help in a big way to achieve diversification targets of the State Government. The farmers with option of these crops would be able to get revenue year around with less use of water.
Mr. G.S. Krishnan, Regional President  of Novozymes pointed out that the other benefits of such projects to state farmer includes additional income for supply of paddy straw, availability of bio-compost generated from the plant as bio- fertiliser, high level of direct/Indirect investment i.e. $ 150 million per 60,000 tons/annum plant, large number of direct/indirect jobs, energy security through replacement of petrol/diesel produced from imported crude oil besides Bio-CNG replacing LPG and vehicular fuels. Opportunity for Rural entrepreneurs to set up feed stock ( Paddy Straw)  management and supply units.
Mr. Majithia informed the representatives of Beta Renewable, Novozymes and CVC Infrastructure Private Limited that the State government was fully committed to get rid of the major problem of paddy straw burning and regularly exploring the eco-friendly technologies. He said that PEDA has been instrumental in facilitating setting up of Biomass based power plants of 62.5 MW capacity in the state.  These second generation Bio-ethanol projects would play a significant role in dealing with the challenge of paddy straw burning as 3 lac tones of paddy straw could be used in a single plant. He was hopeful that once investors see a successfully running project there would be lot of investment in such projects. Keeping in viewavailability of 15 Million tones of feed stock and the hardworking nature of Punjabis the state is poised to become a major hub in Asia for producing Bio-Ethanol and related products. Mr. Majithia also asked the representatives to sensitise the Bio- Chemical and Aromatic compounds  industry to plan setting  up units in Punjab as they will have the High quality Bio-Ethanol required by them. Mr S. Narayanan GM of Chemtex,principal share holders in Beta Renewables assured the Minister that theywould create awareness and facilitate growth of Bio Chemical industry in Punjab. The project shall be able to provide additional income of Rs 2000/- per acre to farmers for rice straw and direct/indirect employment to more than 2000 persons in the state.
He said that the State government's preference for green and clean energy could be gauged from the fact that solar power capacity has all set to be increased 24 times by March 2015 from 9 MW just two years ago to 220 MW with new investment to the tune of Rs.1600 crore. He further said that our government has launched a unique Net Metering policy under which one lakh buildings to be covered by year 2022 resulting in 200MW of solar power generation. He pointed out that as an acknowledgement to the State government's initiatives on renewable energy front, the Union New & Renewable Energy Ministry has sanctioned of 1000 MW Ultra Mega Solar PV Power Project for the State of Punjab.
The Minister gave an assurance to the visiting representatives about facilitating land on long term lease basis for setting up of this project and other land pieces required for setting up of 50 biomass collection/storage depots at different locations in the catchment area besides reserving of a command area for the project for biomass paddy straw sourcing. He further said that PEDA will not only facilitate the setting up of these projects but will also liaison with GOI to get support for the 1st Bio-Refinery as a technology demonstration project. PAU, Agriculture Department and Punjab Pollution Control Board would work closely to study the impact of these projects and also identify and promote alternate crops in the catchment area of the projects for year around supply of feed stock. The Minister asked the company representatives to visit the state and shortlist the land parcel for setting up the project and start technical survey and investigation.
Mr.Sarvesh Kaushal, Chief Secretary, Punjab said that the proposed project shall be a win-win proposition for both the state  and its farmers and appreciated the bio-ethanol technology project, which is first of its kind in the country.
It was decided in the meeting to sign the MOU with the companies and they were requested to submit the DPR.
The meeting was also attended by Sh. Anurag Aggarwal, MD,PIDB, Sh.KAP Sinha, Secretary, Science, Technology & Environment , Sh. A.K.Dhussa, Advisor, MNRE,GOI, Dr. Amarpal Singh, Chief Executive, PEDA ,Chairman, PPCB, Director, Agriculture, ED, PSCST, DEAN, PAU and senior officers of PEDA.