NewZNew (Chandigarh) : Mohammad Waseem, the brother of slain social media celebrity Qandeel Baloch was arrested by Multan police in on Saturday. He is accused of strangling his sister to death at her residence in Multan on Saturday.
"I have no regret on what I did as she brought dishonour to the Baloch name," he said.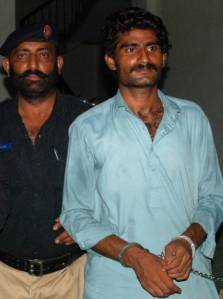 "She wasn't aware I was killing her," he said. "I gave her a tablet and then strangled her," Dawn news quoted Waseem as saying.
Baloch's raunchy social media photos challenged social norms in Pakistan. She received multiple death threats and suffered frequent misogynist abuse but continued posting provocative pictures and videos. In Facebook posts, she spoke of trying to change "the typical orthodox mindset" of people in Pakistan.
Punjab police spokesperson Nabeela Ghazanfar said Baloch, whose real name was Fauzia Azeem, was killed on Friday night at her family home on the outskirts of Multan in Punjab province.
Baloch's body was found yesterday and her father Muhammad Azeem had told the police that his son Waseem strangled her, Ghazanfar said.
Baloch's father had told local media his son had stayed overnight at the family home and quarrelled with Baloch over money and her risque photos. "He had serious reservations regarding her pictures being circulated on social media," Muhammad Azeem told reporters in Multan. "He had escaped after strangling Qandeel."
Earlier this year, Baloch had offered to strip if the wildly popular Pakistani cricket team beat India. When they lost, she berated the Pakistani cricketers and posted a video in which she danced for the Indian team wearing a bikini.
Her real name was Fouzia Azeem but she chose Qandeel Baloch as her pseudonym after stepping into modelling.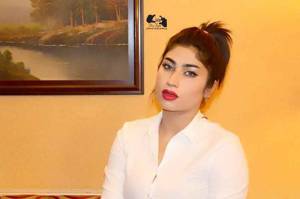 She had received threats from her family to quit modeling and her provocative appearances on social media. Her brother had been threatening her over her Facebook posts and videos, said the police.
Three weeks ago, she had written to the interior minister, the director general of the Federal Investigation Authority (FIA) and the senior superintendent of Islamabad asking them to provide security to her, Dawn reported.
She had said her life is in danger and that she is being threatened via calls on her mobile number and that she did not have security measures installed in her home, the paper said.
Qandeel was media sensation and unbelievably bold and was also considered highly controversial. She shot to fame in Pakistan in 2014 after a video of her pouting for the camera.
She became famous through her tireless self-promotion and suggestive "selfies" posted on social media and had amassed tens of thousands of followers.
She had expressed her desire many times to marry ex-cricketer and opposition politician Imran Khan.
Her controversial pictures recently led to the suspension of Mufti Qawi's membership from the Ruet-e-Hilal committee.