NewZNew (Ludhiana) : The Hon'ble Minister for Medical, Health, Family Welfare & Ayurveda, Government of Rajasthan, Shri Rajendra Rathore, was in Ludhiana today to meet with prominent businessmen from across Punjab to showcase investment opportunities in his state.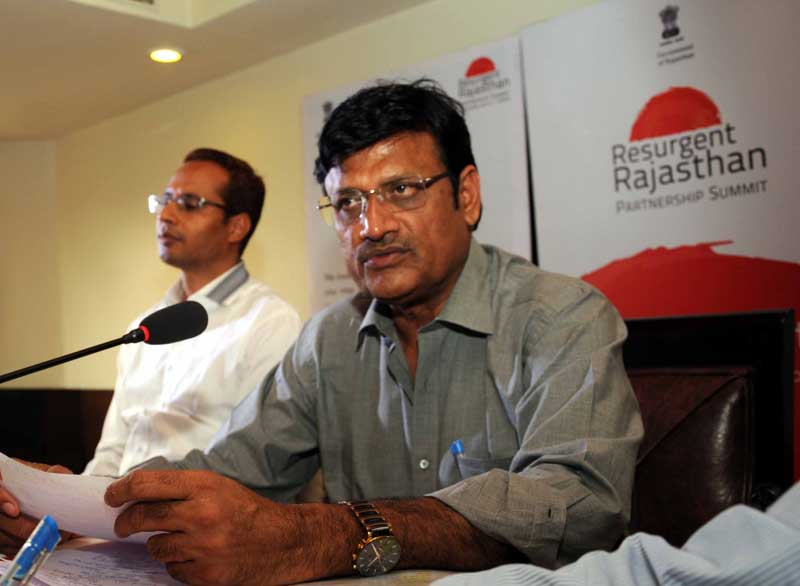 The Minister was there to participate in an investors' meet organised by the Government of Rajasthan in association with the Confederation of Indian Industry (CII). The event is part of a series of roadshows being held across India and abroad to promote investment opportunities in Rajasthan and to invite investors to the Resurgent Rajasthan Partnership Summit which will be held in Jaipur on November 19-20, 2015.
The delegation from Rajasthan is led by Shri Rathore and includes Shri Kuldeep Ranka, Secretary, Agriculture & Horticulture, Assistant General Manager Business Promotion, RIICO Mr Sunil Gupta and officials from Confederation of Indian Industry (CII), Jaipur Chapter and Bureau of Investment Promotion (BIP).
Shri Rathore said, "Punjab is recognised as a big hub for textiles, agro products and light engineering goods. We are here to explore opportunities for linkages across sectors such as these."
He further said "Rajasthan offers major advantages like its vast mineral resources; close proximity to the northern and western markets of India; educated and skilled labour force; and investor-friendly State Government. This is an opportune time to explore investment opportunities in the State."
Mr S S Bhogal, Chairman, CII Punjab State Council, in his address at the event, commended the state government's pro-industry approach. He said "CII is happy to note the new initiatives the state government is taking to promote investment. The focus is on ease of doing business. This will motivate industry within and outside to invest in Rajasthan ".He highlighted the recent announcement by Rajasthan to spend Rs 4000 crore in developing green corridors in Jaisalmer, Barmer, Jodhpur and Bikaner which would lead to balanced regional growth in the State.
Mr Kishore Khaitan, Managing Director, Basant Wire Industries Pvt Ltd shared his experience of investing in the State. He said that "The announcement of the New Solar Policy and the introduction of the Rajasthan Investment Promotion Scheme are welcome steps. The state government has systematically created a policy environment that nurtures private enterprise."
Shri Ranka, Secretary, Agriculture & Horticulture, said "Rajasthan is a leading producer of coarse cereals, pulses, gram, oilseeds and seed spices. A huge opportunity thus lies for prospective investors in agro-based industry in conventional and high-value segments."
There is a growing interest in Rajasthan as an investment destination due to host of factors – investment-friendly government, good infrastructure, proximity to the national capital, and supportive industrial policy.
Such high level delegations are visiting other cities across India to and captains of industry to make them aware of the investment opportunities that exist in the state.
The state government is also seeking to invite potential investors, business community and NRIs to attend the Resurgent Rajasthan Partnership Summit.