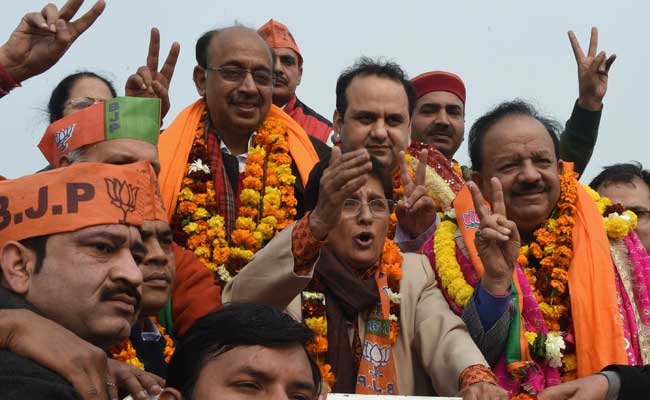 NewZNew (New Delhi) :
Kiran Bedi, the BJP's presumptive chief minister, has this morning unleashed a tweet blitz on what she calls 'Kiran's blueprint' for Delhi. Later today, her party is expected to release a vision document, which Ms Bedi has promised will have something for everyone.
The vision statement stands in for the manifesto that the BJP could not release, reportedly because it was stuck due to differences between key Delhi leaders over the demand for full statehood for Delhi.
"It will be a vision document for all Delhi citizens, be it haves or have nots. This is a vision for Delhi 2050, this is our PM's vision," said Ms Bedi.
How much of Ms Bedi's blueprint is included in the BJP's vision document is being watched keenly.
At a public rally in south west Delhi's Dwarka on Sunday, speaking before Prime Minister Narendra Modi did, Ms Bedi talked about her blueprint identifying women's security as a KRA or Key Result Area.
Over the weekend, the BJP's top leaders spread across the city in a campaign blitz, led by PM Modi who addressed two rallies in two days.
Party president Amit Shah has re-crafted the BJP campaign for the final lap, deploying central ministers and many lawmakers, to target the Aam Aadmi Party's Arvind Kejriwal, whom the party acknowledges as the man to beat.
Mr Shah stepped in to put life into the BJP's limp campaign, hit hard by the seeming reluctance of the Delhi unit's senior leaders to support Ms Bedi, who joined the party only last month and was immediately named the chief ministerial candidate.
Senior union Ministers like Arun Jaitley, M Venkaiah Naidu and Ravi
Shankar Prasad addressed several rallies, while other ministers like Piyush Goyal and Nirmala Sitharaman addressed separate back-to-back press conferences where they hit out at AAP and Arvind Kejriwal.
The BJP has been out of power in Delhi for the last 16 years. It fell five seats short of a majority in the last assembly elections in December 2013.