Reliance Consumer Products brings back "The Great Indian Taste" with Campa: Reliance Consumer Products Limited (RCPL), the FMCG arm and a wholly-owned subsidiary of Reliance Retail Ventures Limited (RRVL), announced the launch of the iconic beverage brand, Campa, contemporized for a new-age India.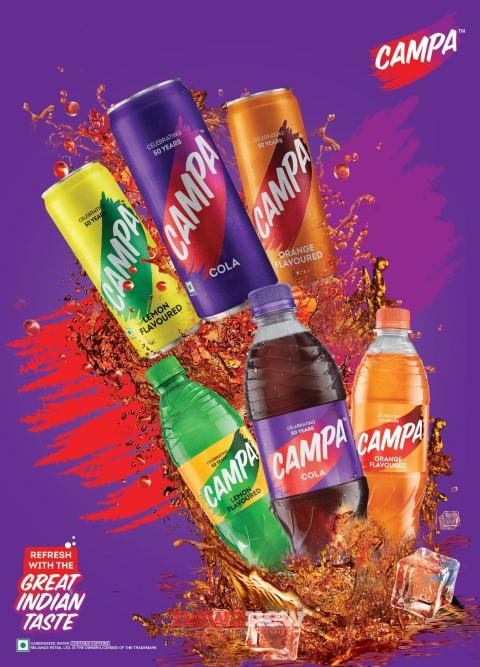 The Campa portfolio will initially include Campa Cola, Campa Lemon and Campa Orange in the sparkling beverage category. The launch of this brand is in line with the company's strategy to promote homegrown Indian brands that not only have a rich heritage but also boast a deep-rooted connect with Indian consumers due to their unique tastes and flavours.
Speaking on the launch, RCPL spokesperson said, "By presenting Campa in its new avatar, we hope to inspire consumers across generations to embrace this truly iconic brand and trigger a new excitement in the beverage segment. While older family members will have fond memories of the original Campa and cherish the nostalgia associated with the brand, younger consumers will love the crisp refreshing taste. With a rapidly evolving Indian market throwing up more consumption occasions, we are truly excited to bring back Campa, which is yet another bold step forward for our expanding FMCG business."
With 50 years of rich heritage, Campa's contemporary cut-through character is set to offer Indian consumers a "The Great Indian Taste" this summer. Five thirst-quenching pack sizes will be offered under the Campa range for several consumption occasions: a 200ml immediate consumption pack, 500ml and 600ml on-the-go sharing packs and 1,000ml and 2,000ml home packs.
RCPL's roll-out of its cold beverage portfolio across India starting with Andhra Pradesh and Telangana is aligned with the company's overall vision of offering value and choice to Indian consumers through high-quality products at affordable price points.
With this launch, RCPL further strengthens its versatile FMCG portfolio which comprises heritage brands from Sosyo Hajoori, confectionary range from Lotus Chocolates, Sri Lanka's leading biscuit brand Maliban, as well as daily essentials under its own brands including Independence and Good Life, among others.
About Reliance Retail Ventures Limited:
Reliance Retail Ventures Limited (RRVL) is the holding company of all the retail businesses under Reliance Industries Limited. RRVL, through its subsidiaries and affiliates, operates integrated omni channel network of 17,225 stores and digital commerce platforms across Grocery, Consumer Electronics, Fashion & Lifestyle and Pharma consumption baskets and has partnered with over 2 million merchants through its New Commerce initiative.
RRVL's FMCG subsidiary, Reliance Consumer Products Ltd shall provide a wide range of products under a versatile brand portfolio that serve the daily needs of millions of Indians.
RRVL reported a consolidated turnover of ₹ 199,704 crore ($ 26.3 billion) and net profit of ₹ 7,055 crore ($ 931 million) for the year ended March 31, 2022.