Popularising Khadi as a Fashion Garment
CII organises a Conference on Building World Class Fashion Brands
Over 100 participants representing Retail Sector, Technology providers and Academia were present for the day-long conference.
Confederation of Indian Industry (CII) organised a Conference on Building World Class Fashion Brands at CII Northern Region Headquarters, here today. The objective behind organising this conference is to create awareness among the fashion retail Industry on how brand owners and retailers can go about building their brands and making them competitive through enhanced use of technology and digital platforms.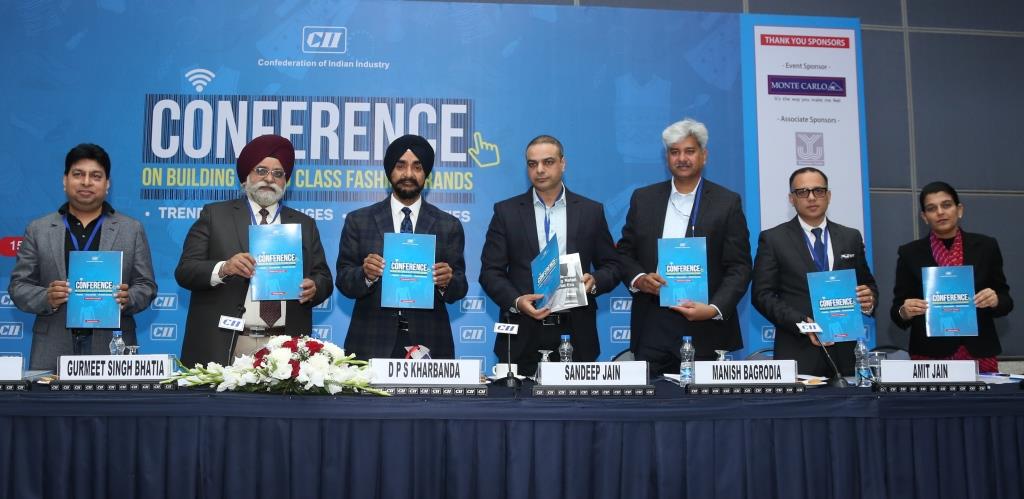 While speaking at the Inaugural Session, Mr D P S Kharbanda, Director – Industries & Commerce, Government of Punjab said that to build world class fashion brands we need to change the existing scenario. It is important to provide newer opportunities to the youth of our country and develop their practical know-how. We need to come out of our comfort zone and grow more efficiently to add on to future fresh brands. He asserted that the textile industry is infused with the 'zero-defect, zero-effect' policy wherein new benchmarks have been set for the industry.
Rising government focus and favourable policies is leading to growth in the textiles and clothing industry. The textile sector offers significant employment opportunities. It is today our second largest employer after agriculture, he added.
Mr Sandeep Jain, Chairman, CII Conference on Building World Class Fashion Brands & Executive Director, Monte Carlo Fashions Limited said, "The need of the hour today is that the companies have to be pragmatic enough to understand the dynamics accept the technological disruptions and adapt accordingly. Shoppers desire choices in every field; be it in the case of browsing for products, shopping or in terms of check-out. Thus it becomes an uphill battle for the retailers to be at pace with these rapidly evolving dynamics."
Mr Rajesh Jain, Managing Director and CEO, Sports and Leisure Apparel Limited – Lacoste Licensee in India, said that any brand, in order to connect with all potential consumers, needs to be available through all the channels, whether online or offline. Technology's impact on the retail sector has been difficult to ignore. The shift from brick-and-mortar retail shopping to a world of e-commerce has forced traditional retailers to rethink business strategies and adapt to rapid changes in technology and consumer preferences, he added.
Mr Baqar Naqvi, Business Director, Wazir Advisors, said, "Fashion and apparel companies have created strong value compared with other consumer sectors, but much of that value has come from sales growth. Moving forward, these companies will need to identify other sources of sustainable value creation. The fashion industry faces the urgent need to rethink its strategy and identify alternative levers for sustainable growth."
Highlighting the use of technology, Ms Kanika Bhalla, Director – Global Client Relations, Capillary Technologies Limited, said, "Consumers are changing faster than ever. They expect connected and seamless experiences that makes their lives easier. To ensure that your brand continues to meet these consumer demands, it is important to understand technologies and solutions to engage, enable easy experiences and retain your consumers."
Mr Gurmeet Singh Bhatia, Chairman, CII Punjab State Council & Managing Director, Ajooni Biotech Private Limited, said, "Retail as a sector has built up strong lifestyle brands, positioning themselves to cater to the tastes and preferences of their consumers and utilising the increasing income of the end-users. Given the region's potential for Retail consumption and increasing presence on the E-Commerce front there is an immense opportunity for developing new experiences."
Mr Amit Jain, Director, Shingora Textiles Limited delivered the vote of thanks.