NewZNew (Review) :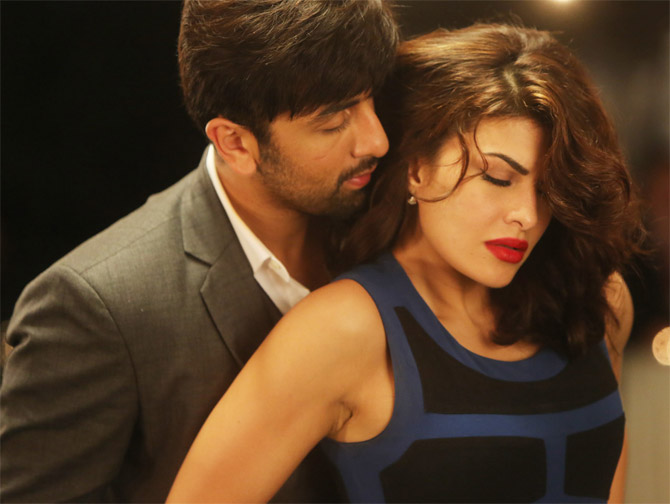 'Roy'
 U/A; Romance-thriller
Director: Vikramjit Singh
Cast: Ranbir Kapoor, Arjun Rampal, Jacqueline Fernandez, Anupam Kher
At the outset, 'Roy' stands out among the melee of films because of its sheer beauty. The three gorgeous actors (Jacqueline Fernandez, Arjun Rampal and Ranbir Kapoor), who play the lead characters, do contribute to this, but what stands out more is the slick cinematography (Himman Dhameja) that lends a dreamy, fairytale effect to even the most mundane backdrops.
'Roy' is a coming-of-age story involving a writer-cum-film director Kabir Grewal (Arjun Rampal) who suffers from a writer's block even as he gets ready to shoot the second sequel of his hit film inspired by a thief, Roy (Ranbir Kapoor).
Kabir, notorious for his womanising ways, ducks out at the first sight of any emotion. While shooting in Malaysia, Kabir meets another filmmaker Ayesha Amir (Jacqueline Fernandez) and his story along with the script of his film starts spooling out. Even as Kabir slowly falls in love with Ayesha much against his will, Roy has an interesting interlude with Tia (Jacqueline in a double role).
The trio in the lead do a good enough job to keep you interested and somehow make it all believable in this make-believe world. Arguably the hottest man on planet Bollywood, Arjun Rampal shows his mettle as he fittingly plays the uber cool, extremely comfortable-in-his-skin talented writer. Ranbir carries the role of his furtive, slightly depressive con man rather easily, and Jacqueline is pleasantly surprising.
'Roy' works at some levels and doesn't at some levels. Debutant director Vikramit Singh thankfully steers away from the obvious and the melodramatic and chooses to present this interesting concept with a soft, subtle and delightfully imaginative filter. Watch out for a beach scene with Kabir and Ayesha — it is one of the most beautifully shot romantic scenes we have seen in Hindi films since quite a while now.
Even though 'Roy' is touted as a thriller, it is hardly thrilling and could work more as a romantic film. It is thrilling when the fictional character of a writer's book comes alive ala the Hollywood film, Ruby Sparks. But that suspense seems irrelevant when the character in question comes from a movie script with the shoot underway and with an actor playing that character.
What definitely doesn't work for 'Roy' is its self indulgence. The film starts meandering after a point, and the second half is stretched too long testing one's patience. It is as irritating and boring as a sexy confident woman who ceaselessly takes selfies to repeatedly remind the rest of the world about her beauty. But then there are those glorious songs with melody just right for this sexy, stylish movie that manages to gets your straying attention back to the screen.