Royal Enfield launches the all new Interceptor INT 650 and Continental GT 650 Motorcycles  : The oldest motorcycle brand in continuous production, Royal Enfield, today launched highly anticipated twins motorcycles in Chandigarh and Punjab.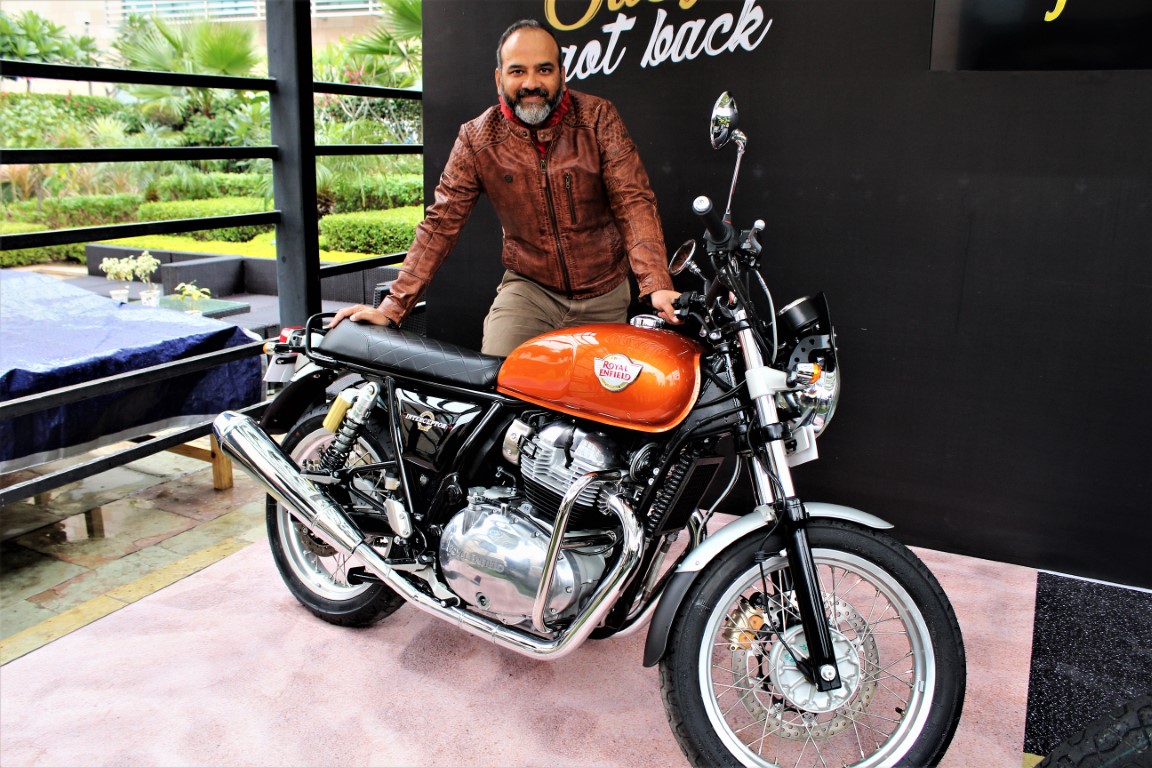 The Interceptor INT 650 and the Continental GT 650 are available across all dealerships in Chandigarh currently, and will be available across 9 dealerships in Punjab by end of December 2018. Royal Enfield has also begun Online Motorcycle Booking facility with the launch of the 650 Twins.
Consumers across the world, can log into www.royalenfield.com and book their favourite Twin motorcycle or other Royal Enfield motorcycles, by paying the booking amount, for deliveries across 750 dealerships in India to begin with.
Price in Chandigarh & Punjab  (in INR*) 
Interceptor INT 650 – Standard

[Orange Crush | Silver Spectre | Mark Three]

250,000
Interceptor INT 650 – Custom

[Ravishing Red | Baker Express]

257,500
Interceptor INT 650 – Chrome

[Glitter & Dust]

270,000
Continental GT 650 – Standard

[Black Magic | Ventura Blue]

265,000 
Continental GT 650 – Custom

[Ice Queen | Dr. Mayhem]

272,500 
Continental GT 650 – Chrome

[Mister Clean]

285,000
(Prices are ex-showroom)
The Interceptor INT 650 to be available starting at Rs. 2,50,000/- and the Continental GT 650 to be available starting at  Rs. 2,65,000/-  (ex-showroom, Chandigarh and Punjab)
The 650 Twin motorcycles will come with a 3-year warranty and Roadside Assistance Service
Commenting about the launch of the Royal Enfield Twins, Rudratej Singh, President, Royal Enfield, said, "Royal Enfield has had a sustained track record of profitable, competitive and consistent growth, on the back of its single cylinder portfolio for many decades. Today, we are proud to add the next chapter to what, we're certain, will be the next wave of momentum to Royal Enfield's growth story. Our first ever global and simultaneous launch – of the Continental GT and Interceptor 650 Twins ushers in the next chapter to our journey. We launched them in California, followed by Europe, then Asia Pacific and now across our homeland, in India. The introduction of the 650 Twin motorcycles makes our portfolio even more comprehensive, and puts the stamp on us as a serious global player with the core objective to expand the middle weight segment worldwide. In India as well,  it does a significant job for us. We already have a pool of close to 3.5 million Royal Enfield owners in India, many of whom have been waiting for the next wave of pure motorcycling offers from Royal Enfield. We see them being the early adopters to the twins. I am humbly confident that our labour of love of many years in bringing the Twin motorcycles to launch will be equally appreciated by our large and involved community of riders and owners. Alongside, I also believe there are many purists and leisure motorcyclists who will buy Royal Enfield for the first time via the twins"
Revealing the price of the 650 Twin motorcycles  Rudratej Singh, said "Chandigarh is an important market for us, where Royal Enfield and Bullet enjoy immense equity. 'Bullet' has retained the 'most preferred motorcycle' tag for decades. We are confident that consumers in Punjab & Chandigarh, as our time tested patrons, will extend an overwhelming response to the 650 Twin motorcycles, Available at a price of Rs 2,50,000/ – for the Interceptor INT 650, and  Rs. 2,65,000/-  for the Continental GT 650 (ex-showroom, Chandigarh), these motorcycles will allow for expansion of the middle-weight segment in Chandigarh, Punjab and in India. The 650 Twin motorcycles will come with a 3-year warranty and Roadside Assistance Service. Our consumers can also choose from a collection of 40 Genuine Motorcycle Accessories that will have a 2-year warranty."
At the heart of every Royal Enfield Continental GT 650 Twin and Interceptor INT 650 Twin, is the built-in fun factor provided by each model's special combination of an agile chassis (developed at the company's UK Technology Centre with legendary sports motorcycle frame builder Harris Performance) and a simple but state-of-the-art air-cooled, 650cc engine producing a punchy yet user-friendly 47 horsepower.
As well as emitting a gorgeous exhaust note, the engine offers ample pulling power to make the motorcycle  unfussy to ride in urban traffic and exhilarating on the open road – meaning the Continental GT 650 and Interceptor INT 650 offer the perfect motorcycling package for both experienced and novice owners.
The Continental GT 650 will appeal especially to sporting riders with its optional single seat, sculpted fuel tank, rearset footrests and race-style clip-on handlebars, all of which have been ergonomically designed to remain comfortable in the city, on the highway or on the twisting back roads where the motorcycle really comes alive.
The Interceptor INT 650, meanwhile, harks back to Royal Enfield's 1960s twins through its teardrop tank with traditional knee recesses, comfortable, quilted dual seat and wide, braced handlebars reminiscent of the street scrambler style that emerged in '60s California. Its comfortable and commanding riding position make the Interceptor both fun and practical on all types of terrain, from curving coastal roads to the urban jungle, for heading out of town two-up or for cruising down to the beach.
With individuality being key to today's riders, both the Continental GT 650 and the Interceptor INT 650 can be had in Standard, Custom or Chrome versions with a wide range of retro options ranging from special paint colours and pin stripes to retro-cool bar-end mirrors, optional fly screens and alternative finishes for items such as wheels, lights and suspension components.
Both motorcycles, come with a range of Royal Enfield Gear and apparel that are inspired by the 60's and reflect the cuts and silhouettes from the cultural contexts and the era of these motorcycles. Comprising of Clymer and Spirit jackets, a curated range of t-shirts, helmets, leo boots, ankle-high sneakers, and covert Cordura jeans and Streetborn Gloves, the range of Gear, aesthetically fuses classic styling with contemporary functionality.
The Interceptor INT 650 and Continental GT 650, also come with a suite of Genuine Motorcycle Accessories, that in addition to providing comfort, styling and protection, also lend as a means to self expression for the rider. The range comprises of new functional and protective accessories such as engine guards, lifting handle, pannier mounts and an auxiliary electrical port, and also includes styling accessories such as chrome and stainless steel silencer slip ons, acrylic fly screen, single and twin seat cowls, and soft canvas panniers.
#RoyalEnfieldTwins #Interceptor650 #ContinentalGT650 #RoyalEnfield #PureMotorcycling #RidePure