Celebrated playback singer Jassi Gill and BabbalRai are all set to enthral the audience
Royal Stag Barrel Select MTV Unplugged is back with yet another season of its sensational multi city musical tour. After completing six enrapturing seasons, Season 7 of the riveting musical experiencecontinues to captivate the music lovers of the country across cities.Barrel Select MTV Unplugged is all set to entertain Jalandhar, swaying the audience to the tunes of celebrated playback singers, Jassi Gill and BabbalRai who will perform their popular hits, unplugged! Perfection only needs a stage and with this thought, Barrel Select MTV Unplugged Season 7 is the perfect stage to feature India's musical perfection.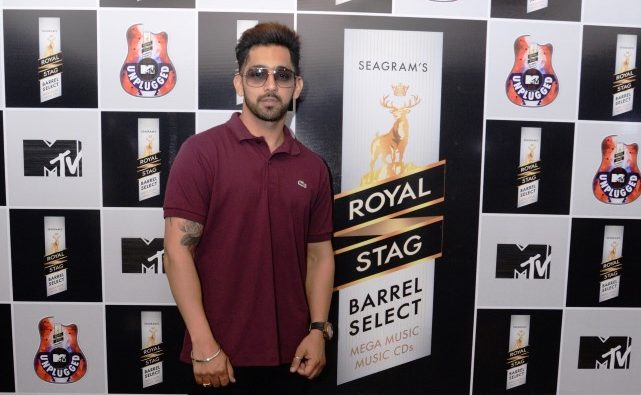 Having given the country some of the most magical musical renditions, Barrel Select MTV Unplugged promises yet another mellifluous season. This season is witnessing a stellar line up of musical maestros like Vishal Bhardwaj, Papon,Shankar Mahadevan, Farhan Akhtar, Monali Thakur and Armaan and AmaalMallik.
Commenting on Barrel Select MTV Unplugged Season 7, Raja Banerji, Assistant Vice President (Marketing), PernodRicard India said "With each season Royal Stag Barrel Select MTV Unplugged has taken perfection a notch higher in music and we have been getting a phenomenal response from the audience this season. We are delighted to continue our long-standing association with MTV. This has been a successful and fruitful association for the brand and we hope to continue to enthral the Indian audience with a musical stage like no other. It is indeed a perfect stage for legendary musicians as this musical extravagance brings alive the brand's philosophy of "Make it Perfect" in every way. Witness these accomplished musicians showcase their versatile repertoire only at Royal Stag Barrel Select MTV Unplugged."
Barrel Select MTV Unplugged showcases India's biggest musical maestros performing their chart topping numbers that have rocked the nation in their purest form – with acoustic arrangement of music and a live studio performance without any post production. This season, audiences are in for a delight as some of the biggest musicians of today will be seen performing unplugged music. The tour kick started in Kolkata, travelled to Indore, Gurgaon, Mumbai, Lucknow and has now reached Jalandhar. This musical celebration will further travel to Guwahati and Cuttack.
FerzadPalia, Head, Youth, Music and English Entertainment, Viacom18 said, "Year on year we have been surpassing audience expectations and surprising ourselves with each new season of Unplugged. The latest season features a unique and beautiful confluence of soul- stirring vocals and interesting musical arrangements, doing away with anything that distracts from what is pure. This year as well, the audience will be privy to a great line up of artists who will be transforming some of their biggest musical numbers to the unimaginable in a more vulnerable and intimate setting. It's going to be fascinating to see artists like Vishal Bharadwaj, Shankar Mahadevan, Farhan, Papon, Monali and others going unplugged and recreating songs that people love so much. Also, it's extremely exciting for us to have Royal Stag Barrel Select back on board for the sixth consecutive season which just goes to show that good content will always be appreciated."
Barrel Select MTV Unplugged Season 7in Jalandhar willwitness an exhilaratingperformance by Jassi Gill, the superb playback singer and BabbalRai, the immensely talented Punjabi singer. Being the heart throbs of Punjab, they are extremely thrilled to perform for the audience of Jalandhar and perform to some of some of their chart topping numbers like 'Laden', 'BapuZamidar', 'Yaariyan', 'KudituPataka' amongst others.