SAS Nagar developed as a sports hub.
Multifaceted development of SAS Nagar is being done under the immense leadership of Deputy Chief Minister Punjab.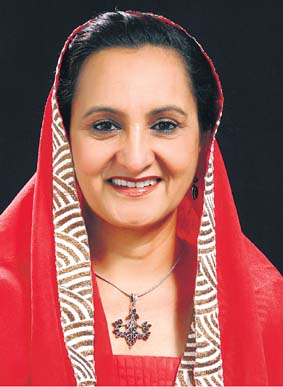 NewZNew (S A S Nagar) : S A S Nagar being the main entrance of the Punjab state is being developed on the Chandigarh Pattern by the SAD+BJP Govt., as such Rs. 500 crores have been spent to enhance the beauty of the city & multifaceted development of the city is being done. This was stated by Bibi Amanjot Kaur Ramuwalia, Chairperson District Planning Committee while addressing a program at sector 79 Mohali. She said that the multifaceted development of the city is being carried out under the immense leadership & guidance of Deputy Chief Minister Punjab Sh. Sukhbir Singh Badal and funds required for future development works will also be ensured.
Elaborating this, Bibi Ramuwalia said that the city has been developed as a sports hub. With the construction of new International Level Sports Stadium & Golf Club 'n Academy, the city has got a new identity. Besides this, the 7 new multipurpose stadiums have also been established in the city, which proved bliss for the sports lovers. She added that sports nurturing inspires the children from the childhood to be in discipline & also refrain them from drugs. She said that Govt. of Punjab has specially emphasized on sports. As such, sports kits have been provided in all the schools in the district.
Bibi Ramuwalia said that a new look has been provided to the parks in the city. As such, Music systems have been installed and sitting arrangements have been provided in the parks. She said that these parks are being developed as places of tourist interest. She said that swings have been installed in the parks. She further said that basic facilities will be ensured for the residents of SAS Nagar. During this, MC S. Parminder Singh Sohana, MC Surinder Singh, S. Parminder Singh Tasimbly, S. Bhag Singh, S. Ranjit Singh, S. Gurdeep Singh, S. Jaswant Singh, Bibi Pathak, Members of Sukhmani Sahib Sewa Samiti & other reputed persons were present.
Photo Caption: Bibi Amanjot Kaur Ramuwalia Chairperson District Planning Committee being honoured for the development works by the residents of Sector 79 SAS Nagar, Mohali.