Investment of Rs 500 crore with special emphasis on the drought prone areas of Vidarbha and Marathwada
To provide end to end pre harvest & post harvest solutions to over 3 lakh farmers
NewZNew (Chandigarh) : Ruchi Soya Industries Limited (Ruchi Soya), India's number one edible oil and soya foods company recently entered into two MOUs with the state in the presence of the Hon'ble Chief Minister of Maharashtra Devendra Fadnavis. The MOUs with a commitment of Rs. 500 crore will focus on building and entire value chains for soya, tomato and other cultivators in the state. These efforts will have a special emphasis towards farmers of the drought prone regions of Vidarbha and Marathwada. The Rs. 500 crore investment will be spread over a period of three years.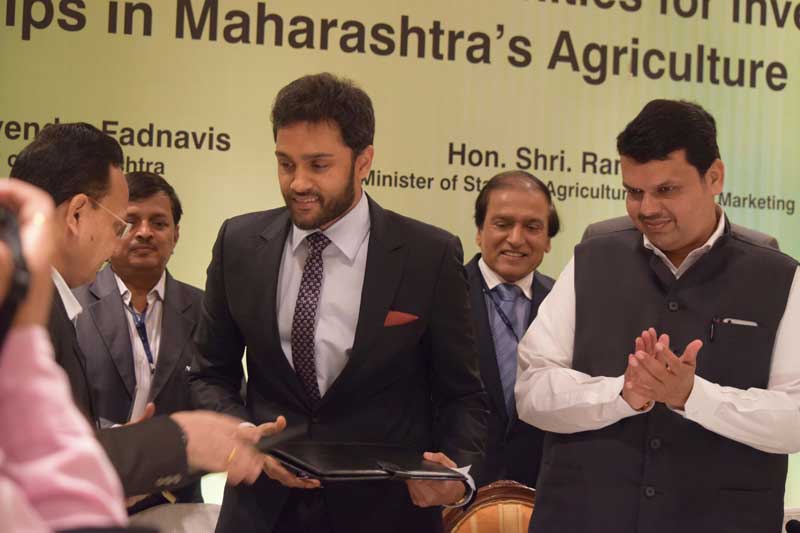 The memorandum of understanding was signed today by Mr Dinesh Shahra (Founder & Managing Director), Mr Sarvesh Shahra (CEO-FMCG Business) on behalf of Ruchi Soya Industries Limited and Mr Vikas Deshmukh, Commissioner, Agriculture, Government of Maharashtra in the august presence of the Hon'ble Chief Minister Shri. Devendra Fadnavis.
Under the terms of the agreement, Ruchi Soya will create an entire value chain for farmers which will see end to end activities for the farming community. The company will extend its services to Soya and Tomato farmers in the state and help them undertake pre harvest activities like providing high quality seeds, pesticides and insecticides to farmers. The company aims to reach out to over two lakh tomato farmers through this initiative.
In the post-harvest stage, besides procuring the produce, the company will also build agri-infrastructure to help the farmer store his produce (cold as well as dry storage space). The company will also support the farmer with renewable energy solutions like Rooftop Solar Power Generation, and Advanced Biomass gasification based Tri-generation.
Hon'ble Chief Minister of Maharashtra Shri Devendra Fadnavis said, "The Maharashtra Government has signed deals with Ruchi Soya Industries Limited as part of its efforts to scale up the Public Private Partnership for Integrated Agriculture Development (PPP-IAD) initiative in the next five years. The company will work closely with the state government in setting up value chain development. This agreement will also help in utilising best agricultural practices to increase productivity."
Mr Dinesh Shahra, Founder and Managing Director of Ruchi Soya Industries Limited said, "We are delighted to be partnering with the state government in the initiative to come up with a long term solution for the drought hit farmers of the State. This is a small beginning and going forward we expect to contribute further through similar partnerships."
In line with the "Make in India" campaign, Ruchi Soya is in the process of commissioning its Advanced Biomass Gasification based Tri-generation Plant at Washim. The company is already operating two soya seed crushing facilities at Nagpur & Washim. This initiative will reach out to over 1.5 lakh soya farmers across 10 locations in the two regions.