NewZNew (Bathinda) : The Rural Development and Panchayat Minister Mr Sikandar Singh Maluka today inaugurated the district level rural games at villages Maluka. Addressing the gathering at occasion Mr Maluka said that the rural games have been renewed after many years as per the demand of time. He said that through these games, the Punjab government wants to dig out every sportsperson who can bring laurels for the state. He added that such games go long way in strengthening bonds in villages and in times to come these would be encouraged further.
Mr Maluka said two teams from each of eight blocks are participating in this event. These blocks include Phool, Talwandi Sabo, Rampura, Sangat, Bhagta, Maur, Nathana and Bathinda. Mr Maluka met the players of tug-of-war teams and kabaddi teams and encouraged them.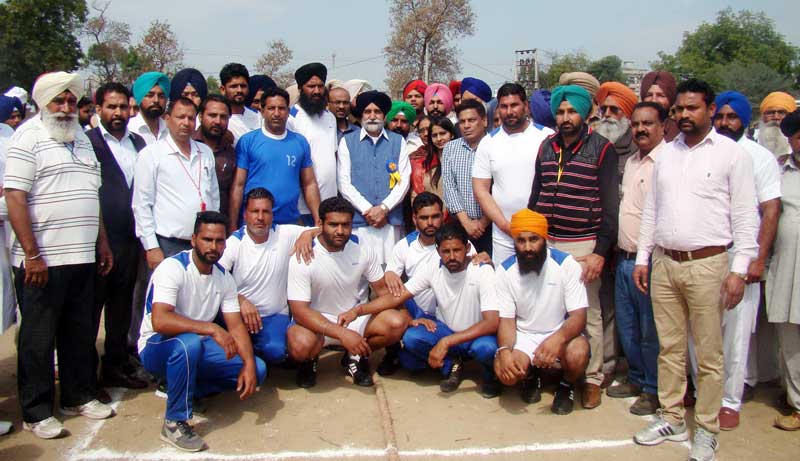 ADC (D) Mrs Sheena Aggarwal, DDPO Mr Arun Jindal, secretary zila parishad Mrs Baljit Kaur, BDPO Bathinda Mr Lenin Garg, BDPO Phool Miss Neeru Garg, BDPO Sangat Miss Kavita Garg, BPDO Talwandi Sabo Mr Jagtar Singh, BDPO Nathana Mr Sukhmeet Singh Sra, panchayat secretary Mr Gurjeevan Singh were also present.
Today's results are as follows:
200 M race (girls): 1. Jaspreet Singh from village Bhai Rupa 2. Veerpal Kaur from village Sukhanand 3. Pinki Kaur from village Nawan Pind
200 m (boys) 1. Ajay Pratap Singh from village Khokhar 2. Jagmeet Singh from village Rai Ke Kalan 3. Gurpreet Singh from village Bhai Rupa Khurd
Shotput: 1. Jugraj Singh from village Gurusar 2. Santokh Singh from village Ramgarh Bhunder 3. Charanjit Singh from village Gehlewala
national style kabaddi (girls) 1. Village Sandoha block Maur 2. Village Maluka Khurd block Bhagta 3. village Gatwali block Talwandi Sabo
Tomorrow's competitions will be interesting with the elected representatives of panchayats taking part in different events.