NewZNew (Chandigarh) : Taking its Corporate Social Responsibility initiative to newer heights, SBI Life Insurance partners with CanKids. KidsCan to aid them in their noble cause of providing cancer affected children an education, thus enabling them to lead a sustainable and meaningful life.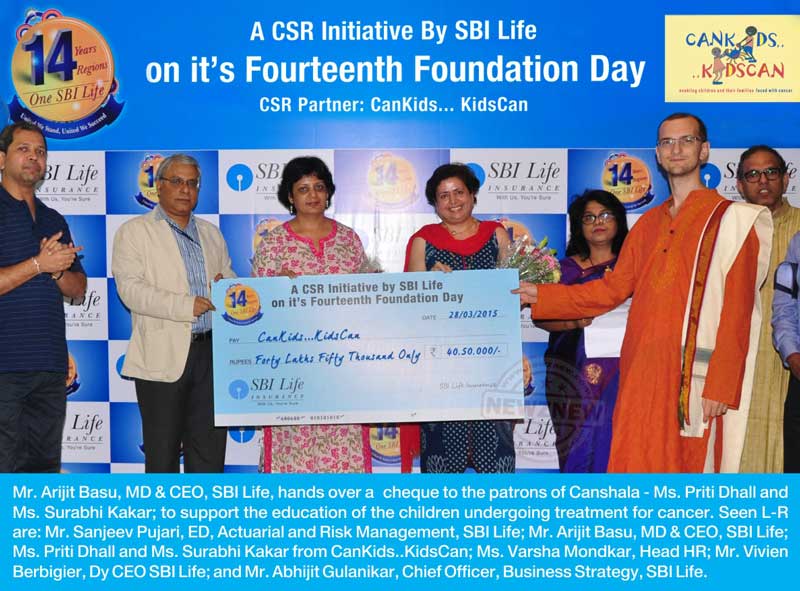 Speaking on the occasion, Mr. Arijit Basu, MD & CEO, SBI Life Insurance said, "SBI Life believes in empowering those who have the courage to fight against the odds. Our initiatives reflect this and we choose to partner with likeminded NGO's and Social Service Associates. Our association with CanKids..KidsCan enables us to provide education support to cancer affected children with the intention of making a difference to their lives."
SBI Life has taken this noble initiative towards providing support to children undergoing treatment for cancer hence supporting their psycho-social development. During the treatment, the child usually loses out on their education and regular school life due to prolonged breaks due to their medical treatment. This initiative enables the children to undergo schooling while they are undergoing cancer treatment. Support from SBI Life covers school learning materials, worksheets, notebooks, cost of physical educational aids, nutritional support, cost of counselors, transportation to and fro from the residence or dharamshalas or hospitals.
SBI Life is happy to support the education of children undergoing treatment of cancer in CanShala, a special school initiated by CanKids..KidsCan, in association with Municipal Corporation of Greater Mumbai (MCGM). The school is located in close proximity to Mumbai's three main cancer hospitals: The Tata Memorial Hospital, LMTG Hospital in Sion and BJ Wadia Hospital for Children in Mumbai. The MCGM has offered space and facilities in Jagannath Bhatankar Municipal School, Parel.
SBI Life has adopted 'Child Welfare' as the theme for its CSR initiative. Child Welfare is a social philanthropy venture which focuses on promotion and development of children from the underprivileged and disadvantaged sections of society by addressing their education and healthcare needs. Throughout the year, SBI Life has extended its support and facilitated programs through a range of educational services to children with a genuine intention to provide   education. SBI Life has partnered with various NGOs across India whose objective is aligned to that of SBI Life's CSR agenda.