Sikh NRI's Treatise – 'The Sikh Heritage –Beyond Borders' Unveiled: It was his long-standing passion and curiosity, which took a US-based dentist, Dr. Dalvir Singh Pannu all the way to Pakistan to study 84 Sikh heritage sites and shrines to unearth the narratives of Sikh historical and religious places displaced during the India–Pakistan partition of 1947.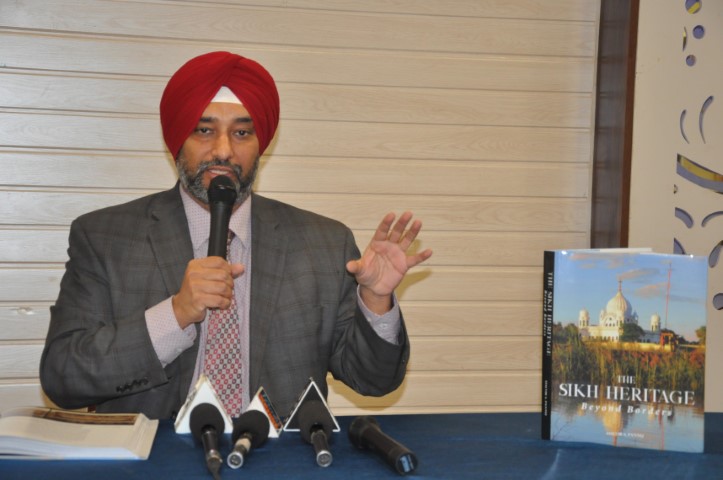 It took Dr. Dalvir Singh Pannu 11 years to complete his book on the subject – 'The Sikh Heritage – Beyond Borders'. Dr. Pannu has encapsulated his painstaking research in the unique treatise which was released during the press conference held at Press Club, Sector 27.
46-year-old, Dr. Pannu, who initially practiced as a dentist at Phagwara, near his village Pharala in Nawanshahar district in Punjab for about two years before moving to the United States said, "My book is different from regular documentation on the subject. The main reason for this is my study and gathering of details from sources in Farsi and Urdu on the monuments and tallying these with information obtained from Indian law reports in British archives available. The idea was to study narratives of different language sources. This way I learnt a lot about what others like Mughals, Persians, etc also thought about Sikh monuments."
The author adopted the process of doing extensive analysis and cross-referencing with other sources to enable readers to comprehend Sikh history. The system included posing inquiries, applying critical thinking, and investigating hundreds of sources.
Added Dr. Pannu, "The book dedicates one chapter each to the 84 sites that it documents. More than 60 of these are gurdwaras established in the name of the first six Sikh gurus, who had visited Pakistan. Today, these monuments stand out as symbols of the peaceful and harmonious past lives of people sharing a heritage, whose affinities go beyond physical borders and territories."
He briefed that the book has documented decade-long fieldwork of finding and exploring different historical accounts on the same events. For instance, he explains, the Janam Sakhis (hagiography/birth and life journey story) contains details about the miraculous powers of the Sikh gurus. Dr. Pannu said, "I engaged a large team of professional photographers and I visited Pakistan twice in 2008 and 2016. We also got drone photography and videography of the identified sites done."
The author includes a multitude of primary sources and Gurumukhi inscriptions, translated into English, to increase heritage-lovers' understanding of these sites and to help preserve their beauty and histories through his writing.
Sums up Dr. Pannu, "I would take this opportunity to request Shiromani Gurudwara Parbandhak Committee (SGPC) and other Sikh bodies, to include the book in their libraries so that those interested are benefited by the ready availability of the book. This way the rich Sikh culture and heritage will not only be preserved but also propagated in the right earnest."