An experience centre for premier tiles, sanitary ware and bathroom fittings for home and workplace
To address the fast growing demand for internationally acclaimed designs and quality
NewZNew (Chandigarh) : Somany Ceramics Ltd, one of the leaders in the Indian ceramic industry, today inaugurated 'Somany Experience Centre in Chandigarh. Somany Experience Centre at SCO, 3A, Sector 7C, Madhya Marg, Chandigarh- 160019, was inaugurated by Mr Abhishek Somany, MD, Somany Ceramics Limited.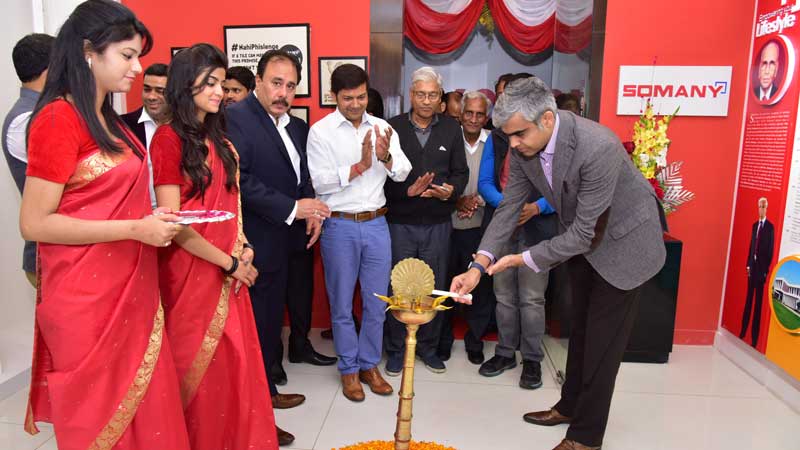 Speaking on the occasion, Mr Somany said, "We are delighted to expand our presence in Chandigarh which is one of the best example in our country for urban planning and modern architecture. It is also the site of some of its greatest architectural creations, making it an ideal location to open the experience centre. Known internationally for its architecture and urban design, emphasis in Chandigarh, is on proportion, scale and modernity. Somany endeavours to keep pace with the rapid growth of the city and the increasing demand for tiles, sanitary ware and bath fittings that are a blend of tradition and modernity."
He further added, "As a company, we are focused on providing complete customer satisfaction. This latest addition to Somany Experience centres will allow us to be within easy access of the consumers, offering them a wide range of technology enabled designs and applications in tiles. With the industry adopting the latest technology, Somany is at the forefront of providing the best in class internationally available tiles sanitary ware and bath fittings to its patrons."
The newly launched centre is a state if the art showroom which will give the people access to high-end, international quality tiles and sanitary products at their door step. Somany Experience Centres are located across the country, including in key cities like Mumbai, Delhi, Chennai, & Kolkata, and more Somany Experience centres are about to be opened in leading centres. These centres offer exclusive tiles, sanitary ware and bath fittings, and cater to the discerning customer.