Soni Galib takes up free vaccination for all issue with President of India: District Congress Committee Ludhiana (Rural) president Karanjit Singh Soni Galib has taken up the issue of free vaccination facility for all citizens of India with the President of India Ram Nath Kovind.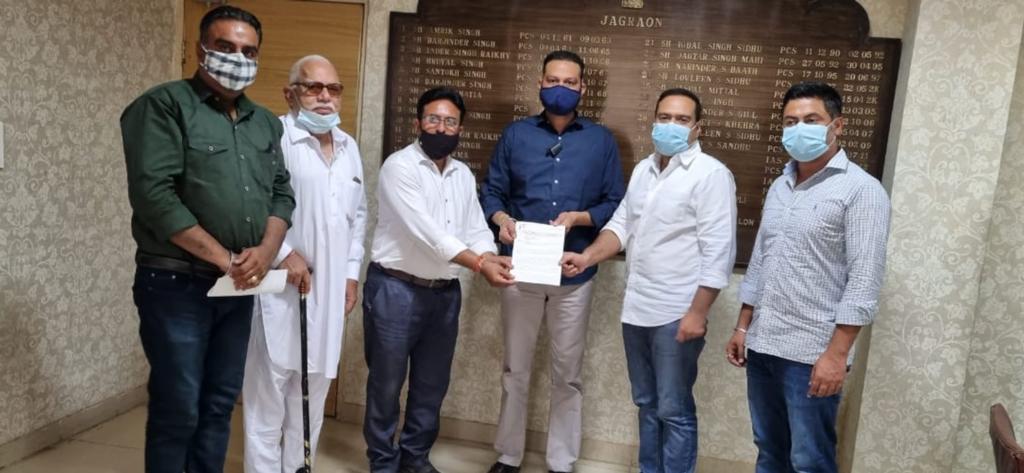 He submitted a memorandum addressed to the President of India with SDM Jagraon today. He was also accompanied by Congress block president Ravinder Sabharwal, Gopal Sharma, Satinder Tatla and Sarpanch Navdeep Grewal.
In a letter addressed to the President of India, Karanjit Singh Soni Galib stated that Covid-19 has caused unprecedented devastation and immeasurable pain to nearly every Indian family.
"Tragically, the Narendra Modi led Union Govt has completely abdicated its duty of fighting the Corona and abandoned the people, leaving them to fend for themselves. The truth is that Union BJP Govt is guilty of criminal mismanagement of Covid-19," he said.
He said that vaccination is the only protection in the midst of the raging Covid-19 pandemic and alleged that the Modi Government's vaccination strategy has been a dangerous cocktail of blunders and bloopers. "Our Government derelicted its duty to 'plan vaccination'. Our Government has been reprehensibly oblivious to 'procurement of vaccines'. Our Government has deliberately created a 'digital divide' thereby slowing down vaccination. Our Government has been willfully complicit in creating 'multiple pricing slabs' i.e. differential pricing, for the same vaccine.
As other countries started placing purchase orders for vaccines from May 2020, the Modi Government failed India. It went on to place its first order of vaccines only in January 2021. As per publicly available information, Modi Government + State Governments have till date ordered only 39 crore vaccine doses for a total population of 140 crores," he said.
As per Government of India, it has administered 21.31 crore vaccine doses till 31st May, 2021. But, only 4.45 crore Indians have received both the doses of vaccine, which is only 3.17% of India's population. In last 134 days, the average pace of vaccination is about 16 lakh vaccine doses per day. At this pace, it will take over three years for us to vaccinate our adult population. If this is the case, how will we save our fellow citizens from third wave of Corona is the question that Modi Govt need to answer?
Galib said that as our citizens are getting infected from Corona in the middle of the raging pandemic, Modi Govt is busy exporting vaccine. "Till date, Union BJP Govt has exported 6.63 crore vaccine doses to other countries. This is the biggest disservice to the Nation. The multiple pricing slab for the vaccine fixed by the Modi Govt is another instance of profiteering from people's misery," he said.
Serum Institute's Covishield single dose costs Rs.150 to Modi Government, Rs.300 to State Governments and Rs.600 to private hospitals. Bharat Biotech's Covaxin single dose costs Rs.150 to Modi Government, Rs.600 to State Governments and Rs.1,200 to private hospitals. The private hospitals are even charging upto Rs.1,500 for a single dose. The full cost of two doses should be accordingly calculated. The Modi Government's sponsored three price slabs for the same vaccine are a recipe for profiteering out of people's misery.
The need of the hour is that Union BJP Govt should procure the vaccine and supply for free to the States and private hospitals for vaccination the people of India. Anything less is a huge disservice to India and its people.
Also, we need to vaccinate our entire adult population of above 18 years on or before 31st December, 2021. This is the only way to save our people. For this, the only solution is to vaccinate at least one crore people a day and not the current average of 16 lakh people a day.
We, therefore, urge upon your goodself to direct the Modi Govt to ensure one crore vaccination per day as also universal free vaccination. This is the only way to fight Covid-19 pandemic and defeat the disease. This is the only way for each Indian to emerge victorious over Corona.