Founder & Chairperson of Chanakya Academy Group, Mr. A K Mishra, fondly known as 'Success Guru', along-with two of the Academy's toppers – Anmol Sher Singh Bedi (All India Rank 2) and Saumya Pandey (All India Rank 4) held a Seminar for the aspiring Civil Services Exam students at Academy's Chandigarh branch located in Sector 8.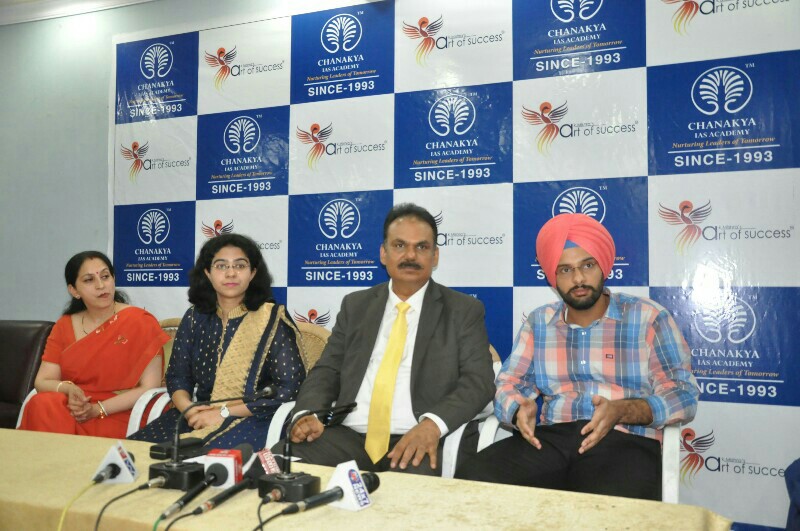 It is noteworthy that both Anmol and Saumya cleared the prestigious and highly competitive examination in their very first attempt.
"We are seeing a positive change in Punjab's achievements in the UPSC Examination. Our student Anmol Sher Singh Bedi has not only done us proud but also his parent State – Punjab. In a way, his sterling performance in UPSC has bucked the trend of Punjab's students not coming in the first 5 toppers of Civil Services examinations for a very long time," said A K Mishra. It's pertinent to mention here that the last time somebody from the region came first was a decade ago. "We have been one of the oldest academy for UPSC examination in the region and have a pulse on the market. We have a lot of faith in the intellectual capability of students in Punjab, Haryana and Himachal Pradesh. Therefore, we are trying to do tie-ups with prime institutions in these regions, " added Mr Mishra.
While appreciating the role of Chanakya Academy in his super success in this most prestigious examination in the country, AIR 2 Anmol Sher Singh Bedi said, "I would like to give full credit to Mishra Sir for providing me the right kind of guidance to crack the Civil Services examination. I had a very fruitful interaction with Civil Services aspirants in the seminar today. I shared my personal experiences of UPSC preparations."
Saumya Pandey from Allahabad, who got All India Rank 4, also motivated aspiring UPSC examination candidates participating in the seminar. She impressed upon the need to put in one's everything into the preparations to succeed in this examination. "I underlined in my talk the importance of using the course material of the coaching Institute in a comprehensive way. Proper use of this important resource, helped me a lot in preparing well for the preliminary and the main examination of the UPSC." Said Saumya Pandey.
Mrs Gurneet Kaur, Centre Head, Chanakya IAS Academy, Chandigarh said, "We are seeing a growth being witnessed in youngsters training for State Civil Services too. We have recently started coaching programmes for state civil services as well and have seen an encouraging response from aspirants of the region."