Tata Chemicals Ltd. (BSE: TATACHEM), the country's leading producer of Soda Ash and Sodium Bicarbonate, today announced the launch of MedikarbTM – India's first branded pharmaceutical grade sodium bicarbonate for pharma API and formulation manufacturing. MedikarbTM will be manufactured in state of the art FDA certified facilities that are compliant with GMP standards to ensure the highest quality product conforming to Indian Pharmacopoeia specifications.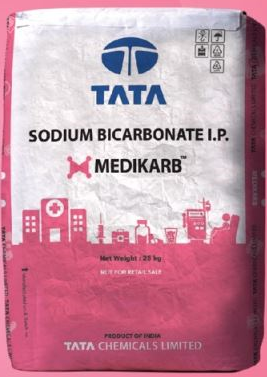 MedikarbTM will be produced through a highly mechanized automated manufacturing process designed as per GMP principles. Quality of the end product is assured through an end-to-end Tata Quality Management System (QMS), with the product manufactured, processed, packed and distributed under the applicable licensing and operational guidelines. Customers will also have the backing of technical sales support through an in-house R&D and Technical Services team. Customers can order small lots as per their requirement and systems are aligned to cater to express deliveries.
High-purity sodium bicarbonate is used as an alkali in the pharmaceutical industry.  Sodium bicarbonate is a vital ingredient in the production of effervescent antacids, analgesic tablets and powders, vitamin supplements, injectable powders, toothpaste and antacid gel formulations. It is also used as a buffering agent, providing bicarbonate ions to balance the pH during blood purification.
Tata Chemicals' with its sodium bicarbonate business has a presence in both domestic and global market. With an annual capacity of 100,000 MT in India, the company also has two other brands SodakarbTM, customized for use as a food additive and AlkakarbTM, for use in animal feed. This introduction of MedikarbTM as a customized product will cater specifically to the pharmaceutical industry.