NewZNew (Chandigarh) : Needhi Singh is an upcoming Punjabi film & will be releasing on July 22 worldwide. The movie is different as it has in the lead a woman—the attractive & talented Kulraj Randhawa. The message in the film is that a woman is capable of fighting for her rights. It is noteworthy that Needhi Singh has been produced by Unisys Infosolutions-Saga Music in Association with Golden Fox Films.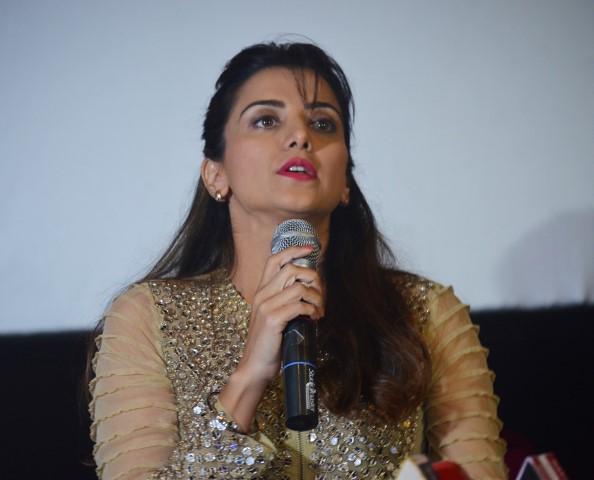 The first event was held at Chandigarh at Wave Cinemas, City Emporium Mall. In this Meera Dhiman's & Sunita Tonk's real life stories which are quite similar, to the reel life story of Needhi Singh in the film, were shared with media. A Trust – Association for Judicial reforms India (AJRI), whose Chairman is Dinesh Singh Rawat, was instrumental in bringing the ladies to the press meet. The stories are of taking up cudgels by a woman against wrongs done to her by society. The three brave-hearts were introduced to the media by Actress Kulraj Randhawa. The interaction with media was attended by Needhi Singh's Producer Inder Bhandaal.
Sunita Tonk who has one leg, was tormented by her in laws & when she gave birth to a girl her turmoil increased. She was also not accepted by her parents. This forced her to live in slums; finally she fought back & was able to get a job. Meera Dhiman's husband tried to get her killed by goons; she survived somehow, but lost her son who was battered to death by criminals. She later took revenge against her tormentors.
"Meera & Sunita had all odds stacked up against them, but they showed courage in face of adversity. All three have a stable life now. My character in Needhi Singh too is inspired by a real life woman who fought against those who ruined her happy life." Said Kulraj Randhawa.
The two women thanked the team behind the movie to have recognized their stories and for bringing these in the public domain. As far as Needhi Singh goes, Shub Guman, the one legged dancer who created quite a buzz in the reality dance show India's Got talent is debuting in it.  "Kulraj Randhawa fans are in for a treat as they will get to see Kulraj as a village girl with her look maintained with sparing use of make-up." Said Inder Bhandaal, Producer. The other star cast includes Aashish Duggal, Aman Sutardar of 'Aashqui not allowed' fame, Karan Tiwana & Nirmal Rishi of 'Love Punjab' fame.