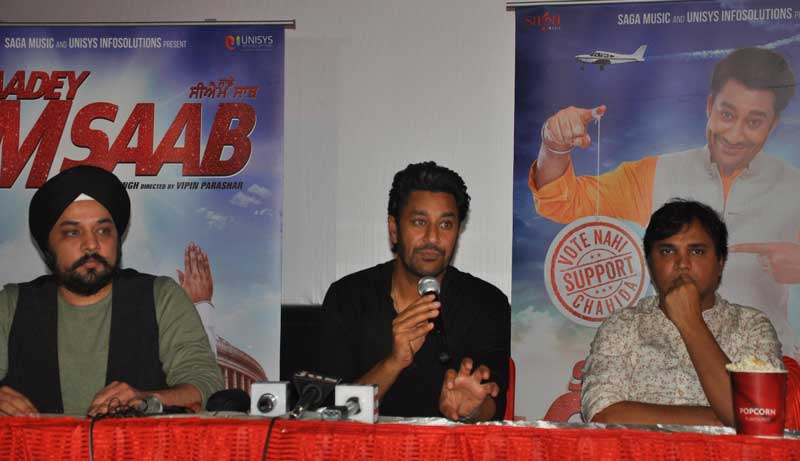 NewZNew (Chandigarh) : The first look 'Teaser' of much anticipated upcoming Punjabi Blockbuster "Saadey CM Saab" was showcased today during an event held exclusively for media at Chandigarh. The film is slated to be released on 27th of May this year. The event received full support of Wave Cinemas, at their City Emporium Mall, Industrial Area Phase I, Multiplex.  The lead Actor of 'Saadey CM Saab' -Harbhajan Mann, the Producer Sumeet Singh, MD, Unisys Infosolutions –Saga Music and the Director Vipin Parashar participated in the exclusive preview cum launch event of the 'Teaser', at Wave Cinemas in Chandigarh.
Sumeet Singh, the producer,  said, "While mostly a 'Trailer' is launched during a First Look event but we decided to showcase a 'Teaser', as it has come out very well after post production.  We held an exclusive preview of the 'Teaser' for media  in association with Wave Cinema (Chandigarh), before it will be put on YouTube or any other digital or social media platform. We wanted to show the media and, of course, tell our prospective audience, about the high end quality of the 'Teaser'."
The Seventy (70) Seconds 'Teaser' is an audio – visual presentation which gives one a feel of top-of-the-line post production values & is reminiscent of the quality being delivered by not just Bollywood, but even Hollywood. So a level seems to have been attained by the Punjabi Film Industry in as far as output quality is concerned. Harbhajan Mann, a lead actor has recently impressed with his acting skills in his last film 'Gaddar -The Traitor'. "Again, his role in Saadey CM Saab is quite different & he has delivered a superlative acting performance", said the makers of the film.
 "This is a thriller comedy film and has a unique storyline. I am happy that it's being dubbed in Hindi. The technical expertise – the movie has a good 25 minutes of visual effects, there is great display of acting skills, impressive production designing etc. These demanded access to not just a Punjabi but a wider Hindi film audience." says, Harbhajan Mann.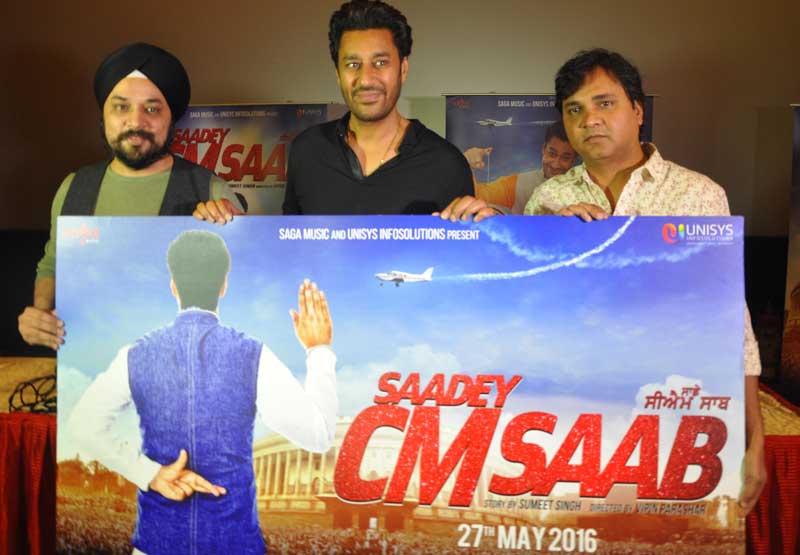 According to the Director, Vipin Parashar, "Everything associated with the film is big & state-of-the-art. We have used best practices in production and are very satisfied with the final outcome. We roped in Sunita Radia for Cinematography, she has worked with Binod Pradhan in Hindi films like Devdas, Munna Bhai MBBS, Rang De Basanti, Ta Ra Rum Pum etc; she has independently done the Cinematography of many other films like Jal, Aalaap etc. What's more, National Awardee Rashid Rangrej who has worked in major Pollywood/ Bollywood films is the Art Director. With such people at the helm, I am sure, we will give this Industry, a Film, which will end up setting up an enviable benchmark."
Dev Gill, a Super Star of South India who is known for his negative roles in block busters like Bhag Milkha Bhaag, Lingaa etc. is also a part of the star cast. What's more, Rahul Singh a Bollywood Film actor cum model, Actress Kashish Singh who is a Model & a stunning beauty are also in the star cast.