National Spokesperson of BJP, Dr. Sambit Patra, asserted the importance and contribution of technological advancements and an innovation sustainable environmentin India's leap by 30 places in the 'ease of doing business'index by the World Bank at the opening of the 13thENGIMACH held on Wednesday. The 5-day long colossal exhibition held at Gandhinagar was held to showcase the remarkable growth witnessedby the engineering sector in India over the last few years.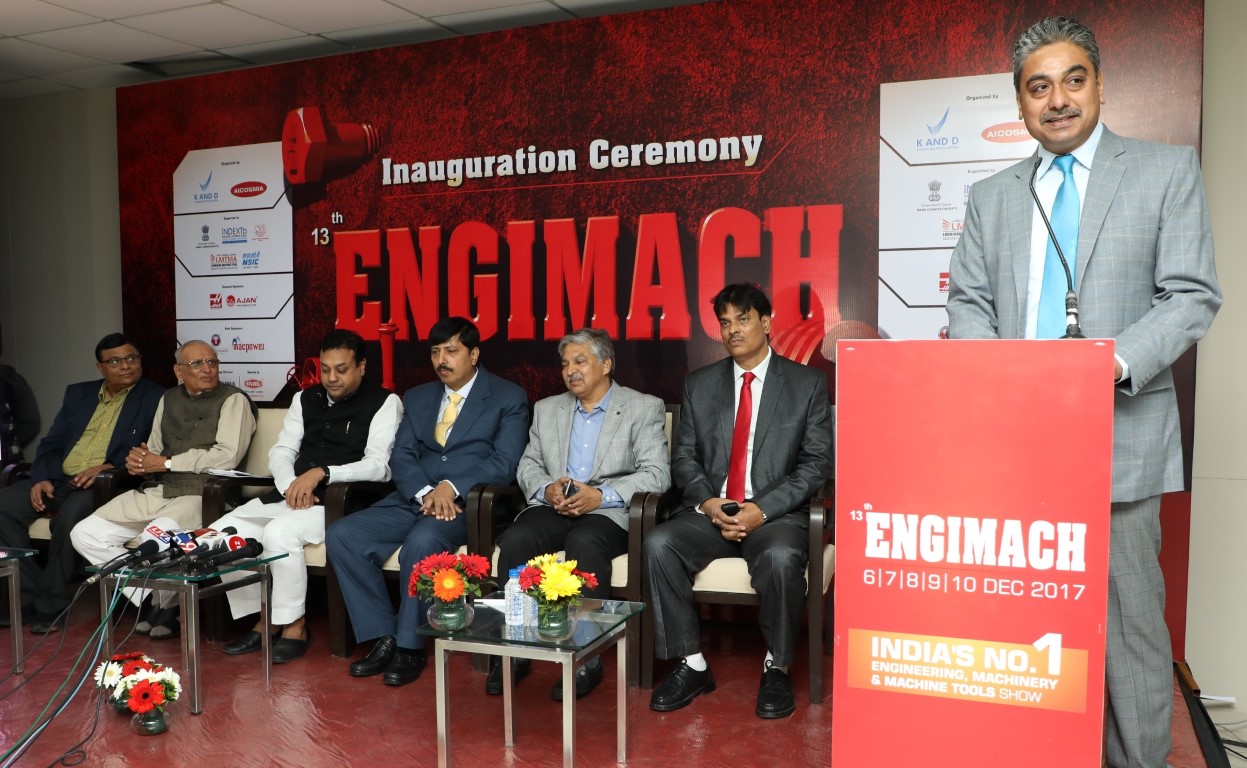 Dr. Patra also drew attention to India's remarkable performance in not just one, several other similar indices of international levels. He also hailed the efforts of Prime Minister Narendra Modi's and his vision, in the country's huge improvement in various fields.
"India's exceptional performance in global indices, in just a few, short years, says a lot about the growth of individual sectors. The country has secured a spot in the top 100in the 'ease of doing business' listing. Indices like these are prepared considering a number of parameters, including the development of technology and the level of innovation-friendliness. For the country to leap through such high points, not just according to World Bank's listings, but various other listings as well, within such a short span of time therefore, is a huge achievement. It is an achievement which has been made possible only by the able guidance and strong leadership of Prime Minister Narendra Modi,"said Dr. Sambit Patra.
The inaugural ceremony of 13th ENGIMACH was inaugurated by Chief Guest Dr. Sambit Patra, along with Guests of  Honour, ShriSurendra Patel, Ex. M.P., Rajya Sabha, Treasurer, BJP,Gujarat State and President, CHARUSAT University, Shri KamleshGohil, CMD, K and D Communications, Shri Sunil Shah, Chairman, Gujarat Innovation Society and Shri Nilesh Shukla, President, VCCI, Vadodara.
"It is a matter of great pride for Gujarat and its people, to be conductingthe country's largest technology exposition. Reputed companies from nearly 32 countries have participated in this mega event, along with SMEs and nearly 10,000 engineering and technology students. Many SMEs with immense potential may find it difficult to compete in business at a global level. 13thENGIMACH has been an ideal platform for many years now for such entities to display their potential. For students we have secured special visiting hours, to facilitate better knowledge sharing and understanding," said Shri KamleshGohil, CMD, K and D Communications.
'ENGIMACH2017' is supported by Machine Tools Manufacturers' Association, Rajkot, Ludhiana Machine Tools Manufacturers' Association, Ludhiana and National Small Industries Corporation (NSIC). Engineering Export Promotion Council (EEPC) is the Technology Partner. The Diamond Sponsors are HAAS India, AjanCNC while the Gold Sponsors are Energy Mission Machineries (India) Private Ltd. Award is by N P Label – The Label Leader.
 'ENGIMACH2017', scheduled to be held till December 10, marks the technological prowess, trends and landmark innovations in products and processes.Over 500 exhibitors are slated to actively participate from 32 countries over the span of 5 days. These include countriessuch as Japan, Korea,China, Taiwan, Singapore, Australia, UAE, Germany, Italy, Spain, France and USA.
Prominent participants include companies like Ace Micromatic Machine Tools Pvt Ltd., Agarwal Fastners Pvt. Ltd. , Ajan India , Atlas Copco (India) Limited , Baker Gauges India Pvt. Ltd. , Batliboi Limited , Beckhoff Automation Pvt. Ltd. , Birla Precision Technologies Limited , Carl Zeiss India (Bangalore) Pvt. Ltd. , Cosmos Impex (India) Pvt. Ltd , Delair India Pvt. Ltd. – Puriflair India Pvt. Ltd. , Energy Mission Machineries (India) Pvt. Ltd. , Erhardt + Leimer India Pvt. Ltd. , Fanuc India Pvt. Ltd., BFW, Makino, Mac Power CNC and Askar Micronand Faro Business Technologies (I) Pvt. Ltd.
Festo India Private Limited, Fibro India Precision Products Pvt. Ltd., Giovenzana International B.V., Gma Garnet Middle East Fze, Hexagon Metrology India Pvt. Ltd. , JyotiCnc Automation Ltd. , Kaeser Compressors (India) Pvt. Ltd. , Karcher Cleaning System Private Limited , Lakshmi Machine Works Limited , Leister Technologies India Pvt. Ltd , Mag India Ias Pvt. Ltd. , Mahr Metrology India Private Limited, Mitsubishi Electric India Private Limited, Mitutoyo South Asia Pvt. Ltd., Renishaw Metrology Systems Limited, Siemens Ltd., Suhner India Private LimitedTal Manufacturing Solutions, Korloy India Tooling P Ltd, Tsugami Precision Engineering Pvt. Ltd., Tungaloy India Pvt. Ltd., Haas Autotmation India Pvt. Ltd. and Marposs India Pvt. Ltd. are among other key participants making a mark.