These Meetings Can Help You Fight Your Addiction : Getting help with addictions can be one of the most important steps an alcoholic can do. Alcoholics Anonymous (AA) has undoubtedly paved the way by organizing meetings for recovering alcoholics.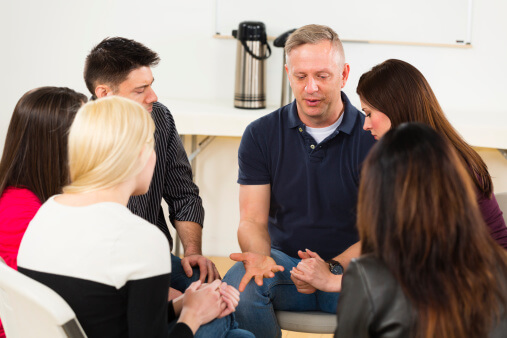 The program has grown from its humble beginnings in a1935 and two people. Today their support group reaches around the world and to millions of people. The meetings are one of the most critical steps AA recommends for several essential reasons.
Beginning the Process
Once a person makes a choice to stop drinking, the battle starts in the mind and the body. For this reason, attending meetings can help make this complicated process more manageable. Saying that starting recovery is hard, is probably a major understatement for most alcoholics. Addicts may feel overcome with emotions, fearful, and lost. The AA support groups can lay a foundation for the new life ahead, and the recommendation is to attend meetings every day for three months in the beginning. This period seems to establish courage and hope, and it is long enough period to adjust the body physically to be without alcohol. The disease can cause damaging effects to the liver and other organs.
Staying Focused
Even after attending several meetings, an individual may need assistance to stay on the path. Needless to say, it can be tempting to stray. AA's recommendation after the first three months of daily visits is a minimum of once a week. The preferred contact with groups should be as often as possible in order to keep and strengthen the new skills of avoiding alcohol strong. It is often mentioned that the process will be ongoing throughout an alcoholic's entire life. There is no end to recovery.
Prevent Relapse
During turbulent times, the meetings can help prevent relapses. The surroundings can remind people of where they have come from and how much they have gained by becoming a part of alcoholics anonymous. Relapses are not uncommon, but having a support system in place to get back into sobriety can prove to be a sustainable system. Drinking alcohol while in AA does not mean the end of the line or failure it just means another new beginning or a new starting point.
Helping Others
Over time, long-standing members become valuable assets to meetings because they can offer realistic advice to new people. Their stories and experiences can give hope to others that may not be so sure of the AA process yet. Once acclimated to the nondrinking environment, people may begin to feel a sense of family or belonging to the world of AA. Because the support system is worldwide, it can go with you on your travels, and it is available 24/7. AA does not take a holiday.
The fact that someone can remain anonymous allows alcoholics protections and makes for a safe arena to share experiences and voice deeply personal concerns. Anonymity is one of the most potent benefits to AA and lets newcomers and established members represent themselves fully.
The program is broken down into twelve steps. This makes it manageable and offers a framework on how to begin and stay in recovery. There is never any charge for being in AA. It is open to everyone because alcoholism touches all ages and all societies. In addition, there are no requirements, such as orientation meetings or required attendance. No confidential information is gathered. The only thing needed from anyone is respect and the wish to stop drinking alcohol. The tools and support will be provided.